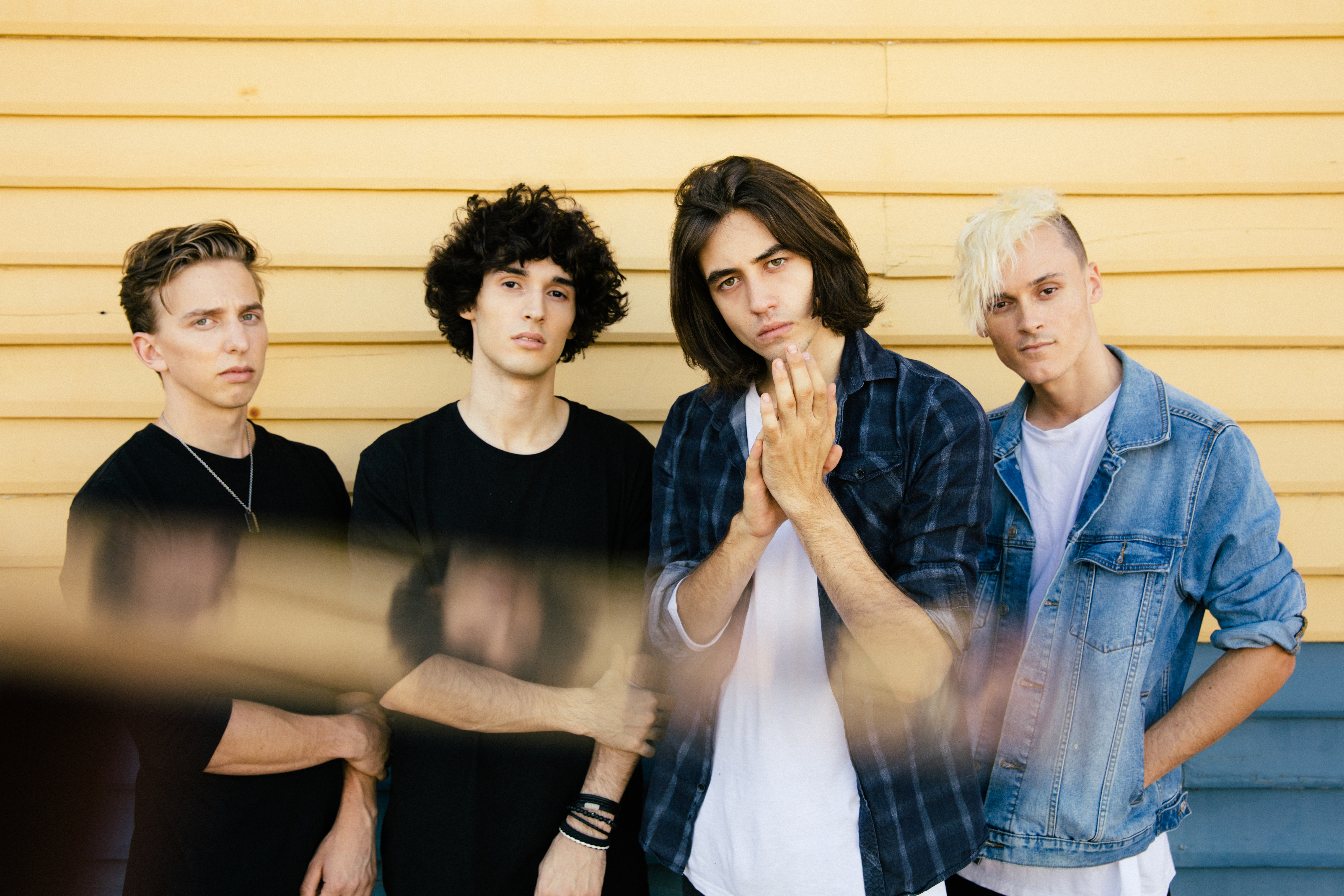 Photo by Max Fairclough
Hailing from Australia and recently signed to BMG, The Faim are poised to take the world by storm. Last month, the four-piece premiered their debut single, "Saints of the Sinners" as the BBC Radio 1 Rock Show's "Rockest Record." With familiar hints of Panic! at the Disco and Fall Out Boy, The Faim's infectious single was co-written by none other than Pete Wentz and produced by rockstar producer John Feldmann. This spring, the boys will play their debut shows in the UK with Lower Than Atlantis, followed by a stint across Australia and New Zealand with Sleeping With Sirens.
We caught up with Josh Raven (lead vocals / frontman) to learn more about this dynamic new act!
S&S: How would you describe your particular genre of music?
Josh: If I had to describe our music as a whole I'd label it as "alternative pop rock." Our perspective is that we want to grow, learn, and develop our sound and not be caught in a genre.
S&S: Where did your band name come from?
Josh: It came from all of us discussing something that relates to all of us and will be relevant to us throughout our entire musical career. Every event that's occurred over our band life has been influenced by one thing: A burning passion to inspire and express our message through music. After a long process of elimination and discussion, we stumbled across the word "faim." It's a French word for hunger, and it just clicked. The hunger was the best way to describe our journey and inspiration as a band.
S&S: What was your inspiration behind your newest song, "Saints of the Sinners?"
Josh: To open someone's mind to the possibility that it's okay to listen to that youthful, rebellious voice that says, "screw anyone else, take what you want." It was an idea that related so closely to not just our experiences, but to anyone that understands the frustration of having their dreams rejected or ignored.
S&S: What was it like to work with celebrities such as Pete Wentz, Mark Hoppus, and Josh Dun?
Josh: We were starstruck at first. These were all people we grew up listening to, and we definitely felt the excitement. Having the opportunity to work with such talented people really made us realise how hard these people have worked to get to their place in the world. It was so refreshing to finally know how credible and down-to-earth these people are. Learning and writing with them had a huge impact on our songwriting today.
S&S: Any other artists you'd like to work with in the future?
Josh: There's an endless amount of artists we'd love to work with: childhood inspirations like Green Day, Coldplay, and The Killers. But sometimes you can find the strongest perspective and talent with anyone. If you feel the connection while writing, the possibilities of discovering something unique are endless. We have such a strong bond as a band, and writing together and learning from others has become a huge journey of perspectives.
S&S: Where was the video for "Saints and the Sinners" shot?
Josh: It was shot in our hometown of Perth, Western Australia. It was a boiling hot day with makeup in a large metal warehouse, but working with the talented Jason Eshraghian and his incredible team was a great experience.
S&S: What inspires your band to write songs?
Josh: We're inspired by many things. Our memories, people we've met, our fears, hopes, and dreams. Seeing the effect our music has on other people is a huge inspiration for us. We have such a close connection to our music, and when others relate to these songs, it's almost like we know each other. This relationship is a huge part of our songwriting.
S&S: At what age did you guys realize you wanted to pursue this band as a full-time career?
Josh: The moment we decided that if we wanted to take this seriously and really push ourselves, we were 18 or 19, and we knew we had to drop every commitment. Whether it was uni [or] a job, a switch got flipped, and we just wanted to live and breathe music every single day. Everyone became entirely devoted and motivated to make this band our lives.
S&S: When can fans expect to hear new music?
Josh: Our new sound is diverse, raw, and passionate. We poured our secrets, soul, and heart into these songs, and it's become not only music but our story.
S&S: What's your favorite part of performing?
Josh: Being able to completely wipe your mind clean and be consumed by the music. These songs are so personal to all of us, and it brings out such a passionate energy from within. There's no better feeling in this world than letting go, expressing the rawest parts of your identity, and performing songs that are true to ourselves.
S&S: What bands did you guys listen to growing up?
Josh: We listened to a wide variety but some of our favourites are Green Day, Coldplay, Fall Out Boy, and Blink-182.
S&S: Is there a particular country or state that you guys would love to perform in?
Josh: Well, hopefully, every single country and state, but Las Vegas, NV is definitely on our band bucket list.
S&S: Since you guys are from Australia, are there any common misconceptions about your country you hear about often?
Josh: People certainly have an opinion influenced by the typical Aussie stereotypes like riding kangaroos and fighting koalas, but after they're brushed aside, there aren't too many misconceptions. It's mainly people noticing the slight differences in vocabulary.