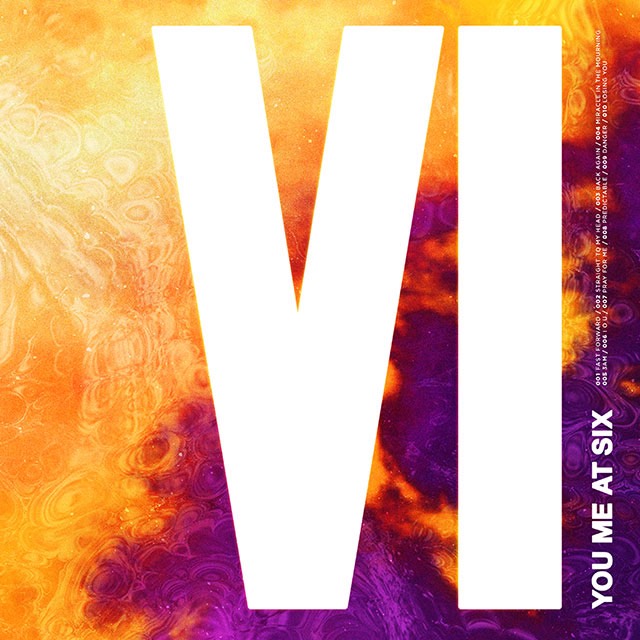 How do you sum up your band in one sentence? For British rock five-piece You Me At Six, the answer is simple: with their name.
"I'd say that we are still You Me At Six," bassist Matt Barnes told Download when asked to describe their newest album VI.  "When you've got Josh's voice on top of anything, we are going to be You Me At Six."
It's a statement of identity as clear-cut as they come, and it represents the band remarkably. Though their sound has changed somewhat in their 14-year tenure — shifting in recent years from the pop-punk stylings of their early work to something more indie-inspired — the band has been impressively consistent in other ways. They have only ever had one member change, and all of their albums since 2010's Hold Me Down charted in the top five in their home country, the UK (Their 2008 debut Take Off Your Colours also charted well, peaking at number 25). Fourteen years is a long time, but You Me At Six have never lost sight of who they are.
That said, after the widespread success of 2014's Cavalier Youth, You Me At Six did have a bit of a misfire with their 2017 album Night People. Met with mixed reviews, the album's shortcomings were largely the result of behind the scenes difficulties, including uncertain relationships with their managers and producers as well as a lack of creative spark; "I don't think there was a time where we were really enjoying making Night People," lead singer Josh Franceschi told The Independent, "and that comes across."
So for their newest album, VI, the band decided to retake the reigns by prioritizing creative expression, drawing on a wide variety of genres and ideas to create an album that represents the music they love. "On this album you can hear we're having fun," Franceschi continued, "and it's the right thing for us to be doing."
And their enjoyment of the work is definitely evident. VI plays with elements of rock, pop, hip-hop and more, and bounces quickly between tempos and moods, resulting in a boisterous, experimental and joy-filled LP. Vibrant, eclectic, and cool, VI finds You Me At Six at the top of their artistic game, taking on a variety of sounds with their signature bold character.
Album opener "Fast Forward" is a roaring mix of atmospheric instrumentals and gritty vocals, with a stadium-sized scale and a progressive rock vibe reminiscent of bands like Muse. The prog-rock style isn't entirely new territory for You Me At Six — they explored it a good deal on Night People — but they've hit their stride with it here, serving up a big, brash nail-biter of an opening track. It's a definite standout and starts the album off with its engines revved to go.
Other standouts include "Back Again" and "Miracle In The Mourning." Bright, bubbly "Back Again" combines a toe-tapping melody with jazzy instrumentals for a funky, uplifting sound; it's a feel-good bop about moving on from a bad situation.  "Miracle In The Mourning," meanwhile, is edgy and urgent, a fight-for-glory anthem with its eye on the prize. The song pulses with storm-like energy its entire runtime, and its bridge in particular — a wind-gust of percussion and wailing electric guitar — is one of the album's most electrifying moments. Back-to-back, the two songs are diametric opposites, making them a great testament to You Me At Six's range and songwriting skills.
You Me At Six experiments with genre a good deal throughout VI, and on "3AM" and "I O U" they dip into the worlds of pop and R&B. Lead single "3AM"— fast-paced, sharply arranged and hyper-catchy — is an indie-pop treat sure to be a crowd-pleaser, while "I O U" is a smooth-grooving slow jam. The song fuses rock with hip-hop — said Barnes in his Download interview, "[the song] essentially stemmed from when we were writing and we were listening to some hip-hop and we thought, 'how can we have a hip-hop song without it being hip-hop'…?" — and the resulting attitude is slick, sly and infectious. The song oozes with dangerous allure, luring you in with sweet nothings before bursting into a pulse-pounding finale; it's a spellbinding ride and my favorite song on the album.
Like "Fast Forward," "Predictable" and "Danger" lean heavily into indie-pop and indie-rock. "Predictable" is the harder of the two; a toothy breakup song, it pairs a steady beat with an off-kilter melody and an excellent, angst-ridden vocal performance from frontman Franceschi. "Danger," meanwhile, is an upbeat dance track fueled by percussion, claps and staccato vocals.  Though You Me At Six's roots are in pop-punk, they've been fairly focused on this indie rock sound for a few albums now, and it's a natural fit for them. I definitely anticipate more songs like these two from the band in the future, and I'll be excited to hear them.
"Pray For Me" is the album's most vulnerable song, exploring the emotional aftermath of losing a loved one. With it's airy, layered arrangement and fraught lyrics — "I don't know how to lose somebody yet," Francheschi sings, a statement at once minimalistic and a stage of grief all its own — the song swirls with haunted atmosphere and looming weight. I'll admit the song took me a few listens to get into, but once I did, it became one of my favorites tracks; subtle with a deep emotional core, "Pray For Me" is a slow-burning beauty.
Finally, the gentle "Losing You" is a plaintive look at a fragile relationship. Sonically, the song swings into the soft-rock genre; built on echoed vocals and rhythmic electric keyboard, it reminds me a bit of Phil Collins.  The song takes a lot of risks — from the electronic riffs that spark behind the chorus to its sudden a capella ending — but the excellent arrangement and evocative lyrics allow these risks to pay off. It's unique, ear-catching and emotional, and ends the album on a high.
VI is as close to a self-titled album as You Me At Six has ever come, and the connection between the album's name and the band's is a fitting one. In allowing themselves to play with a hodge-podge of sounds, they've created an album that speaks to their passions, and their identity has never been stronger. A return-to-form for the band, VI is an engaging expression of You Me At Six's versatile creative talents and powerful presence.