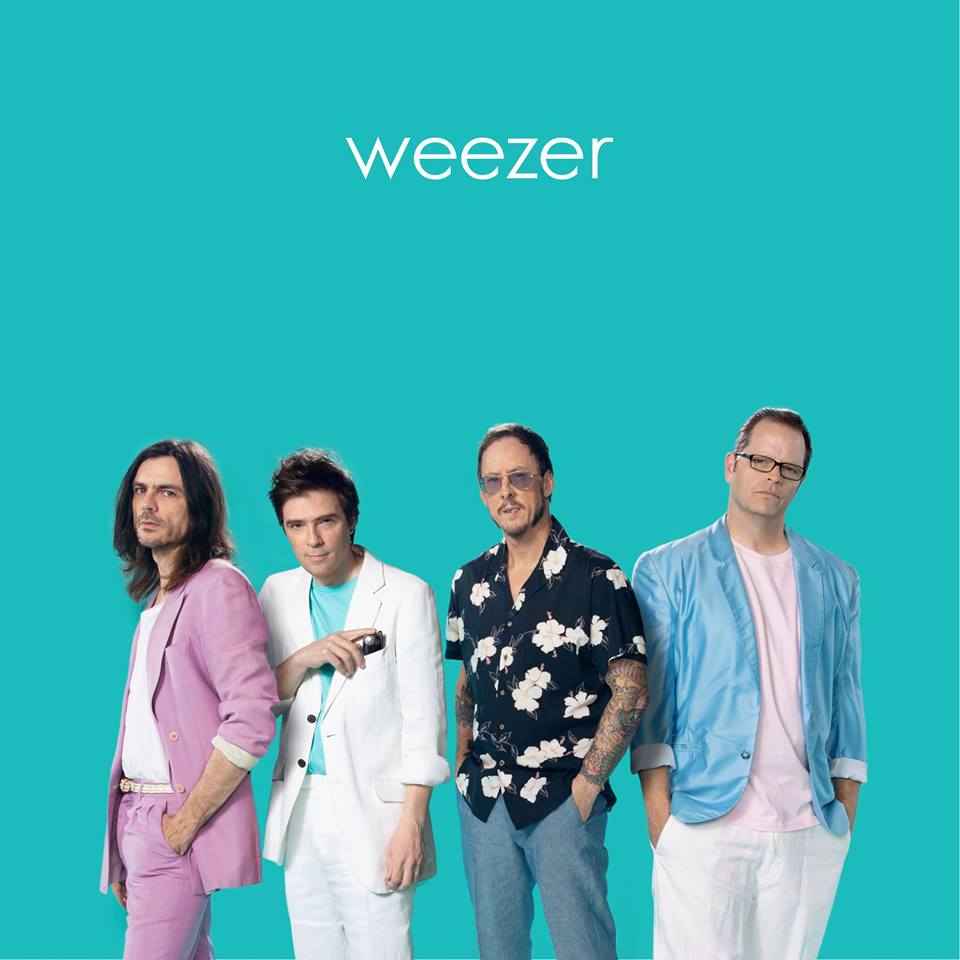 I have a serious love-hate relationship with Weezer. I've been jamming to "Perfect Situation" since it came out in 2005. That's a total of 14 years, people. More than half of my life! "Troublemaker?" Another great song. "Island in the Sun?" Hip hip. Need I say more? My point is that early Weezer has some classics that just cannot be replaced. However, I saw them in concert a couple of years back when they toured with Panic! at the Disco, and I was unfortunately disappointed. I just felt like their performance was a strange hallucinogenic dream that didn't seem to have a cohesive theme. I also remember that Rivers Cuomo's voice sounded nothing like what I thought it would live. Since then, I've kept my distance from Weezer, wondering if our love would ever be rekindled.
Their newest record titled Weezer (The Teal Album) is comprised of 10 cover songs, all of which are more than just famous on their own. The band tackles some big names such as Michael Jackson, Ben E. King, and Black Sabbath. Now, before I go on any further, I need to address the nature of cover songs in my opinion. I usually break them into two different categories: a traditional cover or a modern cover. A traditional cover is when the new version of the song sounds mostly like the original or there are at least certain parts that are distinctly recognizable. That is what most of this album is like. A modern cover is when the new version of the song sounds completely different, to the point where the original song is almost unrecognizable. A band called Little Sea (who have since broken up) did a remarkable cover of Ellie Goulding's "On My Mind" which, if you were unfamiliar with the lyrics from the original, you might think was their own song. And of course, there are varying degrees of originality that come into play when creating any covers. What I'm really trying to say here is, if you expected The Teal Album to be full of experimental covers, you will be disappointed. However, that's not to discredit this album at all because I'm willing to swallow my pride and admit I think this album is worth a listen.
The cover that everybody has probably heard at this point is"Africa." Ironically, it is also the first track off the album. I'll be blunt – it's not my favorite. It may have to do with the fact that every mainstream radio station feels the need to overplay it, but I digress. I'm also not the biggest fan of "No Scrubs." It doesn't surprise me that Weezer tried to cover this song, but I mean come on. Can anybody really cover such an iconic female hype song such as this? The same goes for "Billie Jean." Although, I actually do like their cover, it's almost nearly impossible to compare Weezer and Michael Jackson on the same scale. That being said, I do respect Weezer for virtually not caring and covering whatever they wanted.
The standouts on this album for me, are "Everybody Wants to Rule the World," "Sweet Dreams (Are Made of This)," "Take On Me," "Happy Together," and most surprisingly, "Stand By Me." I believe the first four aforementioned songs work well with Weezer's style because they are already quirky bops. Cuomo's voice just seamlessly fits into the format of these covers and the instruments in the background have only slight adjustments from the originals. Whether or not Weezer knew their style would work so well with these songs is beyond me. However, I can't deny that they're actually done very well. If you're looking for slightly updated renditions of these classics, I feel like you honestly can't go wrong with this album.
But Elyse, what about "Stand By Me?" This song is the complete and total outlier of this album for me – in a good way. When I saw that they covered this iconic song, my immediate reaction was, "How in the world could this possibly work?" On one side, you have Ben E King, whose voice is soulful and smooth as anything. And on the other you have Rivers Cuomo, which if we're being honest, can get nasally at times. Well, hats off to Weezer, because somehow, they made it work. This is the one cover off the album that falls between traditional and modern. Instead of the violin in the original, Weezer successfully replaced this elegant instrument with electric guitar. Bold and risky, but needless to say, it paid off. And for as much as Cuomo's voice annoys me at times, it is significantly more refined in this cover. I really never thought I would say this sentence, but Weezer's cover of "Stand by Me" is the stand out track of this entire album.
So, there you have it. I have gained more respect for Weezer after listening to The Teal Album. Am I ready to jump back into my relationship with them? Not entirely but, this could potentially be a good turning point. We shall see what The Black Album brings March 1st.