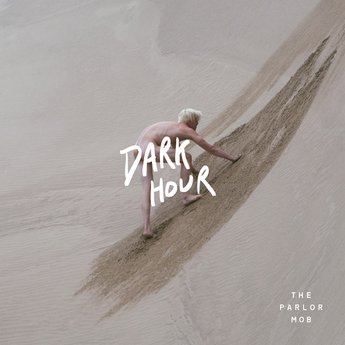 In 2019, rock and roll has been going through quite a bit of evolution. A year ago, critics and pundits were questioning if it was "alive," and purists were knee-deep in debates on whether or not acts such as Greta Van Fleet were truly considered part of the genre. This year, however, rock has seen long-time and up and coming artists embrace the genre's roots to create some truly provocative, exhilarating, and timely statements. One such act who's signaling the future is The Parlor Mob. Hailing from Asbury Park, NJ, the group have delivered further proof of their imminent rise with their latest release Dark Hour.
Dark Hour is a real deal rock record from top to bottom. The guitars are sharp and intense, the vocals passionate and raw, the drums have a kick, and the lyrics are equally hypnotic and head-banging. What truly allows Dark Hour to shine is how unified and unique it sounds in term of production. While it'd be easy for this record to just drown itself out in bombast, The Parlor Mob utilize mood, atmosphere, and layers to create moments of pure intimacy and intensity. As a listening experience, Dark Hour distinguishes itself as one of the most rewarding, accomplished, and nuanced releases of the year thus far.
Right from the onset, The Parlor Mob's mission becomes clear with standout and lead single "House of Cards."  The track has a rollicking and free-wheeling energy, and lead vocalist Mark Melicia gives a performance full of swagger and flair with lyrics delivering a sly commentary on today's society.  The rest of the album has a well-balanced scope with tracks such as "Setting With The Sun" offering a more psychedelic angle with dreamy vocals and hazy guitars. "Gun In Hand" expands upon the "House of Cards" mix of fiery commentary with hard-hitting vocals and an exhilarating all-around performance from the band. For Dark Hour's duration, The Parlor Mob demonstrate a knack for crafting music with distinct influences yet a fresh perspective.  Highlight track "Someday" reflects the band's classic rock influence while also showcasing their modern edge alongside some of their most literate songwriting and commanding vocal performances on record.
While much of Dark Hour is dedicated to the pure art of rocking, what gives this album its true sense of resonance is its humanity. As songwriters, The Parlor mob display a welcome sense of vulnerability which allows listeners to feel deeply connected. This level of emotional honesty can be found on tracks such as "All I'm Holding On To" and "So Low," which reveal that The Parlor Mob are a band whose ambitions don't just lie in killer riffs and visceral spectacle. Ultimately, despite its title, Dark Hour is a surprisingly hopeful body of work with ambition, originality, and humanity to spare. When 2019 is all said and done, rock fans will have plenty to discuss about this year's crop of releases, and Dark Hour will certainly be in the conversation.
Overall, The Parlor Mob have created a resonant, powerful, and organic record that serves as an indication of their tremendous potential. Contrary to the title of their record, The Parlor Mob's hours are looking anything but dark.
Songs to Spin: "Someday," "Gun in Hand," "House of Cards," "Setting With The Sun," "So Low"