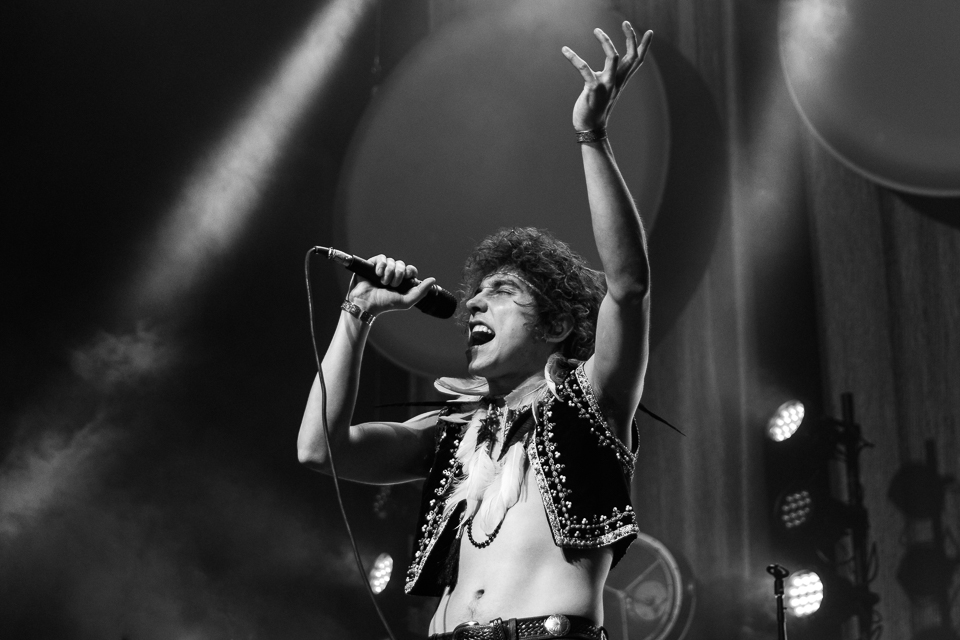 Greta Van Fleet
November 30, 2018
Terminal 5
New York City, NY
Show review and photos by Patriciana Tenicela
This past Friday, I was taken aback by a band of brothers (and one friend) from a small town in Michigan, known as Greta Van Fleet. These guys aren't even old enough to rent a car, yet they are already well on their way to rock-stardom. The band is selling out shows worldwide on their Anthem of the Peaceful Army tour promoting their debut album of the same name. When I met my fiance, he told me "rock is dead." Greta Van Fleet have proven to me that couldn't be further from the truth.
In an age of digital media where there are millions of artists on Spotify, Greta Van Fleet have managed to garner over 2 million monthly listeners. Their rapid growth is unmistakable; in just a year they have gone from playing Mercury Lounge, a venue that holds 250 people, to playing their third sold-out night at the 3,000 cap venue Terminal 5. They are a band built for stadiums, and they'll be playing them soon. They return to New York in 2019 to play Forest Hills Stadium, a venue that holds 14,000.
As I walk into the photo pit for their set, I can smell the incense burning by the drum kit. Dressed in a vintage look consisting of feathers, military-inspired jackets, vests, and statement jewelry, the members of Greta Van Fleet appear on stage before a diverse crowd of multigenerational music fans. What they don't wear is just as noticeable – not a single member of the band has on a shirt and bassist Sam Kiszka is without shoes. Singer and frontman Josh Kiszka commands the stage with a larger than life presence throwing white roses to the crowd. His voice has so much raw power that I almost thought I had forgotten to put in my earplugs.
While some may classify the band as a bit 'hokey' or having a gimmick, I see parallels to Ghost, The Darkness, and The Struts. These are bands who are all unapologetically themselves in a time where most music on the radio sounds generically bland. Greta Van Fleet have a recognizable aesthetic that you can't mistake for any other rock group around.
As a photographer, I take notice of all the subtle elements that go into a live show. From stage design to lighting, they manage to paint a vivid picture, perfectly matching Greta Van Fleet's sound without overshadowing the band. They have four circular screens above the stage that play live video of the band. It's simple and elegant while remaining interesting and engaging.
Partway through the set, they bring out a keyboard that sounds more like an organ. The band slows things down but only slightly, never losing the crowd's attention. The set features only 11 of their songs and yet they play for over an hour and a half. They do so by including carefully crafted solos by both drummer Danny Wagner and guitarist Jake Kiszka, who shows off his skills playing behind his back. The show ends the same as it began, with Josh throwing roses to the crowd.
Greta Van Fleet's retro rock stylings may not be for everyone. Many have compared the band to Led Zeppelin, even calling them a 'rip-off' at times. Despite the comparison, one thing is clear…Their rapidly growing fanbase certainly doesn't seem to mind.