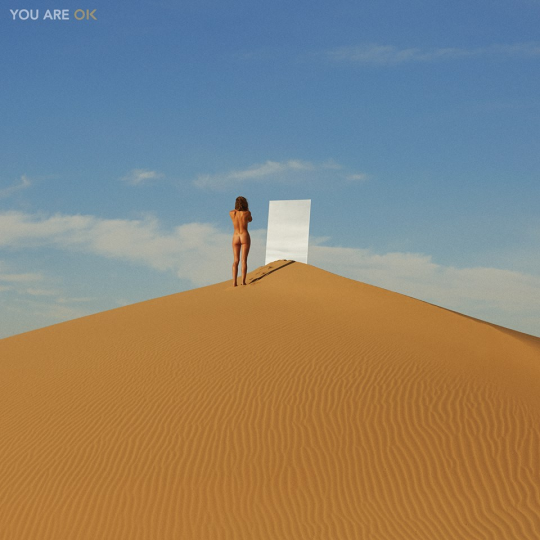 Almost exactly two years ago to the date, The Maine dropped Lovely Little Lonely, their sixth studio album. I remember this perfectly because the album review was the first article I EVER wrote for Stars and Scars. It's crazy to think that two years have already passed, especially since I always come back to Lovely Little Lonely. The album hasn't aged a bit, and I often find myself listening to the record straight through or adding a majority of the songs to various playlists. But of course, The Maine, being the ambitious band they are, aimed to create a new album with an even better track list, sound, and message. I'm here to tell you they nailed it.
With American Candy and Lovely Little Lonely, it became apparent that The Maine are amazing at two things: creating a consistent vibe throughout an entire record and knowing what songs should go where. I really don't know how they do it; all I can do is praise them. You Are OK is by no means a slow album. With the exception of "Forevermore" (an acoustic track) and "Broken Parts" (which isn't even that slow), the fast-paced nature doesn't skip a beat. "Flowers on the Grave" also has its calmer moments, but I'll get deeper into that song later. Overall, if you're in need of a consistently upbeat sound, you can play this album on repeat for hours without getting sick of it. I know this because that's exactly what I've done since it dropped.
Unlike Lovely Little Lonely, You Are OK does not have transitional songs that easily whisk you from one track to another. I really loved that about their last album because it was unique and worked with the summer vibe it gave off. However, You Are OK is so good to the point where I think obvious transitions would have cheapened the album. Like I mentioned before, the track listing is so well done that each song goes right into the next without a "What just happened?" moment. To me, this is most obvious when the album goes from "My Best Habit" to "Numb Without You." Although these were both singles released before the entire album, to hear them come one right after another is almost equivalent to mistaking them for the same song. They definitely are NOT the same, but my point is that the track placements just make sense.
If you've been a fan of The Maine for as long or longer than I have, you're probably familiar with the instruments that make a consistent appearance in their music. The typical drums, guitars, bass, and occasional piano are all a part of The Maine's previous six records. You Are OK also contains these familiar sounds yet becomes so much more complex with the addition of, wait for it, violin. Did I EVER expect this band to weave violin into their music? Hell no. I reserved that for a Yellowcard or AJR thing. However, it is absolutely flawless in this album. When they dropped their first single, "Numb Without You," which literally starts with an upbeat violin riff, I'm pretty sure I screamed. I personally love violin, and to simultaneously see The Maine try new things with such success is an overall delight. The violin makes an appearance throughout a lot of the songs and gives the album an orchestral feel, almost Queen-like if you will. I absolutely love it.
"Slip the Noose" starts off the album and I swear to the emo gods The Maine took the sound and lyrics straight out of My Chemical Romance's handbook. If you swap out John O'Callaghan's vocals with Gerard Way's, I promise you it would be impossible to distinguish between an MCR and The Maine song. This track is extremely fast, and the lyrics make it fit for the ending of a movie. The way John sings, "You shook the noose, slipped my head loose, and now that boy is history," gets me every time. From there, the album goes into "My Best Habit" and "Numb Without You." "My Best Habit" sounds most like The Maine's traditional repertoire with a slight twist. Obviously, it was made to fit the overall theme of the album, but I'm also obsessed with the middle portion where this little electronic sound comes in. It's such a minor detail, but I notice it and enjoy it every time. Also, "If you were waiting on the sun shine, blue sky, cheap high, lullaby, then my best habit's letting you down,": hi, relatable.
"Numb Without You" was the first single released off this album, and it's been a favorite of mine since. The violin along with the lyrics make this song for me. It's upbeat and fast-paced: two of my favorite things. The Maine said that they released this track first to give fans a taste of the new strings on this album, and I think that was a smart move. It definitely gave me more of an idea on what to expect. "I Feel It All Over" is one of the standouts of the entire album. The beat drop from the pre-chorus into the chorus just makes my heart race. It feels so effortlessly done especially with Pat Kirch's buildup on the drums. The lyrics are cute too. I mean there's just something so powerful in the lines, "And I swear to every god, I feel everything tonight with you," and "We dance around the pain as the world breezes by." If you asked me to pick which line I liked more, I don't know if I could.
"Heaven We're Already Here" reminds me of the summer going into my freshman year of college. Why, you ask? My friends and I would literally drive around everywhere just to do something. The road was literally our heaven, and being surrounded by best friends every single night was magical. Naturally, this song has made a very special place in my heart already. Also, I have no idea if The Maine did this on purpose or not, but "Shut the goddamn doors" …Are you kidding me? There's never a bad time for a Panic at the Disco reference.
"Forevermore" threw me off at first because it's literally an acoustic song smack in the middle of this album. However, after looking at the album as a whole, it doesn't fit anywhere else but here. It's like a much-needed break from all the go-go going. Plus, who doesn't love the sound of acoustic guitar? Throw John's vocals into the mix with some adorable lyrics and here this song exists. "Tears Won't Cry (SHINJU)" has a super addictive sound from the repeated electric guitar riff to just the way John almost sassily sings each verse. Before I go any further, I know you're all wondering what SHINJU means. According to Wikipedia, in Japanese theatre, it means a double suicide. This makes sense because the song makes reference to a "secret lover's suicide." Anyway, I like both the sound and lyrics to this song. It kind of reminds of "Na Na Na" by MCR and the way Gerard Way has an attitude in his vocals.
"One Sunset" makes me cry every time I listen to it. Ok, not literally (maybe), but it's pretty adorable. This song is all about waiting for time to pass in order to be reunited with a loved one. More specifically, John sings, "One sunset left in England so go on then, trouble. One sunset 'til I see her in her red sundress." Oh, you're crying now too? I thought so. Again, this song feels like it was made for a movie and I can't wait to hear it performed live so I can bawl my eyes out as The Maine watch me.
"Broken Parts" was the final single released, and at first, it wasn't my favorite. I instantly fell in love with the lyrics and the heavy use of violin, but this is definitely a whole different sound for the band. However, now that the entire record is out, I feel like this song has a permanent home right before the final track. It has definitely grown on me since then. Of course, the message behind it is a good one as well.
The Maine really saved the best for last. "Flowers on the Grave" might just be one of my all time favorite songs The Maine have ever written. It's beautifully complex and reminds me of "Waiting for My Sun to Shine" with the heavy guitar and swift change of tempo. However, if you aim to compare the two, you can see just how far The Maine have come musically and lyrically from Pioneer. It's pretty amazing actually.
"Flowers on the Grave" is a whole ANTHEM. I do not say that lightly. There are so many elements that make this final track a masterpiece. First, the prevalence of the violin is heavy, ending the album the same way it started. The combination of electric and acoustic guitar is also well balanced. There are also a few sections of the song which are purely instrumental. As a person who thinks instrumental music can be extremely powerful, I'm so glad The Maine decided this would be fitting. If it's done right, the instruments can make a person feel certain emotions, and that's exactly what it accomplished here.
Lyrically this song is just as phenomenal. "'Cause you don't plan life, you live it. You don't take love, you give it. You can't change what is written. So when fate cries, you listen. And flowers on the grave of the child that I used to be." The Maine really did THAT. What an emotionally yet complex image of growing up. I cannot get enough of it. Of course, the album's title also hails from the first verse. "Everything is temporary, even the sorrow that you carry. So tell me are you okay? You say you are okay. I'm okay now I'm with you." I'm not even going to pretend to apologize for quoting so much because these are some of the best lyrics The Maine have written.
There are so many ups and downs throughout the entire song. Yes, it's nine minutes long, but not a single second is wasted. From slow to fast to slower than the beginning, the tempo changes with your emotions. At points, it sounds like there is a full blown orchestra narrating the story of this song. John repeating, "Everything is temporary" then "Flowers on the grave of the child that I used to be," and finally, "I was on the verge of breaking down, then you came around," is just heart-wrenching in a good way. If there is only one track you listen to off this record, let it be this one. It will not disappoint.
Is it weird to be proud of a band? Well, even if it is, I stand by the fact that I'm proud of The Maine. You Are OK is inspirational, moving, fun, unique, and so many more adjectives that will not do it justice. Listen to it. Love it. And most importantly, remember you are ok.