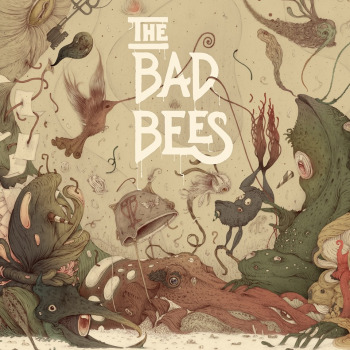 For starters, The Bad Bees are moored by none of the following:
1. Standard song structure
2. Consistent time signatures
3. Boring vocals
I can understand how at first flush, or any flush, the work found within the Philadelphia math-rock-something-band's latest EP could be polarizing. I can understand that the meandering, somewhat lengthy tracks on this record aren't for everybody, and they're still full of potential yet untapped – but with all of this said, I am if nothing else enraptured by the distinctiveness of The Time It Takes.
Upon traveling to their website, you'll see that The Bad Bees cite The Mars Volta: this checks out. The proggy-ness is front and center, although it feels more lakeside s'more-making progressive than your expected DnD meeting soundtrack. Still, it's nerdy, and while some may not like that sort of tweeness, I do. Aided by the immediately recognizable and unusual vocal style, this isn't something you can easily place into one container, and I don't think it's something you should try to. The best way to process Time is to appreciate each switch in tempo and affectation, without getting too attached before the next.
Seeing how disorienting this all might be, it's appropriate that The Bees ease us into the EP with "Introduction," which does what it says on the tin of an otherwise finicky substance. Finicky is by no means a bad quality here, I'll add.
The graduality of "Introduction" only lasts so long before "Always Restart" begins its manic journey across mini-movements. It's possibly the least smoothly flowing of these songs, yet it's because of that I find myself the most fascinated by it. It ends with a dose of moody piano just shy of the five-minute mark before "Frog Song," a swinging track that almost recalls a Black Parade-era My Chem song in the jazzy mid-song breakdown (I'm not saying the reunion influenced the comparison, but we'll just say it's been on the brain). There are a lot of elements working here and a lot of other comparisons to be made, but at this point, we're getting off track from our thesis: The Time It Takes should just be taken in stride. When listening, it feels divorced from the collective. Regardless of how you feel, I think it's uncontroversial enough to say they've achieved some singularity in their concoction.
"It's All New" didn't captivate me in quite the same way until the mostly instrumental second half, and by then I understood that a small helping of patience was needed to do the whole "simply-absorbing" experience here. Once you settle down (and get used to the lead vocals) however, you'll find it's a strange, wonderful little trip. It's one that leaves me curious about where this band is headed, and the potential their work has to effect the scene should enough of an infestation occur.