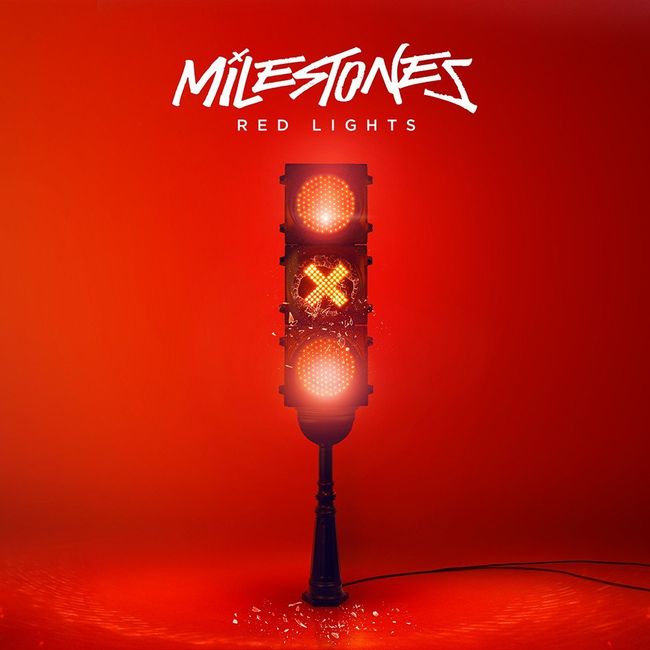 When they formed near the end of 2014, Manchester pop-rock group Milestones may not have believed anyone who would tell them they would have a full studio release not even four years later.
The band, consisting of vocalist Matt Clarke, guitarists Andrew Procter and Eden Leviston, and bassist Mark Threlfall, had only released music once before Red Lights: their 2015 EP Equal Measures, which was re-released through Fearless Records in June 2016 after being signed. Since 2016, the group had been working to get the tracks together for their debut album and perfecting their sound for the wider audience they will be encountering in the future.
The first single to be released from Red Lights was the track "Paranoid," which came out on January 26. The song gave us a hint of the sound we could expect from Milestones once this album dropped; something catchy, with a great drumbeat and a winning electric guitar riff. On the band's official website, they describe the release of Red Lights as part of "their biggest, best, and brightest chapter yet,"and if this first single was anything to go by, they are not overestimating.
"Paranoid" is strong in both music and lyrics. With lines such as, "We all know that the darkness never fades," it highlights the strong and honest themes of anxiety and paranoia in a relationship, as well as the crippling fear that someone will get hurt. Lead vocalist Clarke conveys emotion with a powerful and firm voice throughout the track. I have heard this song many times since it was released, and it still has that intense emotion that I felt from the first listen. That is the sign of a good lead single.
Multiple tracks on Red Lights tells a personal story; when it is not of love and loss, it's of fame and infamy. An example of this is the track "Once Upon A Time," which has Clarke telling the story of a man who works through tough times and hardships to achieve his dreams and perform how he always wished to.
With additional vocals in the background, impersonating the presenter of a show, it creates an atmosphere that goes along with the inspirational and encouraging melody. With the sounds of cheers from a crowd post-bridge, the song slides closer to the rock half of the album's genre. It also holds a sense of importance, as if the track was a true story of the band on their quest to achieve what they have worked hard to overcome the last few years. They have worked past their own problems and difficulties and have reached this major milestone (no pun intended) in their career.
Another catchy tune from the album is "Against The World," which highlights how the band's style of music in inspired by others in the pop-rock genre. With a slower introduction made of Clarke's vocals and a soft instrumental accompaniment, it brings to mind the tracks from pop-rock band All Time Low; to me, it is reminiscent of their 2009 release Nothing Personal, which is personally one of my favourite albums by the Baltimore group. This may be why I have such a strong liking for this track, because it gives me a sense of nostalgia for when I would hear this genre through other bands – similar but greatly different. If you are a fan of the mid-late 2000s pop-rock sound, Milestones is a band for you, and "Against The World" is the track for you, for sure.
There are also post-chorus background vocals, which are similarly found in 5 Seconds of Summer's 2014 track "Social Casualty." Is bands having similar sounds a bad thing? Not at all; I hardly believe that can be a problem. In fact, in my opinion, it gives a new act a chance to make a great first impression on music fans. Most listeners will try out new acts' tunes when they are compared to other bands in the same genre – it is one of the best ways to expand your musical horizons.
The one slow, piano-led ballad on Red Lights, "Counting Cars," simply consists of Matt Clarke with a piano accompaniment. Even the loudest, catchiest and heaviest alternative albums have that one ballad; the track that separates the first half of the album from the second and prepares you for the album's overall close as the penultimate track on the listing. The song that winds down the hype of the electric guitars and constant drumbeat, and relaxes the listener while tugging at those heartstrings so well. "Counting Cars" lyrically builds a story of heartbreak and death, one that was hinted to being avoidable. For a mere three minutes and 47 seconds, we are given the tale of a man who has lost his soulmate and is living in denial, believing she will return someday. This is the type of song that works best without those mainstream elements of rock or punk or pop. For a tragedy, you need a voice and strings, which is what Milestones gives us in this track.
Simple and effective with emotive lyrics and a mood-inducing melody, I would say "Counting Cars" is one of my favourite tracks on Red Lights altogether. I am one who enjoys a tale in a song's words – the preference of hearing someone's life set to a melody that matches the events – and I can proudly say Milestones achieve this near perfectly. If you have a sensitive heart like myself and you're prone to tearing up to any or every art form, grab your tissues. You will need them for this. I did, admittedly.
What do I make of the whole record? It is interesting, and I know I'll have most of these tracks stuck in my head for the next week or two. I may be biased as a long-time fan of pop-rock music, but this album has been one of the most fun and heartfelt collections I have listened to recently. Every string is strummed right, every beat of percussion matches perfectly, and all the praise to Matt Clarke for having a voice for the faster and louder moments (and the slower and softer moments) throughout the album. All members of Milestones have talent, and I am hoping they reach their well-deserved success with Red Lights and keep hold of that success for the rest of their musical careers.
Red Lights by Milestones is now available for purchase on Amazon and is also available for streaming on Apple Music and Spotify. Give them all your support and show them we want more!