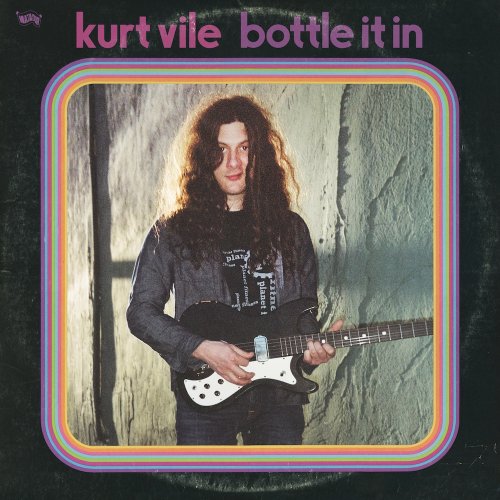 Last week, I reviewed the new Tom Petty box set An American Treasure, and this week, I'm tackling a release from his heir apparent: Kurt Vile. While Vile's similarities to Petty weren't obvious before, they've been extremely heightened by his very recent cover of Petty's "Learning To Fly" for SiriusXMU. Vile's vocals sound eerily similar to Petty in the stripped down cover, and if you weren't paying attention, the untrained ear might think it was the 1991 Heartbreakers original.
Doubling down on my Petty claims, the first few songs of Bottle It In could easily be a Heartbreakers album. Vile, like everyone, has said he is a fan of Petty's hits, and a handful of songs on the 13-song album evoke the same wistful emotions in Petty's songwriting — none more so than "One Trick Ponies." Vile sounds more like himself on the rest of the album, but you can still hear the 38-year-old aging into Petty.
For the most part, Bottle It In picks up where his last release, 2017's joint album Lotta Sea Lice with Courtney Barnett, left off. Vile was already moving towards a softer sound last year, and his new album continues this trend. A former member of The War On Drugs, those musical similarities can still be heard as well, most prominent on "Cold Was The Wind." However, the last song, "(bottle back)" sounds entirely of place. At one minute and 38 seconds, it doesn't have any vocals, just "computer sounds." In stark contrast, there are also two songs that are 10-plus minutes each.
Overall, the album feels like Vile is in a transitional stage in his music career. The songs feel as though they could be grouped into a smattering of EPs, as Vile's style varies throughout, and there isn't one cohesive vibe. I would group it this way: Young Petty, experimental, Lotta Sea Lice Part Deux, and early Kurt. This means longtime fans of Vile can gravitate towards whichever of his incarnations they like best, which is genius in that every listener should be at the very least somewhat satisfied. It will be most interesting to see which direction he goes in on his next release. Until then, we can all enjoy the many faces of Vile.