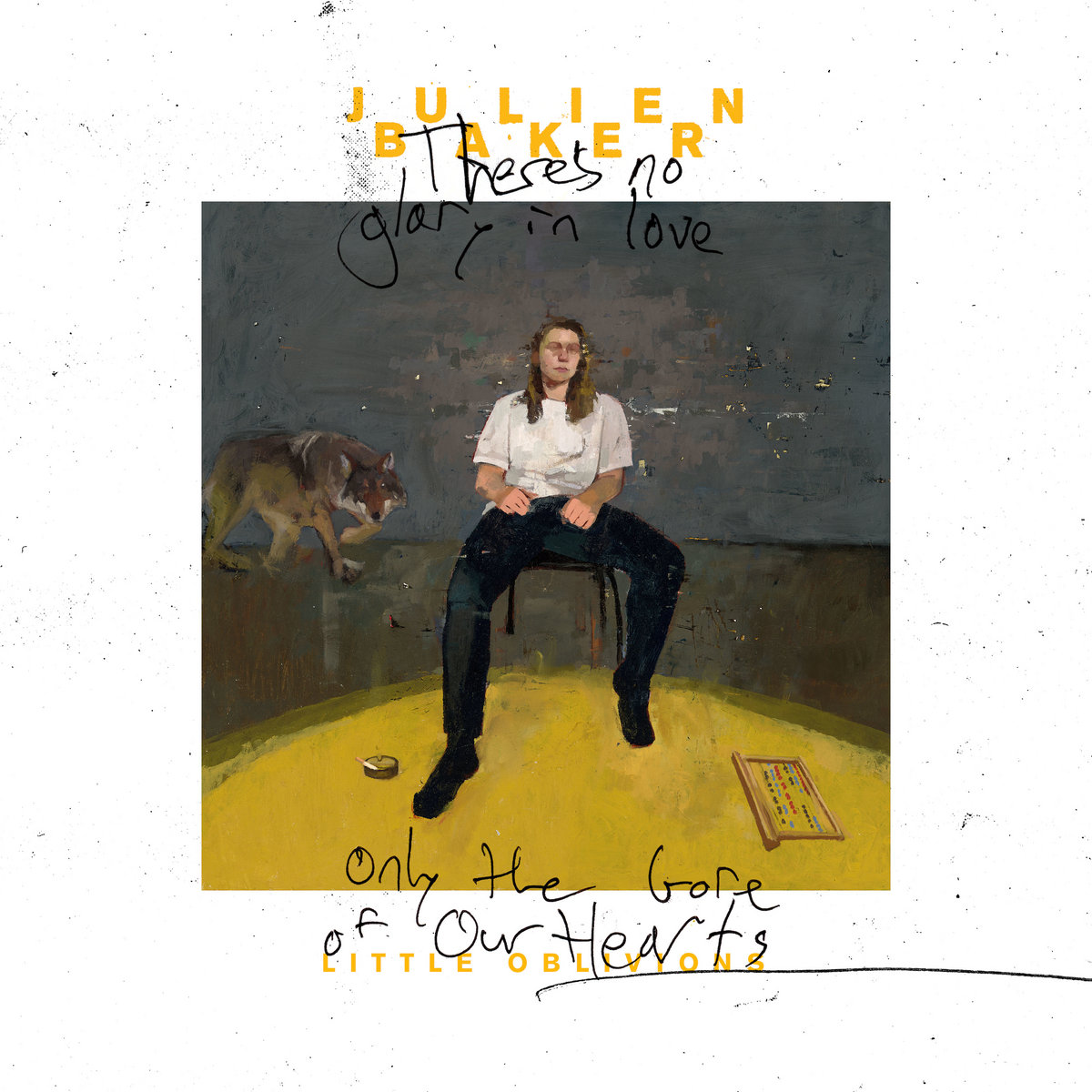 When Julien Baker apparated onto the face of the indie-folk scene in 2015 with Sprained Ankle, it was with a sense of stark minimalism that she staked her claim in the legacy of confessional singer-songwriters. As the 2010s wrapped up, it became clear that Baker either possessed a keen sense of where indie rock was headed or had helped steer the wheel that way herself. When we look around at the results of this shift, entirely led at the helm by women, it's hard to deny at least one of those propositions. We have reached a point where Phoebe Bridgers is playing SNL (and singlehandedly reviving pearl-clutching about smashed guitars, evidently).
Since her debut, however, Baker's sound has undergone a series of changes; all of which have meant the incorporation of heavier and more complex instrumentals. Little Oblivions follows this progression, but to an extent Baker previously only flirted with. There's reverb that sounds like the ghost of a choir alongside electric guitars and pianos. This is an ambitious rock album, refusing to be moored to any one sound even in its aesthetic consistency – but underneath all the trappings of the production remains a keen ability to extract intricacy from simplicity.
This is not to say melodic risks aren't taken in Baker's latest effort. The opener, "Hardline," coalesces into an explosive breakdown halfway into the track. There is no distinct chorus present, although the song's climax finds a coda of that same breakdown set against Baker's cries of "all the time"- What if it's all black baby/ All the time? she asks. At no point on Little Oblivions does there ever seem to be a clear answer, but this is not a record about finding one.
Conversely, Oblivions feels like 42 minutes of painfully raw catharsis. There are moments on this album that will genuinely make the listener uncomfortable, but Baker's chronicling of addiction's darkest throes feels unwaveringly genuine. That's chiefly because it's Baker's own story – if there's anyone both allowed and qualified to talk about these things against a backdrop of Generation Z Americana music, it's her – but it's more than the obvious. Conversations about whose place it is to accuse someone of milking their own hardships aside, to describe these as simply sad songs about drugs is short-sighted, to say the least.
A recent article in the New Yorker features the subheading "Baker explores how treacherously good it can feel to loosen one's grip on reality." The lines Wish that I drank because of you/ and not only because of me/ Then I could blame something powerful enough/ Not to make me look any more weak in "Song in E" certainly don't suggest pleasure or contentment, but perhaps there's a relief in exhaustion so deep that it reprieves one from fighting back.
"Crying Wolf" floats in an atmospheric pool of wistfulness; "Ringside" is bitterly sardonic; "Highlight Reel" is achingly desperate. The range of nuanced emotions strewn throughout the record reflects the nuanced range of the pain of addiction. Upon first listen, one might come away from this rollercoaster feeling gutted, traversing 12 tracks of Baker hanging herself up to dry and proceeding to flog herself on top of that. The more times you revisit Oblivions, though, the less this sounds like an exercise in pain (and the less you feel like you're undergoing a bleakness endurance test). There is hopefulness in the naked honesty each song presents us. It might come across as a cry for help; it might come across as a defiant refusal to fully bend to the will of the addiction and give up entirely. Regardless of one's prerogative, there is much more bubbling under the surface of Baker's lyrical darkness that prevents it from being completely nihilistic. The record ebbs and flows, sometimes doing a better job at musically compelling you than others, but overall demanding rapt.
In the somber alternative rock ballad "Relative Fiction," we find the hardest statement to find this subversive resilience in: I'm not telling you I'm sorry/ For something that I'm gonna do again. It might just be the lowest point on Little Oblivions. And yet as tired and without closure the final song "Ziptie" is, it serves as a testament to perseverance as Baker sings about 'trying to find a reason to fight.' It may not sound like much against the towering wall of suffering, but just as the album begins with a question, it ends with one. Good God/ When're you gonna call it off?/ Climb down off the cross/ And change your mind?
Against the odds, Baker's character in Little Oblivions does not stop asking for answers she doesn't receive within the scope of these 12 songs. But something much subtler suggests there is closure to be found, and that alone makes Little Oblivions worth every minute.