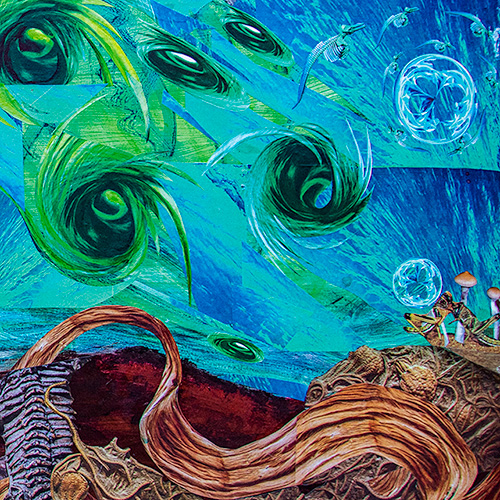 After taking some well deserved time after their 2015 release The Direction of Last Things, the LA-based band Intronaut return with their insanely great new album Fluid Existential Inversions. Try saying that five times fast. The record offers up nine killer tracks that are wildly hypnotic, entertaining, and just all-around fantastic musical experiences. Sacha Dunable (Vocals/Guitar), Joe Lester (Bass), David Timnick (Vocals/Guitar), and Alex Rudinger (Drums) put their heart and soul into this new record, and it shows right from the start.
Intronaut's journey through music has seen their work evolve to another level with each record they've produced going back to 2006's Void. If you're familiar with Marvel comics and the Infinity Gauntlet, Fluid Existential Inversions feels like the band has collected each of the infinity stones as representation from their previous albums and combined them all with their latest release. The progressiveness of their talent has been astounding, to say the least. What fans have come to love and expect are is all here mixed, with some new style riffs, even more psychedelic tones, heavier drums, and great vocal work.
The album takes flight with the opening track "Cubensis," which is one of my favorites and has a pretty awesome video you have to see to believe. Sacha's vocals are well placed throughout the song, and I like the number of drums used on this particular track. There's a lot of twists and turns with the sounds, tempo, and bass rhythm which I think a lot of fans are going to love. It's a great tune to sit back, kick your feet up, and just close your eyes and drink it all in.
Next up is a fantastic record called "The Cull." The vocals here are hard-hitting at one point and then switch up as the song progresses. It packs an incredible combination of drums and solid guitar arrangements with a slow but steady pace. You can hear so many different musical influences like Stevie Nicks' "Edge of Seventeen" and Stone Temple Pilots just to name a few. The use of bass is applaudable.
Last, there's "Tripolar." The guitars are reminiscent of Metallica, Disturbed, and so many other great bands. It sounds like a good horror theme for a film or television show. It's got a creepy element to it that never escapes your mind during the entire six minutes of play. As a whole, it feels like an excellent song to headbang to at a party or home alone. It's structured so well and holds a decent melody.
Overall, there are just too many great things to say about this album. But the most important detail is that Intronaut get better with each project they put out. The sound, mix, drums, and everything else are a lot heavier than their last release – in a good way. It feels focused and well arranged. Intronaut is not the type of band you can simply place into one particular category, so I'll just end by saying their complexity is ingenious.