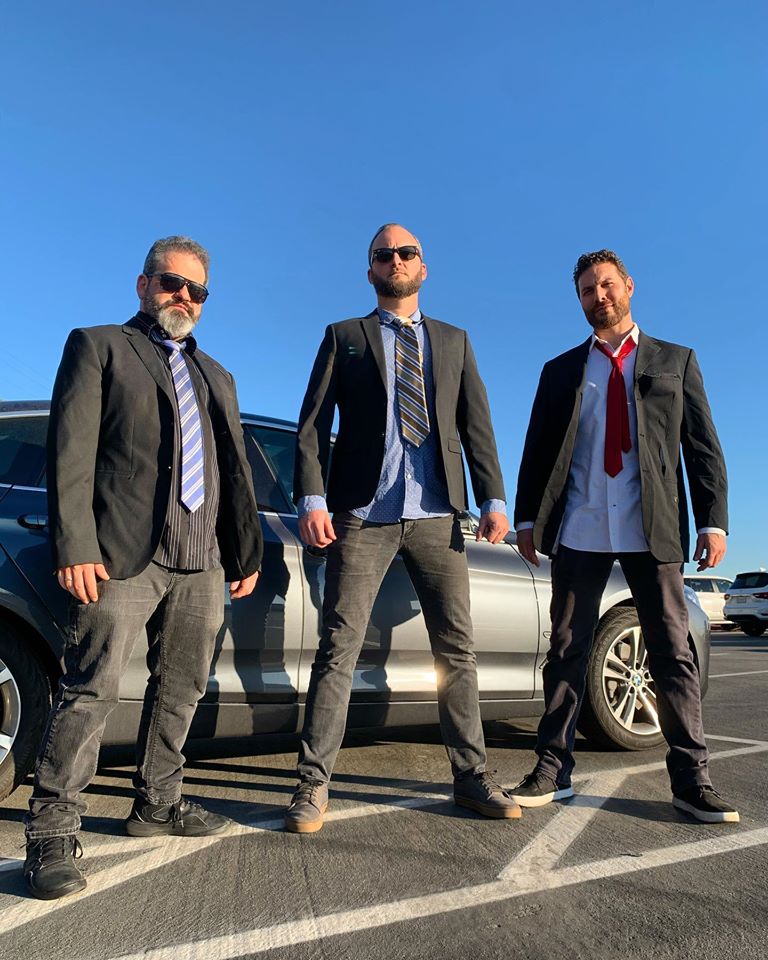 Everyone deserves a little time off from hard work, and Intronaut took just that back in 2015. Now, they're making their triumphant return with a new record called Fluid Existential Inversions. One of the first singles, "Cubensis," boasts a hilariously awesome music video that continues to show why they are such a time-signatured, proficient, and amazing band to listen to. I caught up with the boys to pick their brains about the album, ask if any of them adopted a dolphin during their time off, and find out what we can expect from the studio release.
S&S: Thanks for taking the time to talk to me. Welcome back, and can you guys introduce yourselves for music lovers who may not be familiar with your music?
Intronaut: Hello! We are Intronaut. We're a progressive hard rock / heavy metal band from Los Angeles, California. Listen to our music! You'll love it… fun for the whole family.
S&S: Performing and touring can be rough. What was the decompression like during your time off? Did anyone get married, have a baby, adopt a dolphin?
Intronaut: Some of us got married, none of us had a baby, and all of us adopted a dolphin.
S&S: Was it difficult getting the band back together and sort of shake the cobwebs off after being away from the music scene?
Intronaut: Not really. I mean, losing a drummer was an obstacle to be sure, but we got together and sort of rededicated ourselves to the music and each other, and I think we're stronger now than ever.
S&S: Do you ever find it hard to balance a social life and a full work ethic to the band?
Intronaut: Well, balancing a social life isn't really the most difficult thing in the world. Balancing a financially lucrative professional life outside of the band, on the other hand, is quite difficult indeed.
S&S: I'm sure a lot of blood, sweat and tears went into the progression of making the new album. Can you share any behind the scenes moments that stood out for you all?
Intronaut: Hmmm… well, most of the best "behind the scenes" moments cannot be shared! But I'd say that the golden moments don't always stand out when they are happening, but it's pretty incredible to look back at the last five years and see how all of our lives changed and evolved, creating the circumstances responsible for the progress we've made and the album we've created.
S&S: It's been a long time coming but I'm excited as much as anybody to listen to your brand new record Fluid Existential Inversions. How many songs can we expect from the new album, and are there any surprises we can look forward to?
Intronaut: There are eight full songs on the album, along with a short intro for a total of nine tracks and roughly an hour of music. As far as surprises go, well, if I spilled the beans now then they wouldn't be surprises now, would they?
S&S: You've added a new addition of drummer Alex Rudinger. Who approached who, and how did you guys all meet?
Intronaut: We've known Alex for years, and we approached him after we parted ways with our previous drummer. We're still figuring out our long-term situation, but one thing is for sure – Alex Rudinger has put on an absolute drum clinic all over this new record!
S&S: You released your first single "Cubensis," and I'm really loving the sounds. The video is pretty awesome and features some very creative and hilarious moments. Who came up with the concept for the video, and how long did it take to shoot?
Intronaut: The video was conceptualized and created from beginning to end by our good friend Pat Lascu, who also did the video for "Fast Worms" on our previous album. Stay tuned for another new Intronaut video from him in the next month or two.
S&S: Can we expect a tour in the near future?
Intronaut: You can expect a lot of touring from us in the very near future. 2020 is going to be a good one.
S&S: Why should fans check out Fluid Existential Inversion, and what can they expect?
Intronaut: They should check it out because really, what else do you really have going on? It's pretty good, and you might like it.
S&S: It's been a pleasure chatting with you guys, and I can't wait to listen to the new record. Any last parting words for the fans?
Intronaut: Listen to our music, come to our shows, and have a great day!