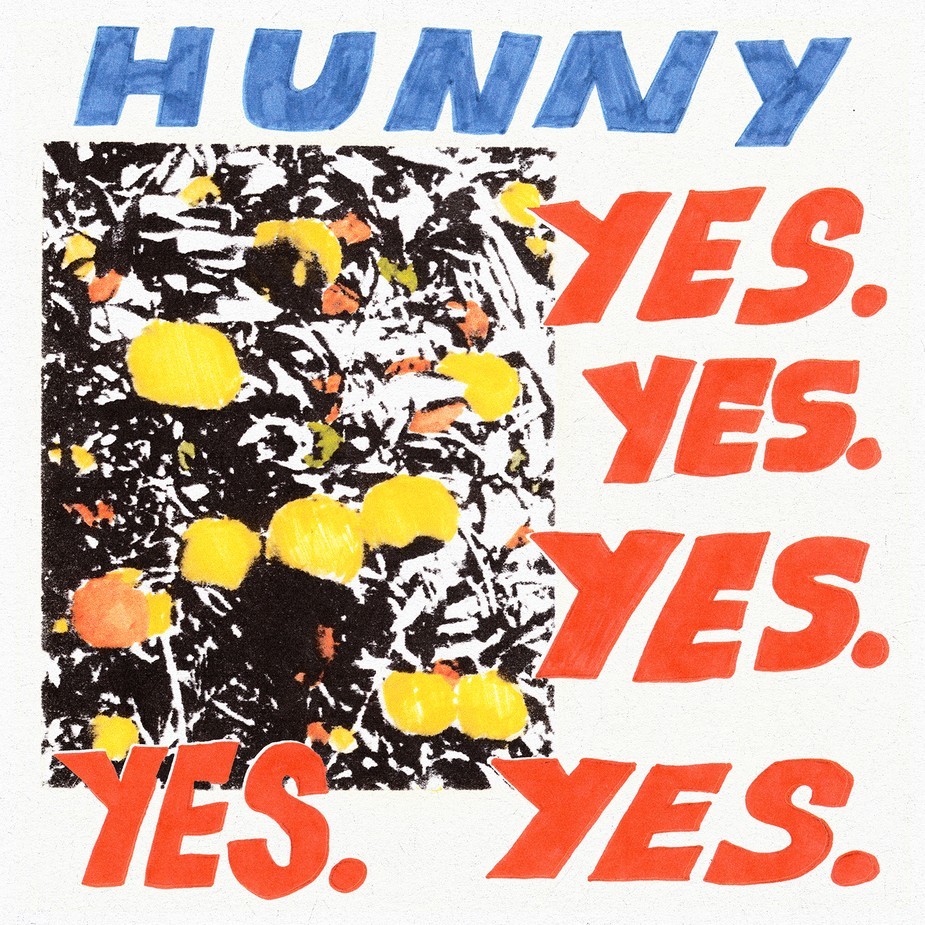 Indie-pop music has been on something of a retro kick these days. With bands such as The 1975 asserting dominance, it seems the new wave sounds and styles of the 80s are finding their way back onto the airwaves. Up and coming indie-rock act HUNNY are among the latest to embrace the retro alt-pop trend and manage to invest their latest release Yes. Yes. Yes. Yes. Yes. with an exuberance, freshness, and all-around sense of joy. This results in an exhilarating, self-aware, and sincere recording that offers up genuine potential while displaying the band's musicality and vibrant approach. Much of Yes. Yes. Yes. Yes. Yes. is a care-free and brisk ride, but it's surprisingly insightful at times, too.
Right from opener "Lula, I'm Not Mad," HUNNY showcase a flair for tight instrumentation and a catchy, punchy sound that draws influence from 80s pop-rock with elements of 2000s alternative as well. Lyrically, the group deliver witty and funny yet emotionally delivered lines about relationships, communication, young love, and society. Tracks "Change Ur Mind" and "Smarter Ways of Saying It," while upbeat on the surface, explore the struggles of modern relationships. HUNNY's performances and songwriting are playful in nature, which leads to some wonderfully unexpected moments. The spiky punk edge of "Ritalin" hits with real intensity and "Halloween" shows what the band can do when they let loose and lay on the riffs.
Elements such as these indicate that HUNNY have a surprising amount of range, and thankfully, their album is paced and structured for maximum effect, making sure each song doesn't outstay its welcome. Another benefit here is the strength of the band's chemistry with one another. The unity and fluidity each member of HUNNY bring to their performances are polished, exciting, and utterly entertaining to hear unfold. Credit also must go to lead vocalist and guitarist Jason Yarger who brings a swagger, honesty, and down to earth approach. This helps to ensure that the material on Yes. Yes. Yes. Yes. Yes. is accessible and relatable while still well-crafted.
With the release of their first full-length debut, HUNNY have streamlined and expanded upon their brand of sunny and emotionally-tinged California rock with satisfying results. While the band is still forming their sound and substance in some ways, in others, HUNNY appear confident and vibrant and have a considerable level of presence. Judging by the results here, the band are embracing their retro roots while delivering some pure and exciting pop-rock music in the process. I think that's something we all shouldn't have a hard time saying yes. yes. yes. yes. yes. to.
Songs to Spin: "Change Ur Mind," "Smarter Ways of Saying It," "Ritalin," "Halloween"