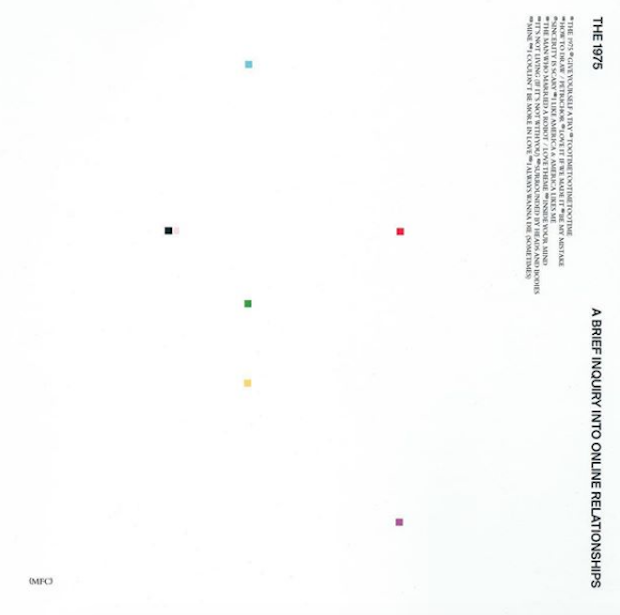 It's safe to say that despite technological advances, we live in rather disjointed times. While it's become easier, it has also become harder to stay connected with the world around us. Exploring our societal relationship with technology and its side-effects have become dominant themes in modern music. A Brief Inquiry Into Online Relationships, the latest release from Manchester-helmed indie pop band The 1975, is a complex, personal, and hugely ambitious statement on the subject. For their third album, lead singer Matt Healy tackles a multitude of ideas and motifs ranging from identity, modern relationships, communication, isolation and loneliness, and perhaps the most important one being honest in today's society. The presentation of these themes is reflected in some of the group's most imaginative and grandiose music alongside some of its most intimate and confessional work as well.
What's particularly striking about A Brief Inquiry is how sonically diverse it is; the production incorporates various genres, sounds, and styles ranging from synth-pop, Neo-soul, jazz, trip-hop, and ambient music, while embracing techno, electronica, and even shoegaze. This leads to some of the band's most avant-garde work on tracks such as "How To Draw/Petrichor" which transforms into a skittering breakdown mid-way through and "I Like America and America Likes Me" which utilizes auto-tune and trip-hop to distorted yet exhilarating effects. On single "Love It If We Made it," The 1975 use bombastic arena rock as a template to comment on modern ills of society including immigration, race, politics, and police brutality with the cathartic yet soaring refrain of "modernity has failed us / and I'd love it if we made it." Elsewhere on the album, Healy opens up about his loneliness and isolation on understated acoustic number "Be My Mistake" and on the soul-influenced number "Sincerity is Scary." Both songs contain some of Healy's most raw and immediate vocal performances and illustrate a newfound sense of maturity and vulnerability.
What truly makes A Brief Inquiry such a compelling experience is the sheer scale of the album's musical and thematic scope; it combines social commentary, confessional songwriting, and sonic exploration masterfully. This allows for the album to be cohesive and multi-faceted in terms of its production, arrangements, and concepts. Musically, The 1975 are no strangers to unique juxtapositions which are present here in the form of "It's Not Living If It's Not With You," which is a glistening 80's-influenced anthem disguised as a portrait of addiction, and lounge number "Mine" with rich buttery soul contrasted against Healy's exploration of commitment issues. "TOOTIMETOOTIMETOOTIME," is an unabashed trip-pop/house number concerning fidelity and online relationships. Lead single and opening track "Give Yourself a Try" reworks a Joy Division guitar line into an upbeat post-punk number about growing older and accepting yourself.  Each song presents itself as an immersive experience and contains its own set of perspectives. On their previous outings, The 1975 admittedly had concerns regarding their fame, relationships, and view of society, but here, their storytelling run deeper and cast a wider net. The interlude "I Married a Robot/Love Theme" incorporates a Siri narration to tell the tale of man's dependency on the internet. It's sad, funny, insightful, and demonstrates a genuine resonance.
Charting The 1975 sonically, each release prior has contained its own set of influences and tones. Whereas their self-titled debut touched upon modern indie 2000's rock and Britpop, their second, I Like It When You Sleep, For You Are So Beautiful Yet So Unaware Of It fully embraced their 80's rock and pop leanings. A Brief Inquiry attempts to forge its own sonic groun,d subverting traditional song structure and conventions in the process. There are still some notable influences, primarily OK Computer and Kid A era Radiohead, early New Order, and Joy Division. The group also take cues from early U2 and My Bloody Valentine. While they've always worn their influences with pride, on this album, The 1975 are more adventurous than ever and their passion and spirit toward challenging modern pop music is undeniably exciting. While this effort may admittedly lack some of the more straightforward pleasures of previous highlights such as "Love Me," "The Sound," or "Chocolate," the results add up to a more focused and accomplished set.
Overall, what allows Brief Inquiry to be such a rewarding progression is the sheer commitment of The 1975's vision and how deeply the ideas and emotions are displayed.  This album is one of the most haunting, searing, and poignant meditations on what it means to be alone in today's world. Ultimately, A Brief Inquiry Into Online Relationships is an exhilarating, genre-smashing, subversive, personal, and beautiful work of art. It indicates that the 1975 are attempting to push boundaries and is a stunning progression for the band as a whole.
There was a lot of talk prior to this release about the importance of the modern rock band and its significance. The 1975 in the span of a few years have undeniably positioned themselves in the conversation as one of the more culturally relevant acts. There's been further discussion of whether The 1975 could go on to become the band of their generation and join the pantheon of their influences. Time will tell whether the band fully secure their place in the canon of modern musical vanguards or not. But, if there's for one thing for sure upon listening to A Brief Inquiry Into Online Relationships, I'd love it if they made it.
Songs to Spin: "Love it If We Made It," "Sincerity Is Scary," "Inside Your Mind," "I Like America and America Likes Me," "It's Not Living If It's Not With You,"  "I've Never Been More in Love,"  "I Always Wanna Die (Sometimes)"