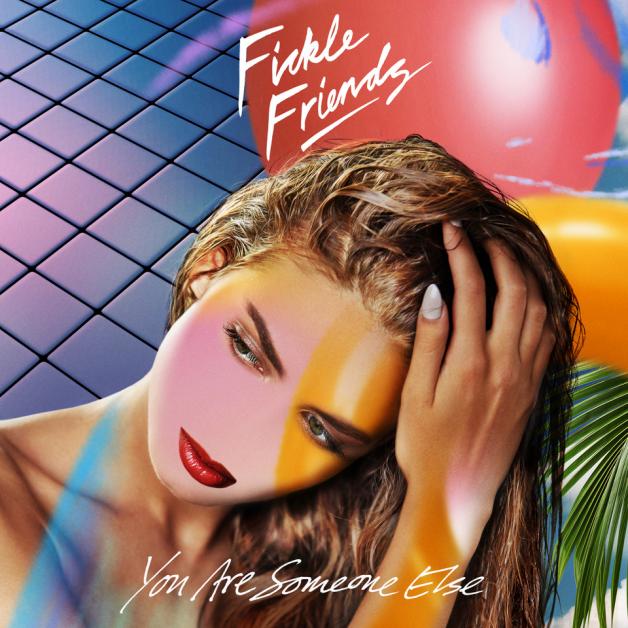 It has been a five-year journey for indie band Fickle Friends to finally reach the official release of their debut album You Are Someone Else, but it has been a busy adventure. Following a timeline of releasing singles, two well-received EPs, and a successful period of touring, the Brighton band were at last signed to a label, Polydor Records, and a full studio album was on the way.
Containing previously released music from their EPs, 2015's Velvet and 2017's Glue, You Are Someone Else brings Fickle Friends' original work to a wider audience while also offering some brand-new tunes – a celebration of reaching this major milestone in their still blossoming music career.
The opening track of the album is the latest single "Wake Me Up," which was released two weeks before the album on 2nd March. It is the ideal track to begin the listening expedition of the album, with a smooth fade-in intro leading into a song about heartbreak, distrust, and bitterness. This song is an example of what to expect throughout the run of the album: lyrics telling stories of sadness and misfortune, set to a background sound of upbeat, fast-tempo melody and manipulated backing vocals. The song repeats the line, "We are absolutely failing" in the chorus, which is the highlight of the lyrics, showing the true nature of the relationship being described: failing. Later on in the song, vocalist Natassja Shiner sings the query, "Why do we always pretend/Like we could ever be friendly," illustrating a sense of falsehood. Though this is a classic story to hear in mainstream music, when set to a great beat, you will not forget anytime soon; it sounds brand new and refreshing to listen to.
One of the other catchier tracks on the album is "Swim," which is an important song in the band's history. "Swim" was first released by Fickle Friends early on in their career as their debut single, released independently in 2014. The track was re-recorded for You Are Someone Else, and even if the differences are subtle, the improvement is clearly heard when  comparing versions. The original recording has a more chilled sound, whilst the new recording has a more electronic-influenced, 80s-inspired feel – it sparked a resemblance in my mind to the latest music from punk band Paramore's latest release, After Laughter – and in my opinion, both are worth a spin. But in my honesty, I have to give more praise to the You Are Someone Else version of the track. It has a melody that matches the vocals better, and Shiner's vocals are more fitting to the synthesised accompaniment that is present in this version.
However, if you're curious hear Fickle Friend's origins and the songs that led to them releasing this entertaining debut album, I highly recommend you listen to their back catalog, starting with debut "Swim." You will not regret it at all!
I would label track "Lovesick" as the "summer love" song of this album – the song to add to that yearly collective of tracks, showing up and smashing into the charts every summer. In fact, I believe "Lovesick" may be the track of the summer of 2018. This song, if promoted right, can be all you will hear in the next few months. It tells a traditional tale of infatuation using clever lyrics and emotive wording to convey the romantic tone intended. Using lyrics such as, "Nothing makes sense when I'm not with you" and "I wanna give up giving up on you," the lines connect with younger and older listeners. For a band still taking off into stardom, being able to connect to a wide range of audiences is useful and will pay off. The song is closely relative to "Swim," also featuring a synthesised sound not too distant from the 80's inspirations with a catchy beat.
The last song to highlight from the album is one of the shorter and softer tracks, "In My Head." Coming in at a short two minutes and three seconds, there is a heightened focus on Shiner's vocals rather than the accompanying instrumental. The fade-in is subtle, gentle, and her voice stands out from the first note. It is a mid-album change, and shockingly, in an album of songs with elements of pop, electronic and indie genres, a slower ballad is welcome (if ballad is an appropriate label for this song). The melody fades out 20 seconds before the track concludes, so we are left with a moment of silence. That time should be taken to think back over what we heard: every word, every line, every meaning we can hear. The song should be taken more as a rhythmic poem, as what is spoken is brought to attention most. The band themselves revealed that the song was written during their time in America and is about homesickness for the United Kingdom – which is probably most visible in the chorus lyric, "Getting used to American time." There is a double-meaning that can be interpreted: the lyrics can read as a wanting to go back home and suffering from homesickness but could be read as trying to survive without a loved one. Both situations evoke pain, depression, and loneliness; which is also felt through the lyrics such as, "Always afraid of what will follow" and "I'm alone in my head, my alarm isn't set."
If "Lovesick" is our mainstream love ballad, then I shall call "In My Head" the traditional ballad from the album.
Overall, I am impressed with You Are Someone Else. It is more than just an album; it is a result of true hard work, determination and what will happen when leading your projects independently: you will get what you desire. For Fickle Friends to go from releasing singles and touring on their own to being signed to a label and releasing a full studio album within five years, they deserve every single word of praise and recognition.
I would recommend playing through this album if you are a fan of indie pop music and electronic elements. It is for sure recommended for those who enjoyed the change of sound on Paramore's After Laughter, as the music is similar – yet not too similar that it feels like they are just a carbon copy of the band.
Let this be the first hit album of a whole career full of hits.
Stream You Are Someone Else on Spotify or purchase the album on iTunes. Fickle Friends are also touring around the world from April to October; information about tour dates and tickets is available on their official website.