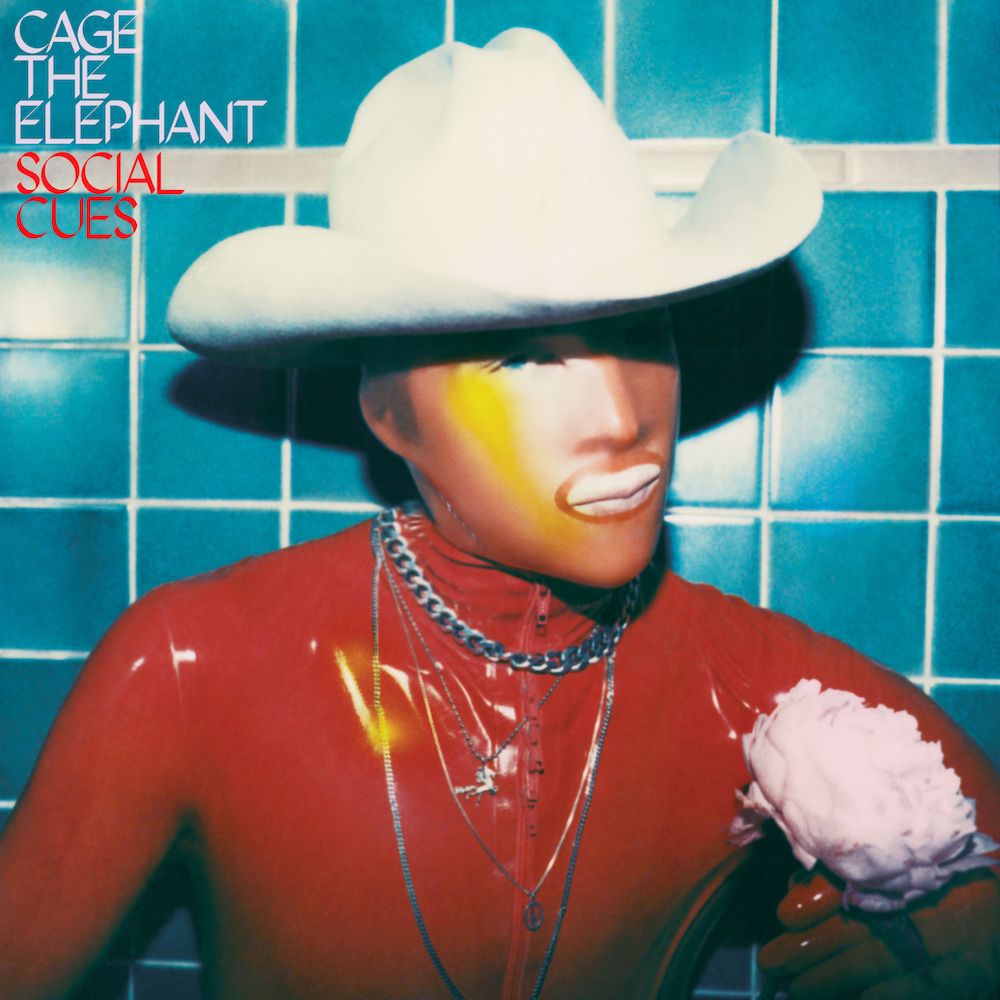 Many bands strive for longevity, and Cage The Elephant have been proving themselves worthy since 2009, building a steady fanbase and a fairly successful body of work. With their latest release, Social Cues, the band find themselves veering in a new direction, embracing new sounds and styles all while getting more personal. On this record, frontman Matt Schultz examines themes of loneliness, isolation, and alienation set against production that combines their signature blend of rock and funk with a newfound enthusiasm for retro-pop. The overall experience is a more accessible and mature record but one that still represents Cage The Elephant's trademark energy, flair, and gleeful spontaneity.
On a production level, Social Cues is more far-ranging and eclectic than previous releases from the band. Musically, the record contains elements of funk, blues, new-wave, and synth-pop but still manages to incorporate the band's own distinct sound. Early highlight and title track "Social Cues" embodies the record's more atmospheric and sophisticated sound and lays the foundation for the band's new perspective. Other tracks indicate that Cage The Elephant still possess a free-wheeling sensibility such as the jazzy "Night Running" featuring Beck, and "House of Glass" shows the band can still turn out a stomping and kinetic rocker on command. In terms of arrangements, Social Cues takes on a much broader and ambitious scope but still contains moments of intimacy and excitement.
Lyrically, Social Cues finds the band looking more inward as lead singer Matt Schultz achieves more depth and emotion here than on preceding albums. Stand-out track "Love's The Only Way," a grand orchestral number, contains one of Schultz's more haunting performances. As a songwriter and performer, Shultz displays a notable progression on this record. Here his vocals are more layered and soulful, and his performances feel more direct and purposeful than in the past. Thematically, Social Cues manages to be one of the band's most forward-thinking releases and lyrically one of their most resonant.
Alongside their lyrical growth and sonic experimentation, Cage The Elephant still triumph in their simplest moments. "Skin and Bones" is an understated number that shines due to its simplicity. Tracks "Ready To Let Go" and "Tokyo Smoke" find the band honing their craft and style without sacrificing any of their newfound growth in the process. Cage The Elephant exhibit sophistication and nuance in sound and substance on Social Cues that allow them a greater command over their medium.
On the whole, Social Cues is a satisfying and well-rounded release. It ushers in a new direction for Cage The Elephant while still showcasing their vital and unique sound. For many bands, continuing to expand their sound can be challenging. For Cage The Elephant, however, there are no cues they appear to be missing. The end result is one of their most dynamic, exciting, and revealing outings yet. Turns out this elephant isn't the slightest bit caged in
Songs to Spin:  "Social Cues," "Night Running," "Love's The Only Way," "Ready To Let Go,"  "House of Glass"