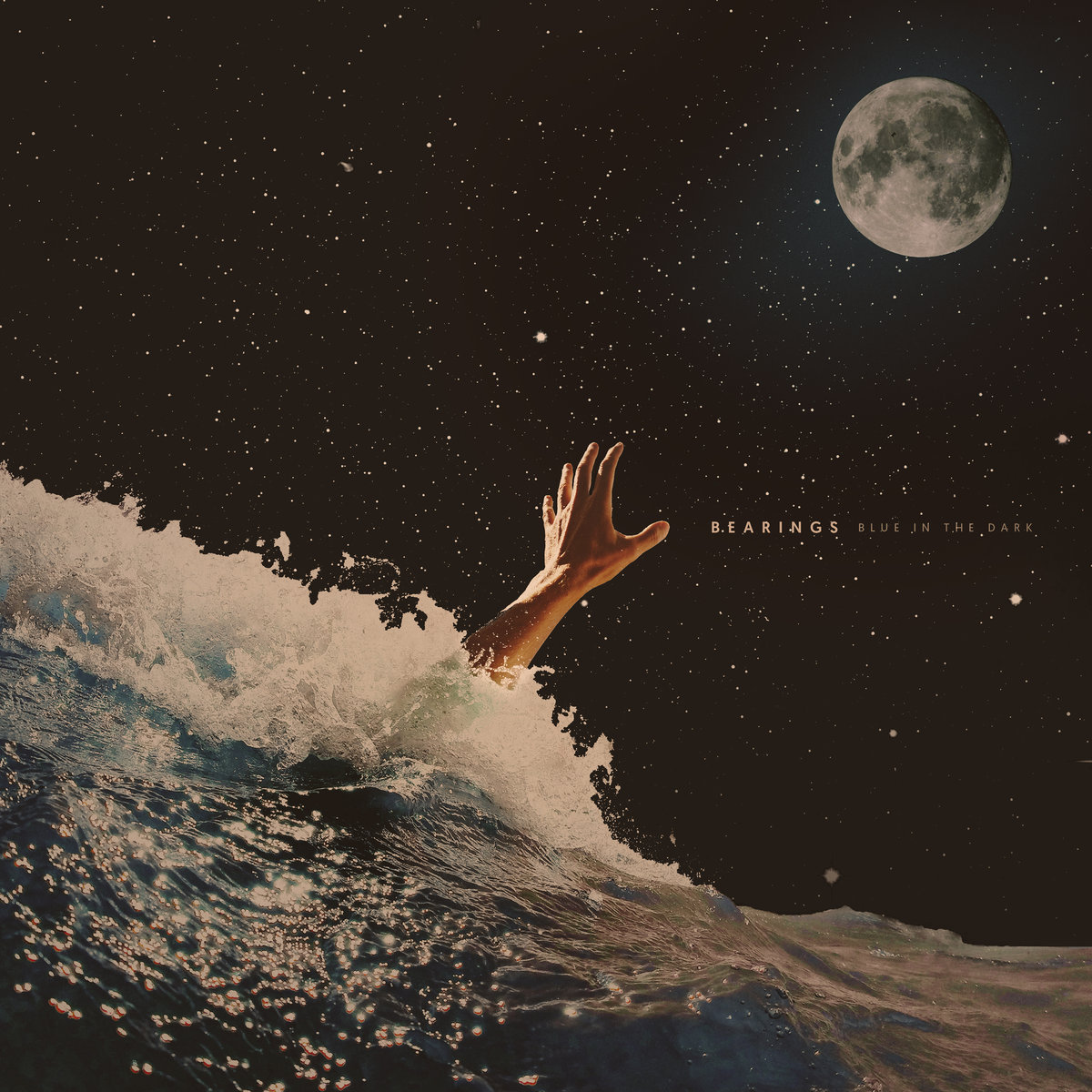 After much anticipation, Bearings' debut full-length album Blue in the Dark has arrived. The Canadian four-piece rockers have two prior EPs, Home Is… and Nothing Here Is Permanent. "Letters Home" and "North Hanson" off of 2017's Nothing Here is Permanent are major standouts. These EPs gave us a brief taste of their sound – a little bit angsty, heavy on melody, and lyrically very personal. As is the case for most pop-punk band's first EPs, they're a little bit unpolished in comparison to their first full length.
Blue in the Dark is an elevated version of their earlier work. It's got all the same emotions with enhanced instrumentals and a bigger variety of sound. The album as a whole is beautifully balanced – the angst is still there, but it's sandwiched in some sincere, yearning tracks and complemented with the occasional softer beat. Vocalist Doug Cousins has a voice so sweet that you'll fall in love with it even when he's shouting. On slower, more loving tracks, you're absolutely done for.
The album opens with the single track, "Where You Are." This is one of those songs where the guitar takes center stage – Ryan Culligan absolutely shreds through it. This track fits very well with the Bearings we already know – it sounds like it could be from one of their EPs. That feeling of familiarity doesn't stop at just this track.
Also released as a single, "Aforementioned" has a melody that feels right at home with the band. There's something about the way that Cousins sings the word "heater" in the opening lines of this song that I just can't get over. It's a really sweet song and leads the listener into an album experience full of lyrics like this song's chorus – emotional, heartfelt, and sensitive. Doug Cousins croons, "I hear your voice / it's a symphony."
The crooning doesn't stop there. Tracks "Blue in the Dark" and "Tide" are songs that could make even the most unromantic listener fall in love with the entire band. "Tide" is a bit of a departure from the rest of the release. It's acoustic, and the stripped-down instrumentals match the smoother, much calmer gliding of Doug Cousins' vocals. Lyrically, it really tugs at the heartstrings – "Hold on to me / you won't drown / you will survive". Listening to it feels like getting a hug from an old friend. When the tambourines chime in, it feels like you're sitting in on a basement jam session.
The title track "Blue in the Dark" is almost as gentle but somehow manages to still have a pop-punk feel. Instrumentally, it reminds me a lot of Death Cab for Cutie. The melody sounds like what drifting along a lazy river feels like. The vocals on this track are simply stunning. I have no idea how Cousins can make the phrase "worms can eat my flesh" sound so lovely. My favorite moment on the entire album is the last time Cousins sings the word "ghost" in this song.
A marriage of the acoustic feeling of "Tide" and the upbeat vibe of "Blue in the Dark" can be found in "Careless Clarity," which has a lighter, almost indie rock feel to it. It sounds as calm and happy as its title suggests, with melodic vocals that would be at home on a movie soundtrack. Situated near the middle of the album's tracklisting, it acts as a little bit of a palette cleanser from a rockier first six tracks. To be quite honest, it's a bop (that's a technical music term).
Cousins' vocal range keeps the album fresh. On a lot of songs, he switches back and forth from melodic singing to staccato shouts. It keeps the listener on their toes and adds an extra dimension to the songs. In "Eyes Closed," which may actually be the next great pop-punk love song, his voice amps up into a crescendoing shout within the first 30 seconds and then returns to normal. The track is a rollercoaster. It's a great example of the band's gentle, heartwarming lyrics in a punky, melodic package.
My favorite songs on the album are the louder, bolder ones – "Love and Decay," "Stuck in a Doorframe," and "Goodbye (To All of Our Friends)." "Love and Decay" is stylistically very similar to Bearing's early music. The intro vocals are faded, almost to the point of being background noise. As the album's last track, it's a strong closer that reminds you of the epitome of Bearings' sound. "Stuck in a Doorframe" has a chorus that just won't quit. It's fast-paced from the start and ropes you in with its melody. The way the lead vocals and the backing vocals play with each other is a give and take in a way that's reminiscent of Taking Back Sunday – this is literally the highest compliment I can give someone. "Goodbye (To All of Our Friends)" is the angriest song on the album. Still, Cousins manages to balance the venom in his vocals with sweeter tones in the chorus. The shouted vocals are a little muted into the background, which somehow amp up the anger. Connor Kington's drums on this track deserve a special shout-out; they're the backbone of the entire song. "Goodbye," above all other songs on the release, showcases the range in tempos that Bearings can provide in a single track.
Bearings' full-length debut is a major success of a record. It's sensitive and personal while still managing to have some bite and grit. There are tracks to make you feel loved and also tracks to help you get angry. It's raw, it's beautiful, and it's real. Bearings should already be in your heavy rotation playlists but if they're not, start streaming. Catch them supporting Roam and Like Pacific on tour this winter. They're going to blow up – you heard it here first.
(Oh, and when you do give the album a full listen-through, make sure not to miss Cousins' Canadian accent on the word "sorry" in the song "Hear Me Say." It's an album highlight for sure.)
Tracks I've Got on Repeat: "Love and Decay," "Aforementioned"
Tracks I'd Skip: Absolutely none. Listen to the whole thing.