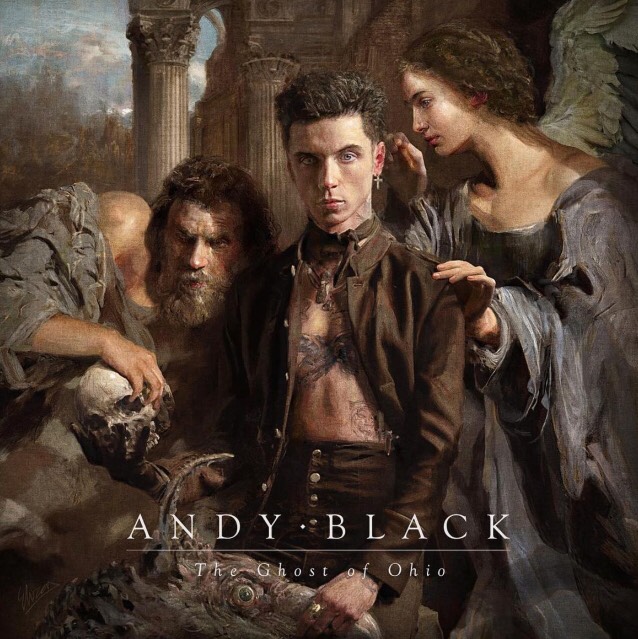 Andy Black has never been one to shy away from the personal.
In June 2009, Black — real name Andy Biersack, also known as Andy Six — and his band Black Veil Brides released "Knives and Pens," their debut single and the one that would skyrocket them to fame. Written by the then 18-year-old Black, the song discussed bullying and self-injury, and it quickly established the band's modus operandi. From the word go, it was clear that Black Veil Brides were interested in 80s hair theatrics, screamo grit, and raw emotions.
So, it's no surprise that for his burgeoning solo career, Black digs even deeper into his personal history. His 2016 solo debut The Shadow Side covered topics like depression and heartbreak, with its hit single "We Don't Have To Dance" serving as an ironically dance-able ode to social anxiety. And now, for his follow-up album The Ghost of Ohio, Black is continuing to explore his past. The album is named for Biersack's home state and focuses largely on the challenges of growing up and finding your place in the world.
Like much of Black's earlier work, The Ghost of Ohio displays a deep affinity for the 1970s and 80s. Black Veil Brides' discography is highly influenced by hair metal, while The Shadow Side took its cues main cues from new wave. The Ghost of Ohio continues to explore these dance-pop aesthetics, though this time, the vibe is more glam rock, with stadium-size arrangements and a number of piano-run-driven melodies that remind me of Elton John. It's clear Black has some massive popstar dreams.
Unfortunately, I don't think the grandiose pop sound works in his favor. While Black is a talented singer and a charismatic performer, his confessional lyrics and oversized arrangements often veer towards cheesy. While The Shadow Side's upbeat, dance-hall aesthetics kept things tongue-in-cheek enough to be fun, The Ghost of Ohio lacks that sense of self-awareness and irony. Many of the songs are trite and unmemorable, while others are too overwrought. "Soul Like Me," for example, falls apart under a stadium-sized chorus that clashes with its sentimental lyrics, while "The Wind & Spark" attempts to be an uplifting gospel-pop anthem but ultimately feels over-the-top. And lead single "Westwood Road," which sees Black trying his hand at rap, is simply an out-of-left-field songwriting choice that doesn't suit its singer
That said, the album is not completely without merit. Songs like "The Promise" and "Know One"  use the album's glam-pop leanings to much greater success and feel fun and danceable, while title track "Ghost of Ohio" is a gloomy, engaging techno-pop treat. And "Heaven" and "Fire In My Mind" are best of all. "Heaven" is a delicate, string-ridden love song, full of intimate lyrical details — street names, first kisses, credit card debt — that feel honest, hopeful and heart-warming. The arrangement is a lovely one, and the soaring melody an excellent showcase for Black's signature baritone.
"Fire In My Mind," meanwhile, is a moody, groovy techno-pop track. Its instrumentation is striking — the song opens with Black singing over a lone acoustic guitar, before dropping in a processional line of percussion and ultimately bursting into multiple electronic, vocal-distortion-filled breakdowns. While much of the album leans towards a throwback aesthetic, the genre-mashing experimentation on "Fire In My Mind" feels current and cool. The song is the album's best representation of Andy Black as a unique talent, and should he continue working as a solo artist, I hope it is a sound that he will continue to explore.
The Ghost of Ohio is far from the only project in which Black is currently involved. He recently wrote a graphic novel (also titled The Ghost of Ohio), is slated to appear in a television adaption of his 2017 movie American Satan, and is currently preparing for Black Veil Brides' 10-year anniversary. His ambitions are high, and he seems to be working to establish a career and identity outside of the band. While I don't think the large-scale pop featured on The Ghost of Ohio is the right direction for him, there's some potential hidden in the album's softer and more experimental moments. Black has always been a frontman who can command a stage — he just needs to find the perfect stage for him.