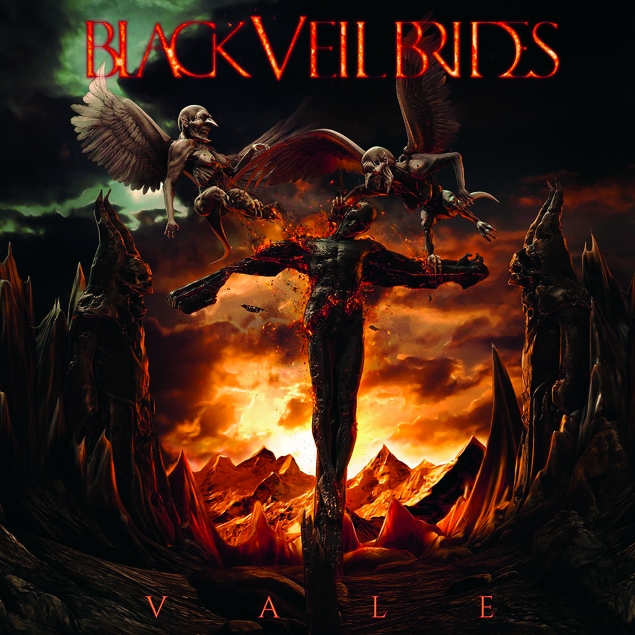 They've been labeled "KISS wanna-be's," booed on stage countless times (anyone recall their fit at the 2013 Golden Gods?) and have been cited as a disgrace to the metal genre time and time again. Some may say they get a bad rap, but their loyal fanbase, rigorous touring schedule, and five studio albums would argue otherwise. With their fifth studio release simply titled Vale, Black Veil Brides have proven that it's going to take more than a few boo's to get the best of them.
With no shortage of Thin Lizzy-esque riffage and "woah-woah" choruses, Vale takes a more pop turn, as opposed to BVB's last four releases. While their last self-titled record received mixed reviews for its lack of angst and classic glam metal feel, Black Veil Brides have seemed to embrace the new somewhat pop-charged direction for their sound.
The album begins with a 20-second spoken word track, followed by "The Last One." Musically, this track has a lot to offer, as the opening piano arrangement was composed by their classically trained guitarist who goes by the stage name "Jinxx." While not exactly classified as a "concept record" like their 2013 release titled Wretched and Divine: The Story of the Wild Ones, Vale has loose concepts of rebellion, resisting conformity, and embracing individuality throughout each track. The music video for their single "Wake Up" depicts their frontman Andy Biersack being moved from a confined cell to an electric chair of sorts in a government-controlled prison. By the end of the video, the corrupt alliance is overthrown, and the start of a rebellion seems to begin.
While this album may seem two dimensional at the first few listens, Vale's production level is impressive. "Dead Man Walking (Overture II)" is an eight minute track in the middle of the album that takes a more political stand. The album was produced by John Feldmann, the lead singer of the L.A. punk rock band Goldfinger, alongside the band's own guitarist Jake Pitts.
It is important to note the musical growth of the band in the past decade. When their first record, We Stitch These Wounds, dropped in 2010, they were still riding the descending wave of their MySpace-era fame. Produced by Blasko, former bassist of Rob Zombie and Ozzy Osbourne, the album reached #36 on the Billboard 200. Selling 11,000 copies during its first week of release, the record instantly became a household name for the underground screamo/emo scene. Since the success of We Stitch These Wounds, the band has won numerous awards, signed to a major label, and toured internationally. Despite criticisms for their borderline cringey teen angst aesthetic and outlandish stage presence, Black Veil Brides have continued to stay true to their glam rock roots.
In a recent interview with Loudwire, Biersack commented on the new album's title.
"The Latin translation of Vale is 'be well, be strong!' and central to the message of this record," he said. "We hope to continue to inspire our fans and friends to embrace their own individuality and inner strength." This has been a recurring theme for Black Veil Brides and their music. While their fanbase tends to be a much younger audience for their particular genre, they consistently make the effort to send off their listeners with the notion of self-reliance and positivity.
Vale is available for streaming on all major platforms and for purchase on Amazon, the band's site, and in stores.