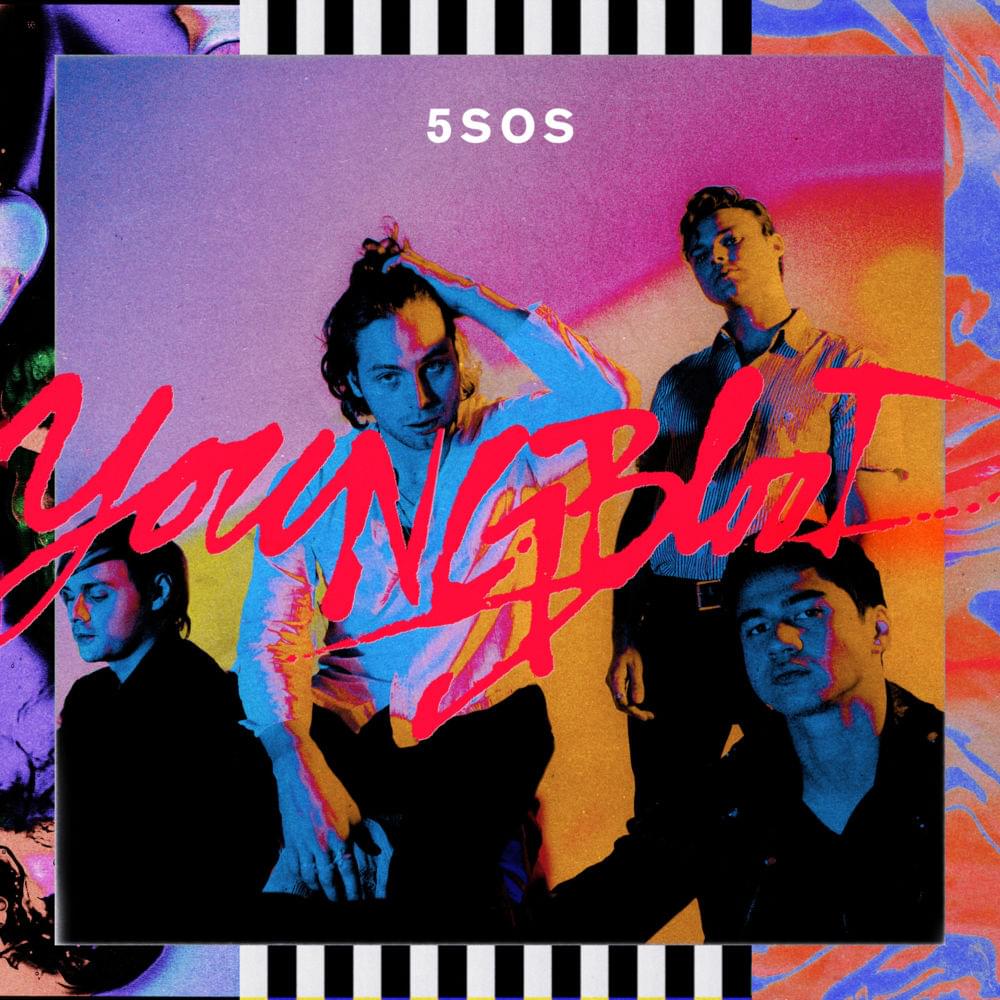 Youngblood: The resulting project of a good two years of writing, recording, playing and growing up. Australian rock band 5 Seconds of Summer were one to always split opinions: from their constant exposure in rock-centric media such as Kerrang! and Alternative Press, to their ties and connections with British boyband One Direction, fans were always divided on whether 5SOS were truly a rock band or just a boy band who actually play their own instruments. Personally, I would never have called them a "boy band;" that was a label that never fit right with them. I would call them more a rock band. If you would argue with me, listen to Youngblood first, then we will talk.
After touring throughout 2016 in support of their second studio album, Sounds Good Feels Good, they took time to focus their effort into this third release. The first single we heard from the album is the emotional track "Want You Back." From one play, we can wave goodbye to the old majorly pop sound 5SOS once had three years back – there's something more thought out and mature about this sound, and I for one am living for it.

Highlighting the theme of struggling to move on from a failed relationship and longing for the return of a love interest, the song starts out ballad-like: a soft piano opening with frontman Luke Hemmings' vocals pull listeners in and within seconds, the true track's nature plays out. The piano is switched out for a stronger, more upbeat combination of guitar strums, bass beats, and great percussion accompaniment. There are obvious influences in this track, which give us a hint towards the new direction the band is heading in. There are alternative and indie influences infused in this single. There is a similar sound to other bands such as The 1975 and Fickle Friends. The combination of alternative aspects and synthesised sounds creates a song that can be appreciated by a variety of individuals with a variety of music preferences.
In April, the band released their second single – the album's title track – "Youngblood." This song is the opener for the album and creates the first impression. Is "Youngblood" a suitable opener? It's a soft introduction to the record, and the contrast from 2015's Sounds Good Feels Good is evident from this first track.
We need to discuss the development in Hemmings' vocals. He dominates most of the tracks as the lead vocalist – as you may or may not know, each member has significant vocal talent – and there is a difference in how his vocals have matured. There is a deeper connection between his voice and his heart and soul; there is passion, and that shows when he sings. That is one of the most beautiful aspects of music: when you can hear and feel that every band member is putting their all into what is the ultimate passion project. Nothing requires more hard work, determination and heart than putting your thoughts into lyrics and your feelings into music and working at it until you are satisfied – or as satisfied as you can be.

The Australian foursome should feel proud and furthermore excited about the future this record will lead them to, and that is all shown from the first track. That is something special, I must admit. With the new heavier sound, synth-fused sensation in the track, and the recognisable lyrical repetition, we have a brand new yet familiar 5SOS.
After "Youngblood" and "Want You Back," you should be ready for a full-on adventure.
The strong themes of a yearning for true love and suffering heartbreak is continued in the slower-paced track, "Lie To Me." Drummer Ashton Irwin has said that the song is about how "it hurts when you're in a romantic situation and the other person is in it for the reasons that you aren't." Are themes of heartbreak brand new in music? Of course not, but when done right, can this still be a touching theme to put into a ballad? Yes. Definitely.

It's a relieving track after the more party-centric sound contained by the previous two tracks on the album, and one that will make you want to sit down, listen, think and experience all of the deep emotions contained in the two-minute long song. Personally, I can view it as more of a boy band-like ballad – which I must state, does not mean it sounds like a false sense of emotion. It just contains a classic boy band ballad sound; there should never be shame in using a sound such as that! What's shameful about a boy band? Hopefully, your answer is like mine: nothing.
With the soft synthesiser use, steady drumbeat, and harmonising between Hemmings and the band's bassist Calum Hood, "Lie To Me" is a gentler song for fans of more ballad-like tunes. For the long-time 5SOS fans, I would like to think of it as a matured version of their 2014 single "Amnesia."
Now to cover my personal favourite album track on Youngblood: the upbeat, rock-heavy track "More." On the second half of the album's track listing, it has a perfect fusion of alternative, rock and dance genres, which would make it a party anthem for a wide selection of music fans – and we all need a summer party anthem. 5SOS knew we needed one, and they delivered! There is no time wasted in heading straight into rejuvenated 80s-inspired synth beat. Don't get me wrong, using synthesisers in the tracks is found throughout the album, but to me, this track shows it off in a way that would get every listener hyped. It's reminiscent of upbeat tracks from Panic! At The Disco, specifically from their 2013 release Too Weird To Live, Too Rare To Die – "Casual Affair" and "Girl That You Love" were not released as singles but are still popular songs among Panic! listeners, and I'm sure 5SOS are among this group.

This contrasts the tracks from 5 Seconds of Summer's last two albums, as many do from Youngblood, and I can see the natural development in their music from their self-titled album and Sounds Good Feels Good. Their previous dance-influenced tunes I would hear on nights out at clubs; for "More," I can picture likely hearing it more at an Emo Nite event rather than a regular night out. And that's what matters to me!
How do I sum up the album altogether? A more mature sound from more mature musicians, and the truest fact that hard work, determination, and a passion for rock and punk music pays off when it comes to making a masterpiece. I hope the band is proud of every track on Youngblood and continue growing and improving and of course, never stop surprising us.
In other words, boys… "don't stop doing what you're doing!"
Yes, I was one of those long-time 5SOS fans.
Youngblood is available to stream on Spotify and Apple Music now. If you like what you hear, you can get tickets to go see 5 Seconds of Summer on their Meet You There Tour. All dates for the upcoming world tour are available on their official website, along with links to purchase tickets.