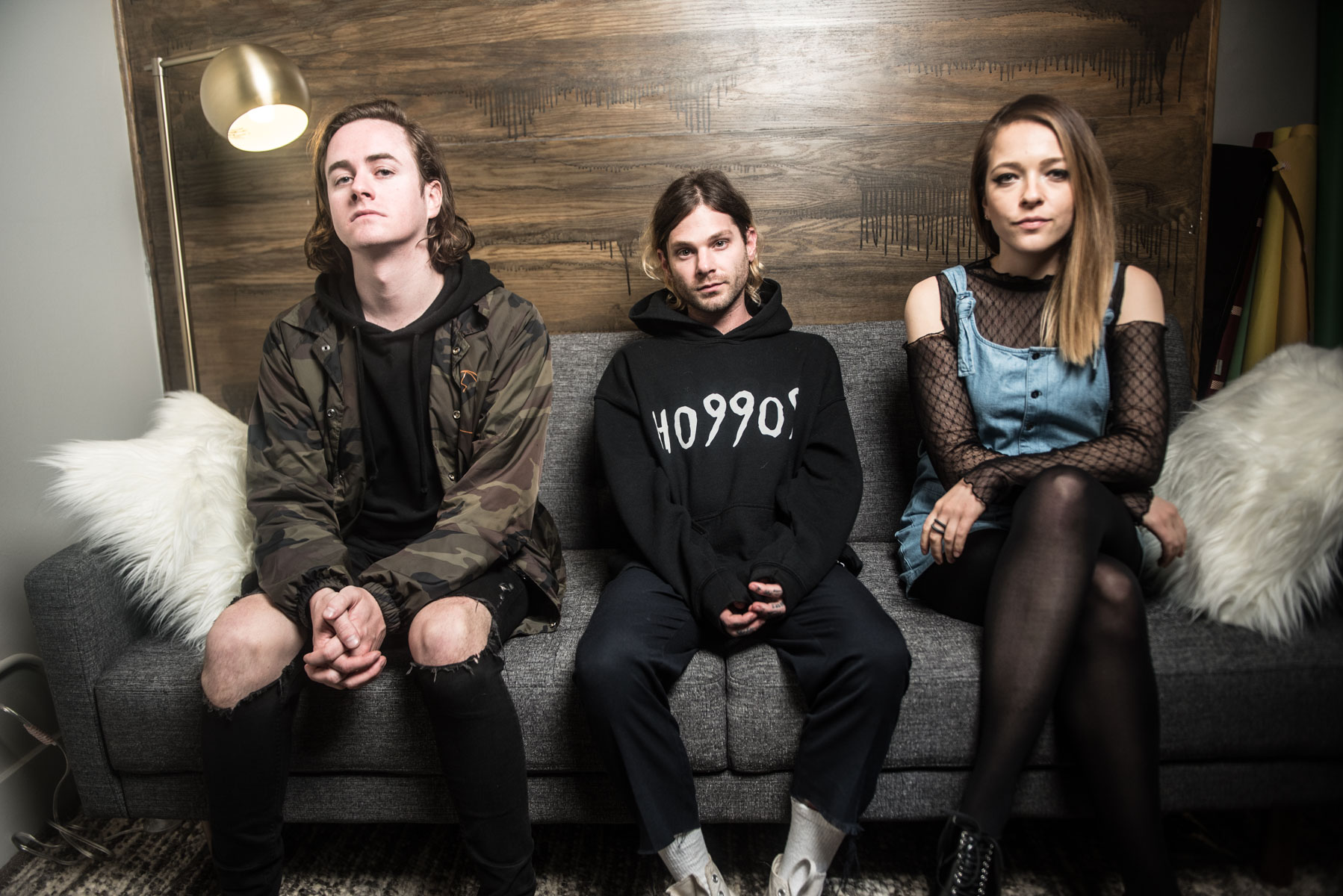 Photo by Grizzlee Martin
Interview with Emo Nite Co-founder T.J. Petracca (left)
May 2017
Click here to see our photos of Emo Nite LA in Atlanta at The Masquerade
Humans have always sought out places where they feel like they belong – sanctuaries of community where appearance, race, gender, religion, and life struggles are inconsequential; you're a part of something special just as you are. For the past two and a half years, Emo Nite has provided that refuge for thousands of millennials across the country. A common bond in musical taste is all it takes to bring strangers together in a fantastic spectacle of dance and unbridled joy.
Having founded Stars and Scars in 2002 during the "Golden Age" of emo, it was a no-brainer to connect with T.J. Petracca and reminisce on what makes his, Morgan Freed, and Babs Szabo's creation so incredibly memorable for OG emo kids like me.
S&S: Emo Nite started in LA and has since gone national. I know you guys do your own tours of the US (thank you for coming to Atlanta several times!). There are also pockets of Emo Nights in cities like Brooklyn, Pittsburgh, and Nashville. Are you associated with them, or are they run independently?
T.J.: We aren't associated with any of the ones you mentioned. But we do have many of our own events in other cities. Just remember, "If you don't see the grave, it ain't our rave." Jk. But seriously.
S&S: You've had members of emo's elite (My Chemical Romance, Dashboard Confessional, The Used, among many others) jump on the Emo Nite train as guest DJs and performers. Who was the first artist to support you, and did it blow your mind at the time? Does it still blow your mind when bands partner with you or has it become an "Oh yeah, we're totally friends with them. This is normal." situation now?
T.J.: The first artist we had was Buddy from Senses Fail. Right after that, we had Mark Hoppus. It continually blows my mind to have these artists involved in our events; many of them now reach out to us. We put a lot of passion and love into what we do, and I think the artists can see that and want to be involved.
S&S: What band haven't you worked with yet that would be a dream to have as an Emo Nite guest DJ or performer?
T.J.: Hmmm well, my favorite band in the world is Brand New, so that would be tight.
S&S: What are your top 5 favorite songs that you play at Emo Nites?
T.J.: I really like playing anything by Say Anything or Panic! At The Disco.
S&S: You have incredibly popular Emo Nites and now a retail store in LA, national tours, your marketing/branding company Ride or Cry…You either have an amazing team to help you out or are literally superheroes. Please spill the beans.
T.J.: It's a really small operation. It's been just the three of us for the first two years, and then we hired Ricky the intern to help us out on the Emo Nite side. Ride or Cry is growing, too. We now have two more employees and a few interns. But honestly, we do a lot all the time. We've lost a lot of sleep, a lot of friends, and our minds.
S&S: What are some of your favorite memories from the past two and a half years?
T.J.: Getting to stand on stage and introduce Chris Carrabba from Dashboard Confessional at our one-year anniversary show will forever be a life highlight for me.
S&S: How long do you plan to ride this wave? Because I really hope to see a bunch of tattooed seniors belting out Brand New in 30+ years, myself included.
T.J.: Emo Nite is growing and evolving. It definitely will not always be the same thing, but we're gonna keep pouring our hearts and souls into what we do to make our events, clothes, and content the best it can possibly be!