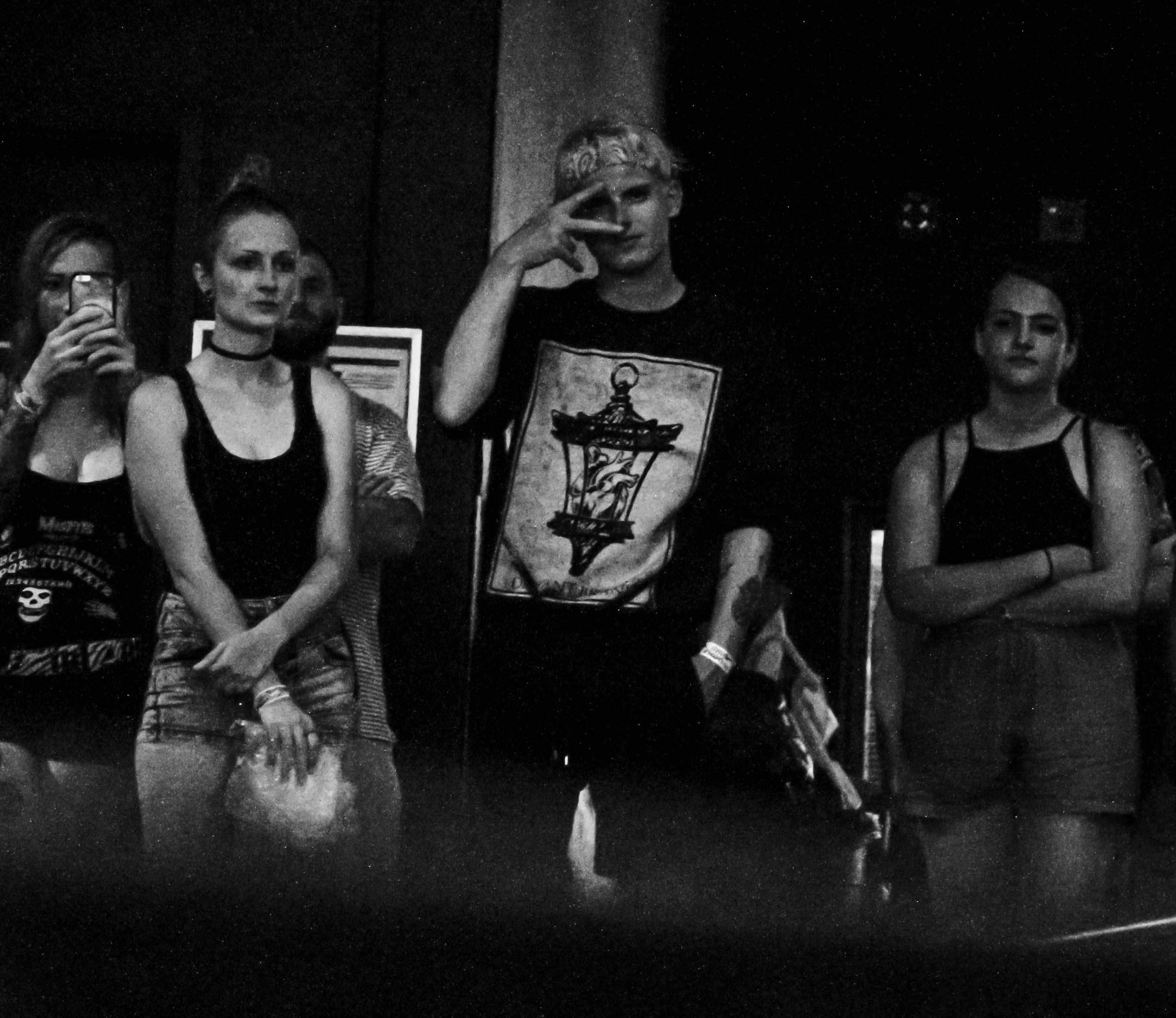 I had the chance to interview Nick, a merch guy for Deviant Clothing, at this year's Mansfield, Massachusetts Warped Tour date on July 12.
Nick Guertin, 22, from Hartford, Connecticut is on his third year touring around the country with Vans Warped Tour. Raised on classical and classic rock, at an early age, he began playing cello and guitar, which is where his love for music took off. A nine-year Warped Tour-attendee, he decided to work on Warped Tour because of the atmosphere.
"Everyone is there for the music they like and to find new music within the genres they listen to." When he's not on tour, Nick works at Starbucks and is a self-taught producer, putting out singles and EPs for local bands.
When asked about how to work for Warped Tour, a dream most Warped-goers have or have had, he says that "getting a job working for Warped Tour is more about who you know and the connections you make, which bring up more opportunities to keep touring. Last year, I met the guys from Deviant Clothing, and without them, I probably wouldn't be touring this year. The coolest part about touring with Warped is getting to know the bands on a personal level, getting to go backstage, and hanging out with everyone when I'm not working. At my home date, Hartford, my friends always stop by and say hi, which makes being away from home much easier. The best times we have are later on in the tour. The Pomona, California date is always fun, and this year, it's the last day, meaning we have more bands hop on, like Falling in Reverse, bigger crowds, and way more hype."
Touring sounds like a lot of fun until you hear about everything that comes with it. Nick drives, sets up and takes down the merchandise tent, sells merchandise, creates hype for the brand, and covers the sound board when needed. It's a lot of work, but it's brought him one-of-a-kind opportunities, like singing onstage with Assuming We Survive.
According to Nick, there are three big things you need to know before you commit to touring:
Don't expect to shower every day. Showing in the rain is a very normal thing to do.
Your sleep schedule will be messed up. You'll learn to sleep anywhere at any time – hammocks, Walmart parking lots, trailers, etc.
Fast food and gas station food will be your new go-to. The catering is very good, but when you're on the road, you have to settle for something quick, cheap and open 24/7.
For those of you planning on attending any of the remaining Warped Tour dates and wanting a recommendation on who to see, "Attila definitely has the most energy along with Beartooth, Neck Deep, Futuristic, and Watsky, but at the end of the night, Gwar has the best show to watch."
To follow Nick's experiences on Warped Tour, check him out on Instagram @nickguertin1
Tour Life is a new Stars and Scars featured section where we interview the "behind the scenes" rock stars on tour with bands – managers, security, instrument technicians, drivers, photographers, videographers, light and sound technicians, merchandisers, etc. Know someone who would be a great fit for Tour Life? Email elyse@starsandscars.com