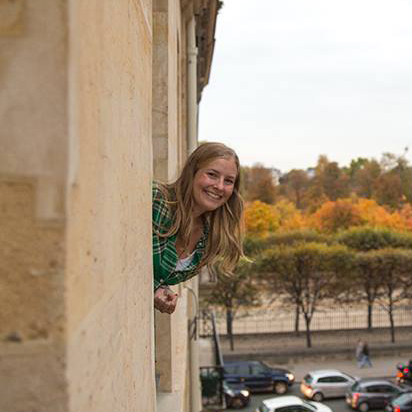 From small town girl to big time tour professional, Julie Grant has been a part of the Vans Warped Tour for over a decade, working her way up from Gum Sampler (yes, seriously) to Operations Manager for 4fini. As a troubleshooting extraordinaire, Julie dives headfirst into the wild world of tour operations with a humble spirit and can-do attitude that has made her a trusted and valued friend of many. We caught up with Julie after the punk rock summer camp dust settled, as she prepares for another exciting season on the road.
S&S: How and when did you become Operations Manager for 4Fini? Did you have previous experience in concert/tour production?
Julie: When I was in college in the early 2000s, Music Business degree programs weren't as widely available as they are now. I really had no idea that certain jobs in the music industry even existed. I, therefore, chose to attend a university solely because of its proximity to a small punk rock club called Concert Café in Green Bay, WI.
Fast-forward a few years.
One of my first jobs out of college was with GMR Marketing in Milwaukee, WI. I was assigned to the Wrigley's Chewing Gum account, specifically the Winterfresh brand, which was very active in the music world. It just so happened that Winterfresh was a large sponsor of the Vans Warped Tour. After two years of supervising the Winterfresh brand team, I came up with the idea to go on the road myself as a sponsor rep. I convinced my brother to quit his boring 9-to-5 at a paper mill and join me as my assistant, and I embarked on my first trip to Punk Rock Summer Camp (this was 2005).
After serving in a few different roles on Warped (Gum Sampler as previously mentioned, Adult Daycare Supervisor, Guest List Manager), I was offered a job working year-round, full-time, with 4Fini, Inc. the production company of the tour. Starting out as Assistant to Tour Founder, Kevin Lyman, I over the years gathered the knowledge and experience to move up within the company to my current position of Operations Manager.
S&S: Take us through a typical day for you on Warped Tour.
Julie: My alarm goes off at 5:45am and after hitting snooze (hopefully only once, but actually more like five), I climb out of my bunk, brew my first cup of coffee and prepare for the day ahead.
On Warped Tour, the Production Office opens at 7:30am for 8:00am load-in. After helping to set up the office, my main responsibility in the morning is to create the show schedule for the day. Since we change the running order of the bands for each show, we make the schedule day of show. Making the schedule each morning helps to level the playing field for all bands and to encourage patrons to come early to the show and hopefully see bands that they wouldn't otherwise get to see. Kevin (Lyman) gives me a general outline of the schedule, and from there, I work through it to make sure that all scheduling requests for that particular day are taken into consideration. This is sometimes difficult since some bands share a crew with up to five other bands, meaning that they cannot all play at the same time. I consider it to be like a game of Tetris moving and changing the bands until everything works.
Once the schedule is done for the day and doors are open, I start work on any advancing that I have for the upcoming shows. This includes coordinating with bands that may be joining the tour, creating credentials, contacting upcoming hotels, and communicating necessary information to everyone on the tour. A large portion of my day is spent troubleshooting any unforeseen problems that may come up logistically. This is always moving and changing. No two days are entirely the same, and it keeps me on my toes for sure.
The shows usually end around 9:00pm and after the office is all packed up, hopefully, there is time to enjoy a hot dog at the almost nightly backstage BBQ before the bus call.
S&S: What are the best and most difficult aspects of being on tour?
Julie: The best part of being on tour is having the opportunity to travel the country with some of my best friends. Even though we don't venture outside of the venue into "the world" very often, we have the best time just being together in our little tour bubble. Whether we're in Moab, UT or Lawrence, KS, it doesn't matter – We always have fun!
The most difficult part of being on tour is managing the workload, which at times can be all-consuming. The stress and constant motion from city to city can be tough to handle, especially when you're away from home, all of your creature comforts, and loved ones.
Thankfully, as I mentioned, my tour friends help make it all worthwhile. We work as part of a big team; when someone needs help, we all pitch in to take care of them. It is comforting to have that safety net and support system. I have met some of the most genuine people who help keep me grounded and sane in what can often be a very chaotic environment.
S&S: How do you like to spend downtime on tour? Or should I ask do you even find downtime on Warped Tour?!
Julie: You said it! There is very little downtime on Warped Tour. There are no days off for tour professionals – there are only non-show days. With that said, however, we're always able to squeeze in some time, while answering emails, to consume an adult beverage (or two) while laying in the sun at hotel pools across the nation.
S&S: Have you formed any special relationships with band members or tour mates?
Julie: Definitely. The members of some of my all-time favorite bands are now friends. I never, in a million years, thought a girl from small-town Wisconsin would be living in LA working in music. I wish I could go back and tell my younger self all the fun things that were to come.
When you're living and working so closely with a group of people for an extended period of time, friendships develop. Some of my tour mates are true soul mates. I have met some of the best people in my life on tour. The only unfortunate part of that scenario is the times when you're not on tour and missing them!
S&S: What are some of your favorite tour memories?
Julie: I could share a wild story or two; honestly, though, the best tour memories for me are not the big things, they're the little things. It is more a general feeling or state of being that, for me, can't be boiled down to particular memories. I love the feeling of being a part of something. Sometimes, tour can feel like a weird, exhausting circus…a sort of Groundhog Day that you can't wake up from. There are so many people, however, that make it worthwhile, and of course, there is always the music. Peeking out at the crowd from the stage is one of my favorite things. The fans don't know all the struggles that go on behind the scenes to make the show happen. Experiencing their genuine joy and exuberance and seeing them sing along to every word gives me such a sense of pride. Really makes it worth it!
S&S: Once Warped Tour wraps, what projects do you have going on back in the office/at home? Or do you take an incredibly relaxing vacation?
Julie: After our last tour stop and all the trucks are unloaded, we usually take what's left of the month of August off. Since Warped Tour isn't the only project we produce, some years there are other things in the pipeline. This year, we worked on an awesome punk rock festival in Southern California called It's Not Dead 2 at the end of August. Once that was finished, however, I was able to take a little vacation to visit my parents in Wisconsin. The day after Labor Day, we start full steam ahead. September and October are largely spent booking the lineup for the next summer. Minus about two weeks in August, the cycle never really stops. One summer ends, it's on to the next!
S&S: What are some life lessons you've learned on the road?
Julie: Don't take yourself too seriously. No matter how much you stress or worry, the show will go on. This is music, not curing cancer.
Don't take things personally. Being under a larger amount of pressure than normal often puts people on edge. Certain situations cause people to snap and say things in the moment that can hurt feelings. But it is not usually personal; it is just the "heat" of the situation.
S&S: What advice would you give to someone interested in becoming an Operations Manager or involved in concert/tour production?
Julie: Always be willing to learn. Even if you think you know exactly what you want to do in the music industry, don't get too hung up on that one particular position when you're starting out. For instance, if you want to be a Tour Manager, but you're offered a job working in the box office at a venue, take it. Acquiring that box office knowledge will definitely come in handy when you are a Tour Manager settling a show on behalf of your artist.
Similarly, when you're just starting out, have a "no job is too small" attitude. It is amazing how many useful things you can learn by offering to assist. And even better, little things like this can help develop critical relationships and make you a sought-after employee.