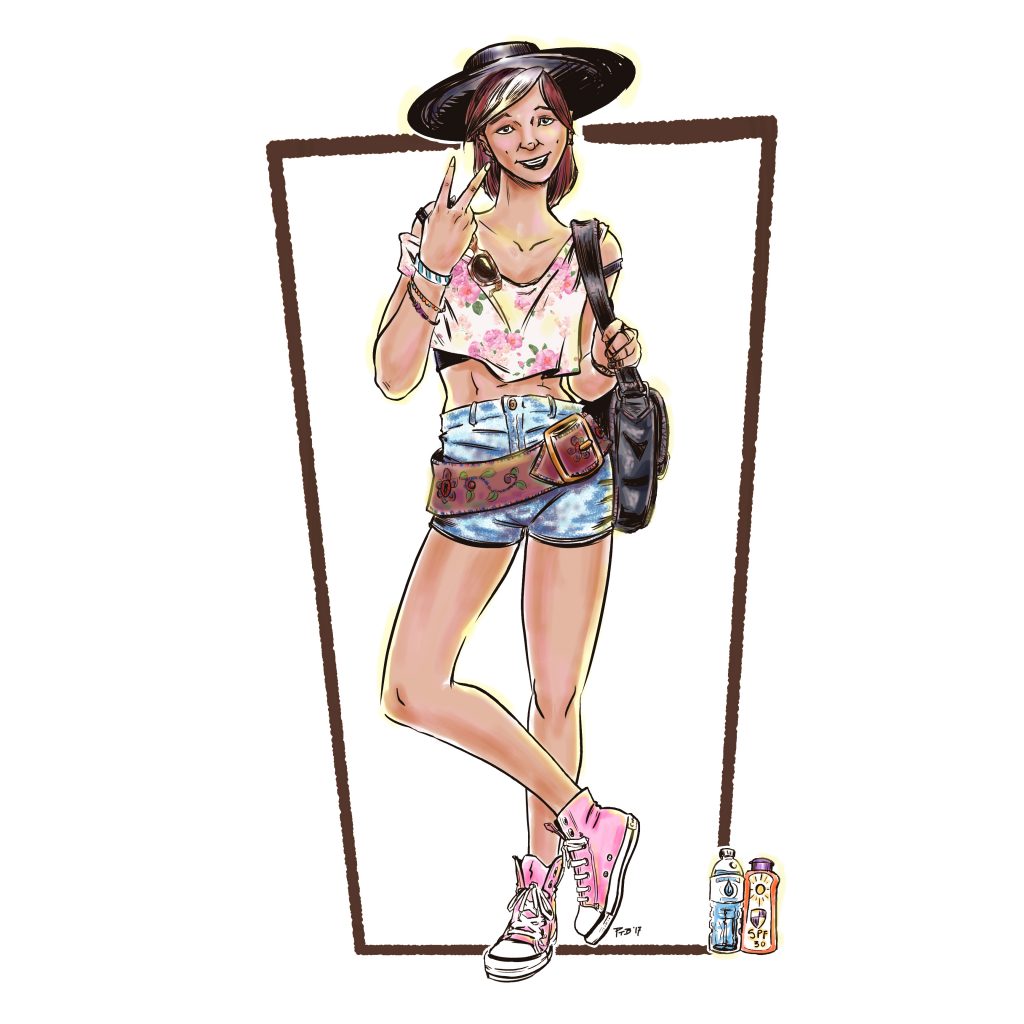 Original artwork by Peter T. Bergeron
Warped Tour is entering its 22nd year in 2017, bringing a variety of punk, alternative, and other fun music to audiences around the country. One of the keys to having a blast at Warped and other festivals this summer is preparation. For us ladies attending Warped Tour, here are some great ways to combine function and fashion and have your best time whether you are in the pit, walking around, or relaxing in the grass.
1. Wear sneakers or boots! Anything that laces on tight and can be worn with good socks works best. It is extremely easy for shoes to get ruined in the mud or the pit. Even if you don't plan on moshing or crowd surfing, losing a sandal or getting your toes crushed is way too easy! It might be hot outside, but a festival is never the place for flip flops.
2. A sheer throw-over is a great idea. Any kind of shawl or thin jacket – something very light to cover you from sun or rain without being bulky. These can also be thrown around your waist or taken off so you have something to sit or lay on when it's time for a break.
3. Bring a backpack or fun fanny pack (where allowed). Not all venues let you bring in backpacks and fanny packs, but if you can, they are a great place to store chapstick, sunscreen, and water bottles (where allowed). You will also have lots of room for any new merch you buy that day. You can cover them in patches, buttons, and more for an expressive DIY attitude. Whatever you bring, remember that a purse is never a good idea for events like Warped.
4. Fun, fun shorts! Colorful shorts in pastels, florals, and tie dye are comfortable and help show off your personal style. High or low rise, ripped or patterned, shorts show off your legs but prevent the wardrobe malfunctions skirt and dresses can have. A trendy belt tops the style off perfectly. Side note: Never wear a romper to a festival…The second you have to use those infamous porta potties, you will regret it!
5. Wear a swimsuit under everything. You never know what will happen and if you come across sprinklers, water guns, or a dunk tank you don't have to miss out on the fun or ruin your clothes! Plus, it can be so hot that you sweat through your cute outfit and just have to take some clothes off to keep dancing.
6. Just like swimwear, underwear as outerwear can be worn in a fun, feminine way. Lace, cotton, or strappy caged bralettes paired with high-waisted shorts make for different looks from festival girly girl to badass punk chick.
7. Crop tops, crop tops, crop tops! Cut-off band tees are a classic Warped Tour look, but a flowy or off-the-shoulder crop can update the style and keep you just as cool and comfy.
8. TWO pairs of sunglasses! Even though there are often free/cheap plastic sunglasses around, you never want to be caught without a pair. Never bring expensive shades. Instead go for cheap sunnies with crazy vintage shapes, fun neon colors, and bold mirrored lenses.
9. You can leave your hat on! Hats are a great way to accessorize and keep your face shaded. Ball caps or thrash caps are classic tomboy, and a beautiful wide-brim sunhat is a more modern, trendy way to rock the look. A crazy 80s style neon visor could also stand out and be tons of fun to DIY.
10. Accessorize! Ditch the bulky bracelets and necklaces and opt for a cool watch to make sure you never miss your favorite band's set. Embrace glitter, shiny flash tattoos, and bodypaint! Keep hair out of your face with funky updos, braids and pigtails. Warped Tour is the perfect place to show off a crazy new hair color or some hot new tattoos (covered in high SPF!)
The key takeaways here are to be comfortable, be individual, and be prepared! You should feel beautiful but also have a blast. We genuinely hope you have a killer time at Warped Tour and all your other concert adventures this summer.