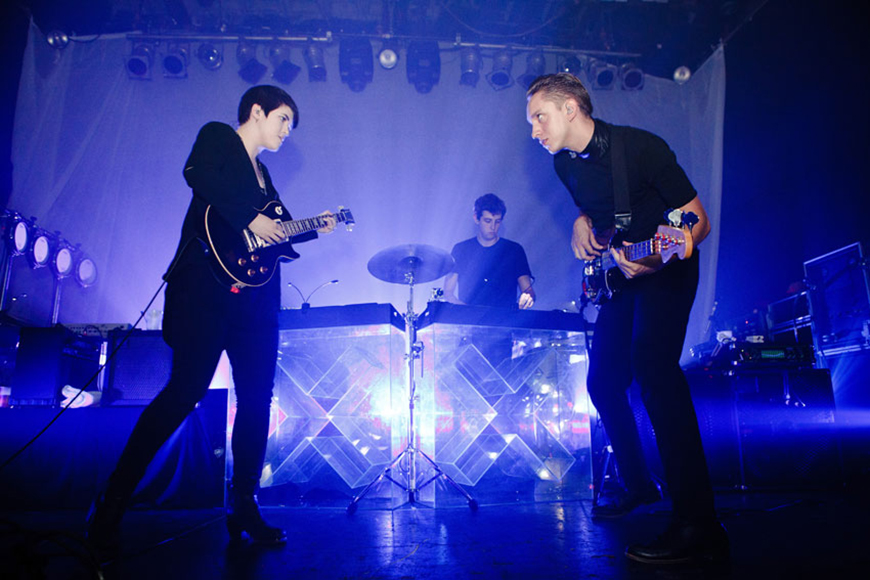 May 5, 2017
Express Live!
Columbus, OH
English indie pop superstars The xx made their way into my hometown of Columbus in May, and as they took the stage, they meekly apologized for bringing the stereotypical soggy conditions of their homeland along with them. Outdoor shows in the spring are always a gamble. On this day, the rain gods saw fit to bless us with wind, drizzle, and 40 degree temperatures. Despite the weather, The xx made certain that those who braved it went home warm and energized.
The show was opened by R&B up-and-comer Sampha. The London-dweller has already made a name for himself, first as a frequent collaborator with producer SBTRKT, and more recently featured on songs by huge names like Kanye West, Drake, and Solange. I was almost as excited to see his set as I was to see The xx. Sampha got the damp crowd up and moving, as he and his band played the majority of his debut album, Process. Sampha played a solid, if not spectacular set. His commanding voice was not a disappointment, and he played the album faithfully. As the rain started to die down and the sky turned dark, The xx took the stage to fanatic applause.
The three members of The xx were close friends long before they came bandmates, and that really shows in the energy they bring to the stage. The group started the show with a bang, kicking things off with their latest single "Say Something Loving" and following it up with old favorites "Crystalised" and "Islands." Vocalists/guitarists Romy Madley-Croft and Oliver Sim play off each other brilliantly, swapping lines smoothly and often meeting in the middle of the stage to play instrumental portions of the songs face-to-face.
DJ/percussionist/keyboardist Jamie Smith (aka Jamie xx) has come into his own with a string of excellent electronic releases, most recently his debut solo album In Colour. His growth as an artist and live performer is very apparent, and his musical influence is peppered throughout The xx's latest, I See You. He gave new life to deep cut "Shelter" toward the end of the show, creating an ecstatic climax before perhaps the night's most breathtaking moment. As the rain began again, the stage was bathed in vivid rainbow light, and the group closed the pre-encore set with Jamie xx's "Loud Places" featuring Madley-Croft on vocals.
The encore was played after an unusually long wait, and the band said their thanks to a grateful (and freezing) crowd. After a decently long time spent apart, The xx haven't missed a beat in their live performance, and I think they've become more confident performers than ever before. Even if you're a casual fan, I have to recommend checking them out if they come near your city.