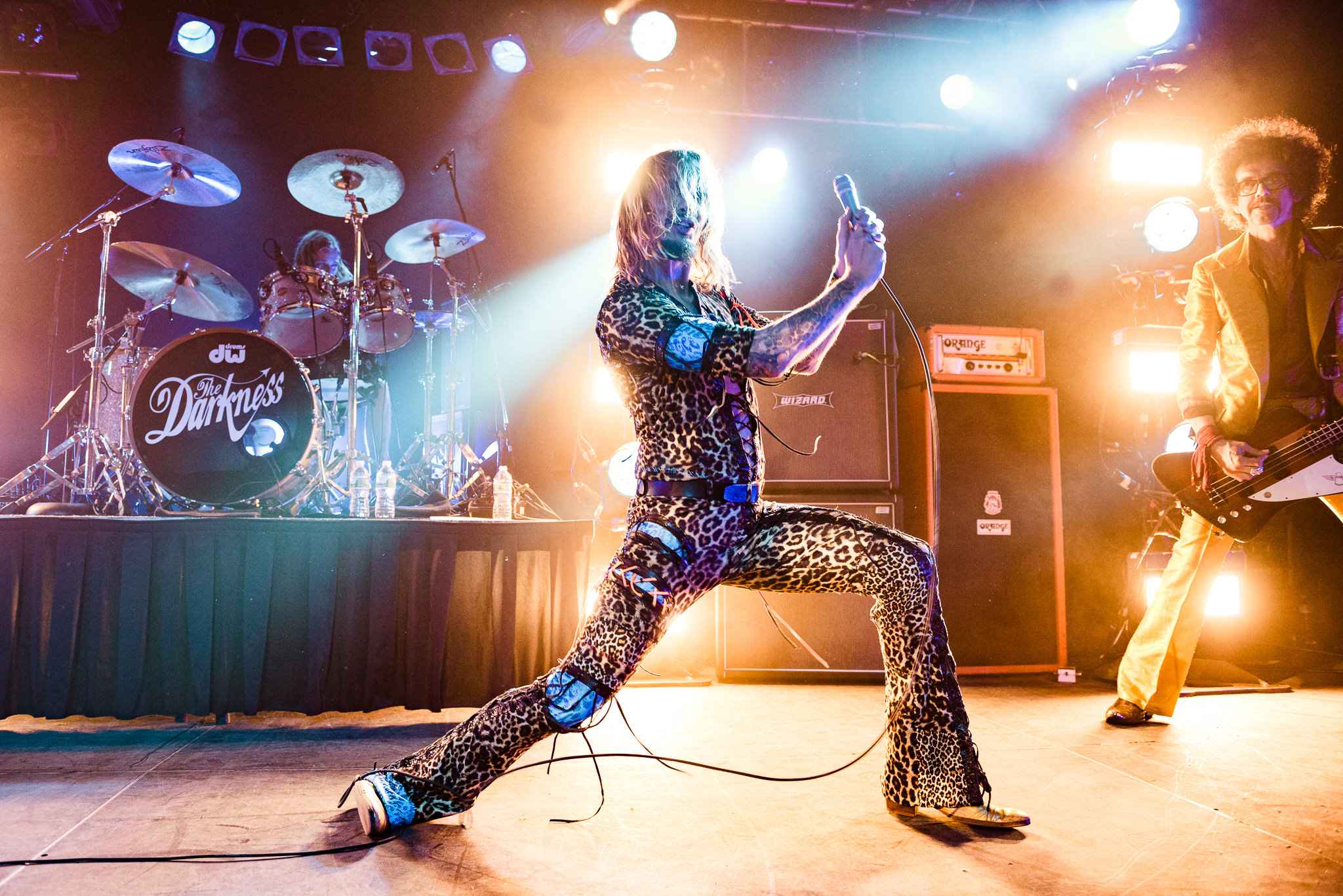 April 21, 2018
Starland Ballroom
Sayreville, NJ
See our photos of The Darkness here!
The Darkness put on the campiest, kitschiest show you'll ever see…and never want to end.
If showmanship is an art, Justin Hawkins is the rock & roll Dalí, painting undeniably entertaining strokes with explosive energy and creative finesse. His prowess, like a surrealist piece, cannot be tamed nor fully understood, and that is the beauty of it. Hawkins embraces weird and wonderful expression, and his over-the-top persona is the perfect cherry on a rather impressive evening.
Though the band may be regarded as a lighthearted caricature of yesteryear's leopard print and leather-clad glam bands, their musicianship is incredibly top notch. In fact, it was the badass guitar solo in Permission to Land's "Love is Only a Feeling" that caught my ear 15 years ago, solidifying for me that while "I Believe in a Thing Called Love" was the band's unavoidable single at the time, its joyful humor was only a small taste of what The Darkness offers.
This night of the Tour de Prance kicks off with "Open Fire," and all four band members taunt the crowd in their own unique ways (Hawkins naturally the most flamboyant, while quieter brother Dan uses grand guitar gestures to solicit response), encouraging cheers and participation.
I thankfully get my wish early on, as The Darkness then launch into my favorite track, the aforementioned "LIOAF," while I am in the photo pit to capture it visually, wishing I could also share this exciting moment sonically. The band follows up with "Southern Trains," and Hawkins playfully kicks guitar picks into the audience. After the song ends, he teases a woman in the front row for "looking right through" him and reaches for her glasses, which he dons for a cheesy demonstration of how to push them back up your nose while playing guitar.
Hawkins graciously invites us photographers to break the rules by staying put for one more song ("Black Shuck"), warning us to be ready at the end when he jumps off the drum riser. Much to my artistic dismay, the lighting was a second too late, ironically leaving Hawkins in literal darkness at the exact moment of David Lee Roth-esque levitation. Thank goodness for modern photo editing technology.
While I take my place on the far side of the venue, Hawkins practically begs those around me to migrate toward the front, making light of the room being half empty. While most bands would be disappointed by the lack of turnout, Hawkins uses it to his advantage as an adaptive frontman should, taking every opportunity to joke with the intimate crowd.
He initiates the "Glitter Ball Challenge" after noticing two retro, reflective spheres hanging from the ceiling ("it's like being in a disco twice," he mocks). Hawkins attempts to hit one with a guitar pick 15 times before finally succeeding at his gimmick. The receptive audience plays along, "aww"-ing at each failed throw and erupting in praise at the game's conclusion.
As if playing to a sold-out stadium, the band continue to rock with fan favorites like "One Way Ticket," "Barbarian," and "Friday Night." Hawkins pauses in between to remove the top of his catsuit, revealing a plethora of tattoos and fabulously fit at 43 torso.
Drummer Rufus Tiger Taylor (son of Queen's Roger Taylor) receives the spotlight mid-show as fans chant his name, and his smile shines as bright as glamorously afroed bassist Frankie Poullain's glistening gold tailored suit.
Before playing another Permission to Land classic, "Stuck in a Rut," Hawkins asks how many youths under the age of 15 are present (we learn that the youngest attendee tonight is 6), warning that the next few songs include "lots of swearing." With clapping hands held high, nearly the entire audience sings along with glee.
The band disappears after "Growing On Me," but dedicated fans stick around and call for more, to which The Darkness comply after several minutes of anticipation. The encore begins with "Japanese Prisoner of Love" off their latest album Pinewood Smile, and concludes with, you guessed it, "I Believe."
With Hawkins in nothing but his skivvies, the large majority of the audience, myself included, are transported back to our teenage years when we first became aware of this ridiculously fun rock outfit. The band conclude the show with a triumphant jump but are quickly informed that not only do they have more time to play, but the audience is not yet ready to depart.
In an act of brilliant improv, Hawkins begins to play "I'm Gonna Be (500 Miles)" by The Proclaimers, stopping in between to request someone pull up the lyrics on their phone. In true, brash Hawkins style, he offers to photograph his nether regions in return.
Basking in their extra time on stage, The Darkness launch into "Love on the Rocks with No Ice." During his guitar solo, Hawkins commandeers a crew member and rides on his shoulders through the crowd before armpit farting into the microphone – exactly the kind of unpredictable nonsense you would rightfully receive at a Darkness show, and precisely the reason why even the most fair-weather fan would avoid going home. Alas, the set finally concludes two hours after it began, but the memories of a nearly naked and fully euphoric Hawkins last forever.