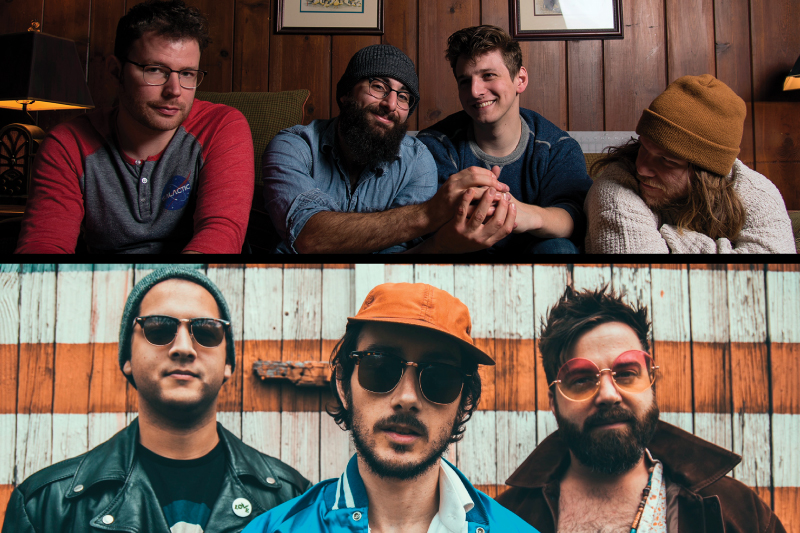 The Burns
Levy & the Oaks
August 3, 2018
Asbury Lanes
Asbury Park, NJ
On August 3, Asbury Lanes welcomed the arrival of not one but two noteworthy releases by two of its most celebrated acts. Both Levy & The Oaks and The Burns were celebrating the release of their EPs Sounds of the City and The You respectively, and both bands attracted a significant turn out and enthusiastic responses from the audience. For support that night, local singer-songwriter Rachel Ana Dobken opened followed by local band Avery Mandeville and The Man Devils. As the first opener, Dobken's act was a nice blend of easy-going indie with a pronounced rock edge allowing for a well-balanced set that made effective use of her live band. Her vocal performance was understated yet powerful throughout and the interplay between her and her band felt natural, allowing for each song to flow into the next seamlessly. As an opening act, Dobken and her band effectively set the mood while showcasing their lush yet gripping style. The band will return to the lanes this September for their EP release show.
Second opener Avery Mandeville and The Man Devils were a blend of intensity and intimacy performed with an electrifying rawness. As lead singer, Mandeville committed fully to each number and contrasted the vulnerable and visceral aspects of her music with ease. Her backing band, which consisted of Chris Dubrow – who also performed that night with The Burns – and Matt Fernicola, were more than up to the task of supporting her, delivering vibrant performances that dominated the stage and enhanced the songs. Mandeville's performance had visceral impact and a sense of exuberance and energy. Her latest EP Happy Birthday Avery Jane is out now.
Finally taking the stage, Levy & The Oaks arrived to much anticipation and opened up with a rousing rendition of The Who's "Baba O'Riley" before delving into the rest of their EP. Levy's set was an exciting and fresh mix of high-energy rock and classic folk, utilizing unique instrumentation on stage to give their music dimension. Lead singer Levy Okun had a vibrant stage presence that anchored their set well and the group chemistry was fluid, each member bringing a distinct style to their performance. For the duration of their set, Levy & The Oaks showcased their unity as well as their original, purely infectious sound delivering an exhilarating and joyous experience in the process.
Riding off the momentum of Levy, The Burns followed suit with a set full of explosive rock and roll performed with humor and a laid-back cool. The Burns' sound was a mix of classic influences and psychedelic rock, and the band tore into their songs with glee and intensity The band's song selections were varied and well-chosen. At one point, guitarist Chris Dubrow stepped in to perform a Cake cover reminiscent of the band's overall style (The Burns are opening up for Cake this month at The Stone Pony). On stage, each member was tight and played off each other frequently and with maximum impact. Lead singer Joey Henderson was in particularly fine form, drawing effectively from the crowd and was in total command of the stage from start to finish. The Burns finished out their set to rapturous reception and illustrated their high-energy, vibrant and dynamic sound with fun, flair and spirited performances.
On the whole, The Burns and Levy & The Oaks release show was a strong showcase for both bands and provided an exciting musical experience. Both bands were in fine form, and their diverse sounds complimented each other nicely while adding variety. Credit also to openers Rachel Ana Dobken and Avery Mandeville and The Mandevils for turning in strong performances and further adding to the diversity of the line-up. All in all, it was another successful night of rock and roll in Asbury Park and to paraphrase the title of Levy & The Oaks' new EP, The Sounds of the City were alive and well