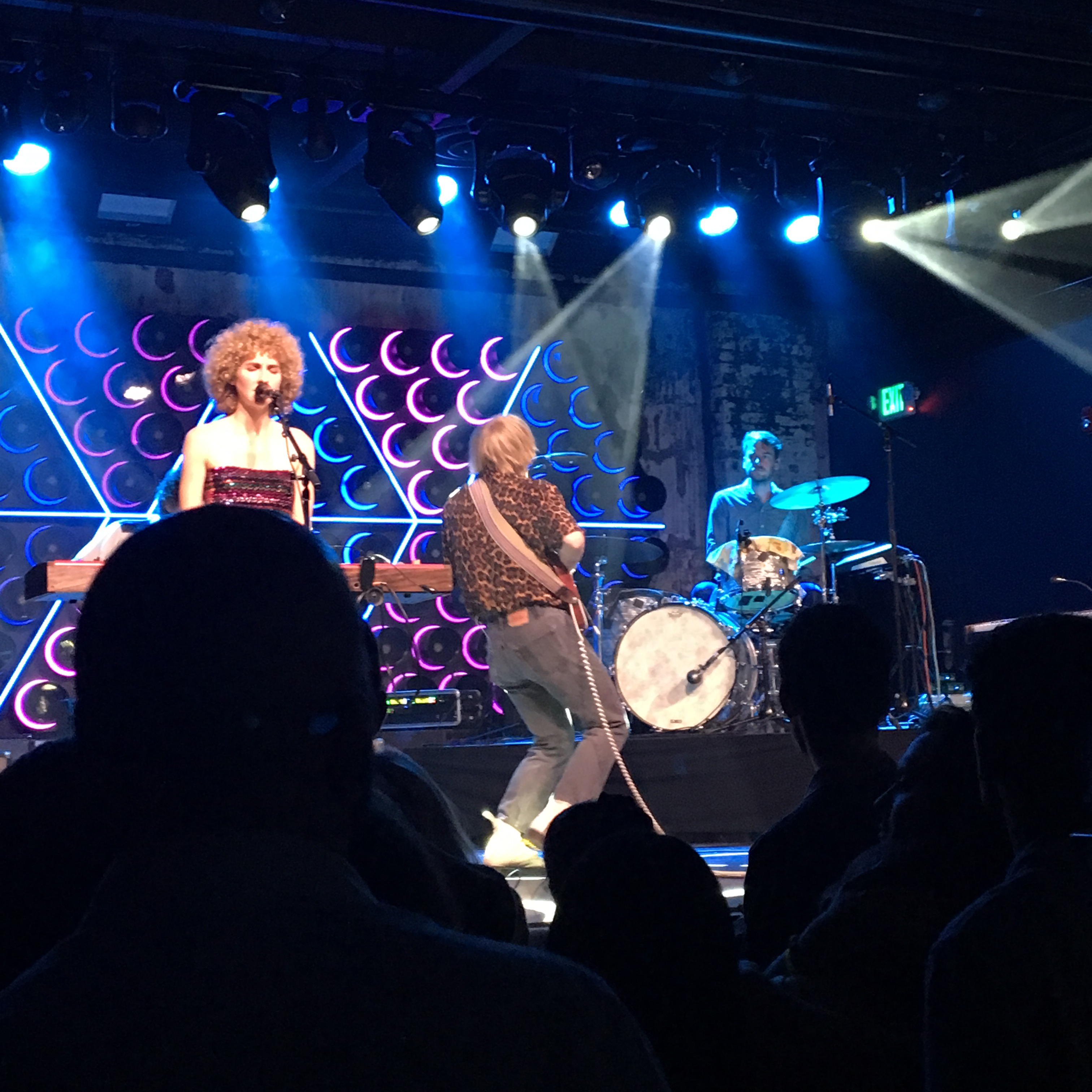 Tennis
June 13, 2018
Asbury Lanes
Asbury Park, NJ
Tennis Anyone? The Electric Pop Duo Take Asbury Lanes
"Do you like Tennis?" A friend of mine asked me a few weeks back. I flashed back to when I was in middle school and had a really weak serve, and thus my dreams of being the next Roger Federer were squashed instantly. Thankfully, my friend was referring to the husband and wife synth-pop duo of Alaina Moore and Patrick Riley who just so happened to be playing Asbury Lanes.
Admittedly, before walking into their show, I hadn't heard any of Tennis' music or knew much of their background. However, upon seeing them perform live at the recently renovated Asbury Lanes, it was hard to not feel a little entranced by them. Before the duo took the stage, the New Jersey band known as Lyons warmed up the crowd and set the mood. Lyons, an all-female five-piece, came out with full intensity giving the sound system a good workout in the process. Their vibe is garage band style indie rock mixed with some of the 80's synth-pop aesthetic shared by Tennis.  Overall, their set was high-energy and vibrant and complemented and contrasted the headlining act quite nicely.
When it finally came time for Tennis to perform, I was curious about how they would make their entrance and what experience I was about to have. As the lights came back on again and the sound system cued up once more, I was pleasantly surprised. The duo instantly set the mood with their atmospheric yet lush keyboards courtesy of Moore while Riley gamely provided support on guitar. Lead singer Moore was decked out in a sequin top embodying a 70's/80's aesthetic that was wonderfully sustained throughout the set. What made watching Tennis perform so engaging was the chemistry the husband and wife duo exhibited on stage together. That may seem like an obvious observation, but during each song, the two played off of each other seamlessly, and their interactions brought out an exuberance that elevated the impact of their songs. During a number titled "Matrimony" dedicated to her husband, Moore was purely uninhibited, dancing and shimmying on stage and giving off a radiant energy that proved hard to ignore.
The most refreshing aspect of Tennis's set had to be how well-rounded and cohesive the song selections were. There were upbeat dance numbers that got the crowd moving. There were also mood pieces that gave off pure atmosphere and songs that were so breathtakingly intimate they could've been prom anthems. From song to song, Moore was charming, open and funny; it almost felt like sharing an evening with a friend if your friend just happened to be in a really artsy indie group. As they closed out their set, Tennis undoubtedly left an impression upon me, showcasing how a small-scale group can achieve the same level of attention as any big-name act could muster. I may not still know all there is to know about Tennis, but I can say judging off of their performance, the ball is definitely in their court.