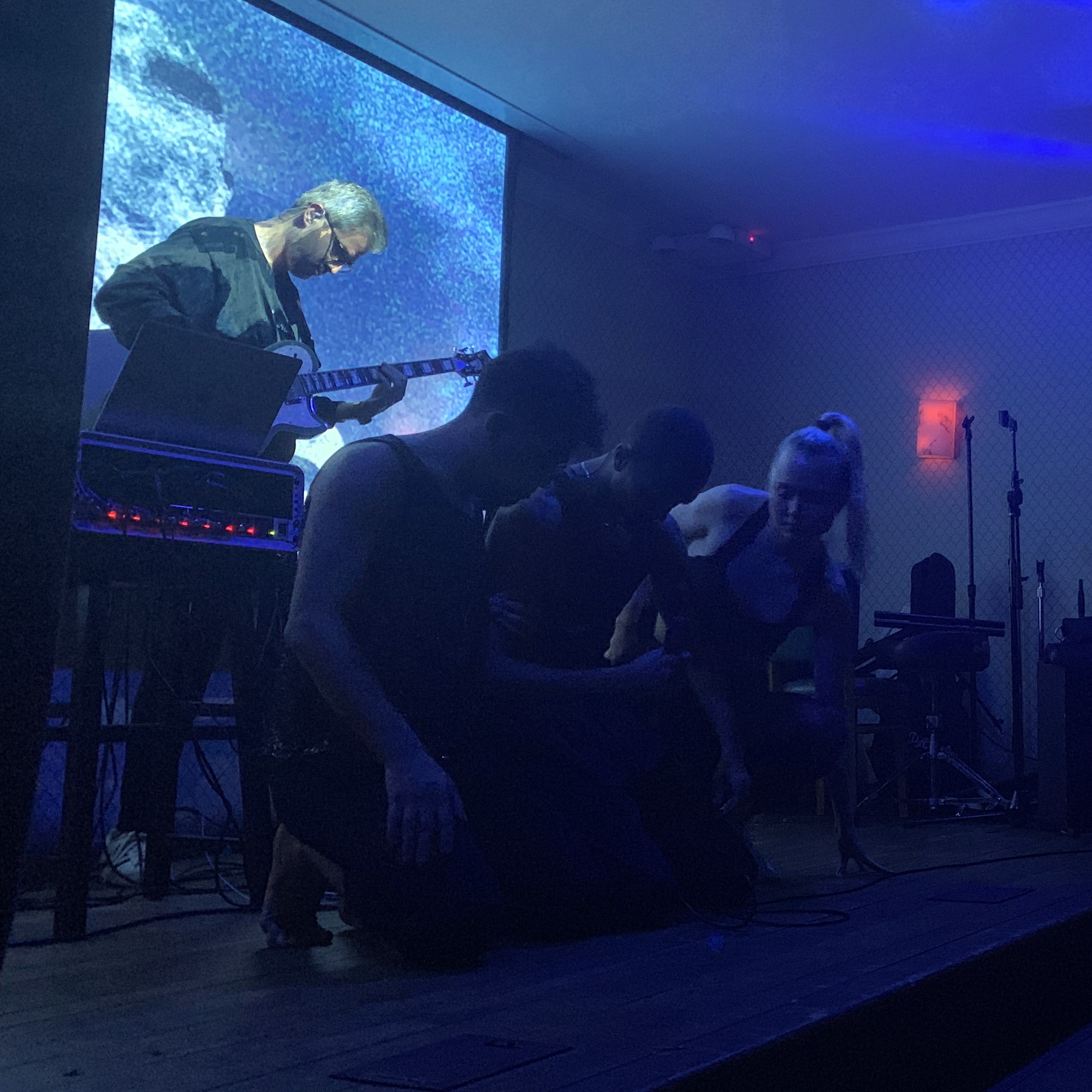 Saro
Natti Vogel
June 20, 2019
Ludlow House
New York City, NY
What better way to spend a muggy summer night than to attend an inspiring show at an exclusive venue? I'm talking about Saro, a queer LA-based electronic artist with the voice of an angel. He played a stripped down, raw performance at the intimate members club that is Ludlow House. Unmarked, one could easily pass by the building thinking it was an apartment or hotel even. There was a gentleman speaking into the intercom stating his business, and I followed him in. Once inside, I made my way up to the third floor, where there is a gorgeous fully stocked bar. Of course, I was drawn to get a drink and opted for one of my go-to's: a Moscow mule. No exaggeration, this was by far the best cocktail I ever had. It was perfectly executed, and I am always a fan of the garnishes. Once I had my drink in hand to help cool down my sweating, I made my way to the floor.
There was an artist performing on the stage, which was set close to the floor. The stage was set up to look like the inside of an artist's apartment, with pictures and paintings hung up on the wallpapered walls. Natti Vogel was performing when I arrived – a giant ball of energy and rawness. He was wearing what appeared to be boxer briefs, a tie-dye shirt, and opted to be shoeless, which I absolutely loved. I had the chance to chat with him briefly after his set while Saro's performance was being set up, and he was such a warm, inviting individual who took his time to take notice of me. He was amused and skeptical when I told him I'd remember his name without writing it down somewhere. But here we are, and I distinctly remember him spelling his name out for me, "N-A-T-T-I". Great memory on the kid.
The lights dimmed, and visuals were put on stage. There was a guitarist in the background beginning to play, and out came Saro, accompanied by a woman and a man, both at his side. In sync, they dropped their heads and arms, to be filled with life and energy once the song begins. Saro has a light, angelic voice and completely floored me at how effortless he sounded. The man and woman started dancing contemporary style to his lyrics, and boy was that powerful. They interacted with each other and Saro, fully encompassing the space. I was right in the front where all the action was, though at times I was a little afraid I was going to get kicked in the head. All in all, it was a captivating performance. Between the dancers killing it emotionally, passionately, and with the fluidity of their movements, to Saro slowing it down to acoustic, emotional versions of his songs like "Rampart." In celebration of his new EP Die Alone, which was released earlier this month, sultry Saro is an artist I highly recommend you watch live.