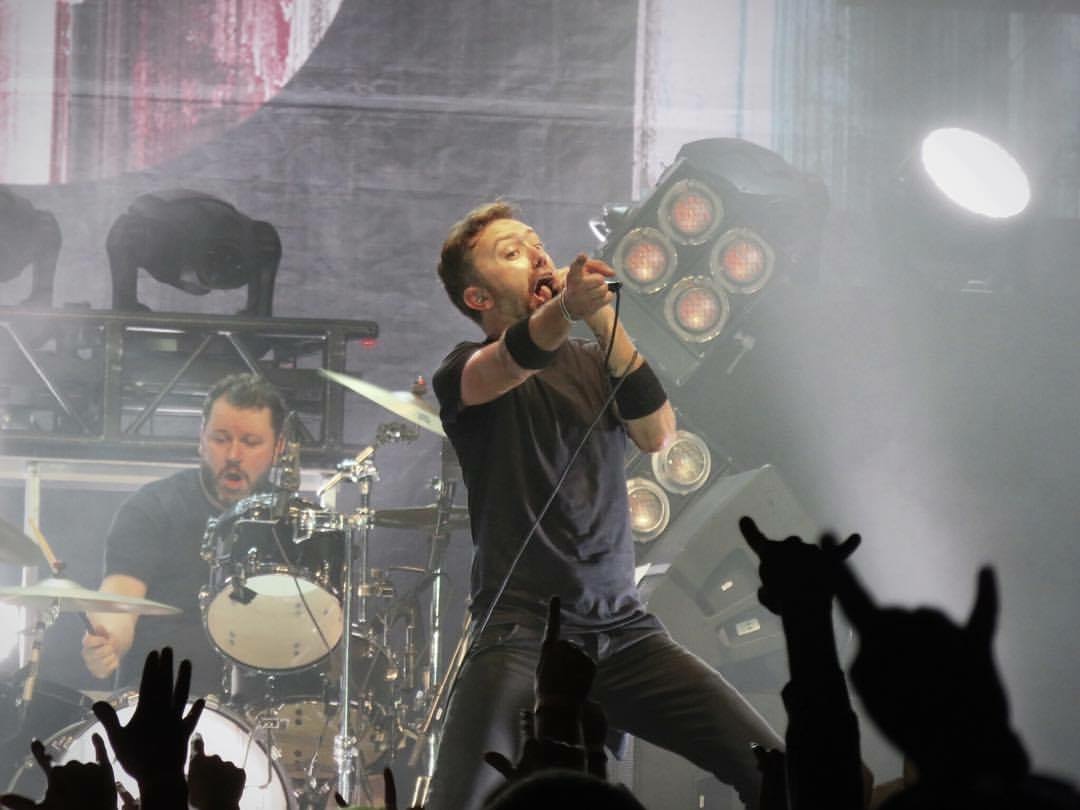 October 6, 2017
The Stone Pony
Asbury Park, NJ
The melodic hardcore band from Chicago has been around for quite some time. Rise Against emerged in '99 on punk legend Fat Mike's record label, Fat Wreck Chords, and haven't stopped or slowed down since. Their eighth studio album, Wolves, recently came out in June, and they hit The Stone Pony on the 6th of October in their supporting tour.
Rise Against adopted video screens on their stage, opening with a very Red Dawn-esque cartoon animated in Jamie Hewlett's style. They took the stage by opening with "Long Forgotten Sons" and explosively continued for the next hour and a half. Wolves' first single, "The Violence," begs the question from the band, "if violence is inevitably of the human condition, or whether it's a choice we make, and therefore, can reject."
Halfway through, the band played a Minor Threat cover, "In My Eyes," with punk legends Brian Baker (Minor Threat, Bad Religion) and Lou Koller (Sick of It All) taking the stage. Koller is from the area, and this isn't the first time he's made an appearance at a Rise Against show. The last time Rise Against was at The Stone Pony in 2015 supporting The Black Market, Koller joined then as well, after Rise Against frontman Tim McIlrath confessed he's emulated his vocal style from the punk giant.
"Bravery and defiance comes in all different forms. Sometimes, defiance is just showing up to a fucking rock show"
-McIlrath
After Baker and Koller's guest appearance, they continued with their second single from Wolves, "House on Fire" then "Prayer of the Refugee" before taking a break with McIlrath playing a few songs from their acoustic collection. They picked back up to their normal energy with "Help Is On the Way," and McIlrath dedicated my personal favorite, "Survive," to the late Chris Cornell and Chester Bennington. They ended the evening with "Savior," the single from their fifth studio album, Appeal to Reason.
With the suicides of idols we once looked up to, natural disasters aplenty, and our political environment being a literal circus, we live in turbulent times. Sometimes, reading the news is difficult. Going to a show is hands down one of the most effective means of coping with the world we're living in. Rise Against is and always has been a very vocal band that reminds its fans they are not alone, and if you want change, you need to be a catalyst for it. As always, they delivered an explosive and memorable performance.
Set List:
Long Forgotten Sons
Ready to Fall
The Violence
I Don't Want to Be Here Anymore
Under the Knife
Satellite
Collapse
In My Eyes (Minor Threat cover with Brian Baker and Lou Koller)
House on Fire
Prayer of the Refugee
Swing Life Away
People Live Here
Hero of War
Help Is On the Way
The First Drop
Survive (dedicated to Chris Cornell and Chester Bennington)
Wolves
Audience of One
Give It All
Savior