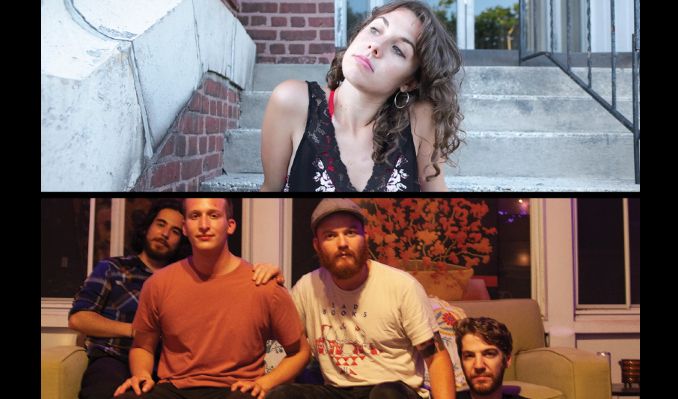 Rachel Ana Dobken
The Mercury Brothers
September 5, 2018
Asbury Lanes
Asbury Park, NJ
The new Asbury Lanes is becoming one of the go-to spots in town to release a new record. Several upcoming artists have been taking advantage of the renovated venue; local NJ singer/songwriter Rachel Ana Dobken and local rock band The Mercury Brothers were the latest to take the stage at the Lanes to debut their respective releases on September 5.
Dobken held a pre-release party for her album When It Happens To You that night which will be released to all major platforms this October. She also released her latest single "Always" recently, and her performance was highly anticipated. On stage, Dobken was in full command. Her band was in tight form playing off each other and showcasing a varied selection of styles throughout, from harder bluesier rock to more soulful contemporary sounds contrasting each other seamlessly. Dobken has clearly invested a lot into her upcoming work, and her vocal performances were decidedly passionate and rich. A particular stand-out was an unexpected Carol King cover towards the end of her set which was met with an ecstatic response by the audience. One of the more fascinating aspects of Dobken's set was how she highlighted her backing band and made sure they were all represented on stage effectively.
For certain songs during her set, she brought out guests such as Joey Henderson of The Burns who opened that night and Danny Clinch, a notable local photographer and musician. Both guests were integrated into the set with elegance and style, and their contributions added resonance and texture to the overall experience. Dobken illustrated her versatility that night as she displayed her multi-instrumentalism, giving a rousing performance on her guitar for several songs and even stepping behind the drums toward the end of her set. Throughout the entire performance, Dobken delivered a multi-faceted performance backed by an equally strong band and managed to effectively translate her new material live. The overall set was an engaging and vibrant performance that delivered a strong representation of Dobken's talents and raised anticipation for her upcoming album as well.
Following Dobken were local favorites The Mercury Brothers who were debuting their latest release II. On stage, lead singer Dan Apy gave an all-out performance, and the rest of the band were in electric and rollicking form with groovy yet strong instrumentation and a near-constant sense of energy that was incredibly well-sustained. What makes The Mercury Brothers so exciting to watch is the sheer lack of inhibition each member displays and the sense of spontaneity running through each number. It felt like a big party on stage, and the whole audience was invited. Musically, The Mercury Brothers appeared to have influences ranging from 70's rock to psychedelia to blues – on stage, these influences allowed the band to sound dynamic and help to ensure a well-rounded experience. All of these elements made for an undeniably exciting and fresh set. The Mercury Brothers represented their brand of funky, raw yet organic rock and roll in high style and had enormous amounts of fun doing so in the process.
Overall, the Rachel Ana Dobken and The Mercury Brothers record release show offered a memorable night of good old-fashioned rock and roll that served as strong presentations for two of Asbury Park's most diverse and accomplished acts. Based on their performances, both artists have plenty to celebrate, and we're all the better for it.