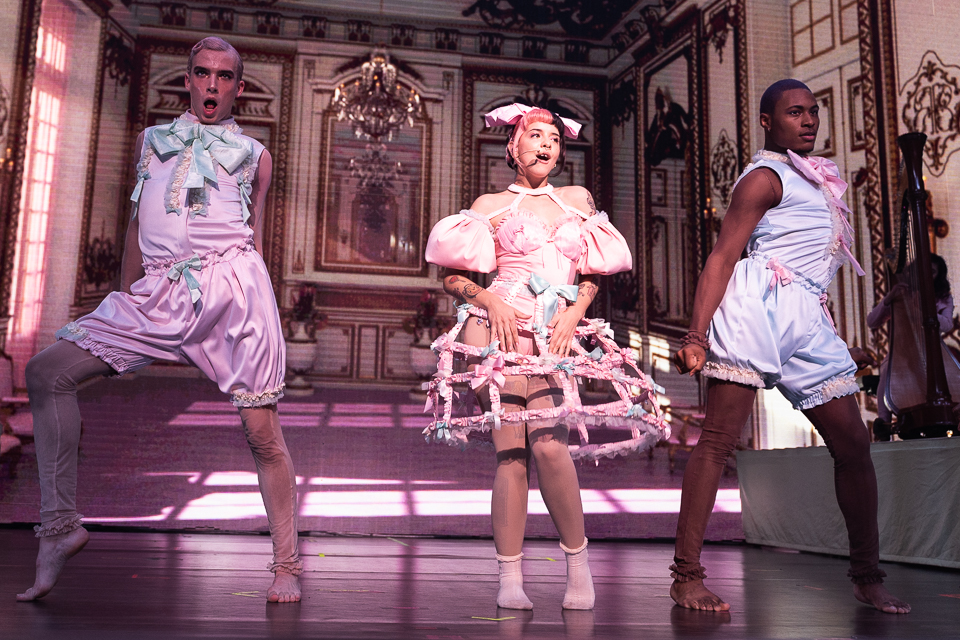 Melanie Martinez
October 29, 2019
Hammerstein Ballroom
New York City, NY
Review and photos by Patriciana Tenicela
Melanie Martinez has come a long way since her rise to fame as a result of her time on The Voice in 2012. Earlier this year, Martinez released her sophomore album, K-12, which features adult themes under the guise of childlike imagery. She has always had a clear aesthetic, rocking two-toned hair perfectly symbolizing her balance of darkness and light. Melanie puts a lot of thought into her art, creating a complex story behind every song and showcasing those stories and their characters in accompanying music videos. She proved this once again in the release of K-12, a 90-minute film featuring all 13 songs from the album. Martinez wrote, directed, and starred in the film, which took over 2 years and $5 million to create. The result is a visually stunning and perfectly executed surrealistic fever dream.
The New York native returned to her home state for a sold-out night at the Hammerstein Ballroom. The crowd, a sea of pastel pinks and baby doll inspired outfits, chanted her name at a piercing decibel level. Melanie emerged with several dancers in tow to begin her set with the first song off of K-12, "Wheels on the Bus." She continued to play through the remaining 12 songs off the album in order. There were several set and outfit changes throughout the night, encapsulating the feeling of a theatrical play. While the majority of her set focused on the new material, she did sprinkle in a few fan favorites from her debut album Crybaby. Dancing the line between sinister and sweet, Martinez put on a performance her fans are sure to remember.