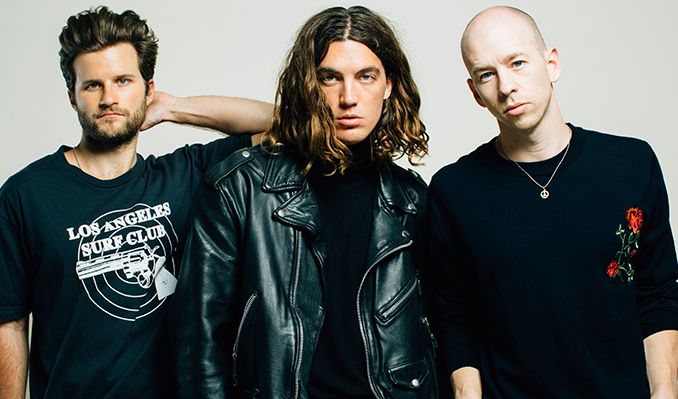 October 13, 2017
Irving Plaza
New York, NY
"Excuse me, but people have been waiting here forever. You have to go to the back of the line."
Don't even try to pull a fast one on a LANY fan. You will be found out.
I watch as this mini saga unfolds outside Irving Plaza in New York City, where the Los Angeles indie pop trio are about to kick off a three-night, almost entirely sold-out Big Apple visit. Enthusiasts line the block, buzzing with excitement and inevitably discussing the attractiveness of each band member.
The road to LANY's success has included impressive pit stops as a supporting act for pop powerhouses like Halsey and Ellie Goulding. By mid-2016, only two years after forming, LANY had amassed a devout following and embarked on their first headlining tour. After teasing fans with several EPs, their danceable, alt rock self-titled album was released by Interscope / Polydor Records on June 30, 2017 to critical acclaim. LANY's current headlining tour traverses the US through early November before the boys fly overseas to round out the year.
More than worth mentioning is opening act Dagny, a Norwegian songstress celebrating the release of her romantic new synthpop single, "Love You Like That," which she excitedly performs while bopping across the stage. With a Rocky Horror-like red lips banner behind them and coordinating white jumpsuits, Dagny and her male bandmates present a polished Ghostbuster vibe on this Friday the 13th. The visibly ecstatic blonde frontwoman entices the audience to sing along to the vibrant "Backbeat" before closing her 30-minute set with "Wearing Nothing."
The crowd is a healthy mix of hormonally charged, starry-eyed teens and quarter-life hipsters, the latter including men stylishly clad in leather jackets and suede boots with their female counterparts in tight blue jeans. Gone are the days of traditional boy bands, though LANY's fan base react to the electropop darlings as if they both fit and break that mold. Paul Klein, Jake Goss, and Les Priest take the stage to thunderous applause prophetically appropriate for an arena, overpowering the midsize hall.
Countless cell phones pop up like seedlings celebrating the emergence of dawn as LANY open with "Dumb Stuff," and oh my God, I think the entire audience is in love. Klein smirks, taking in the ego-stroking, high-pitched screams that occur at his nearly every move and intoxicating "ooh oohs."
"I love New York so much!" he exclaims before launching into "Yea, Babe, No Way." Klein steps back and lets the crowd sing to him, and I can't resist swaying along to the catchy chorus.
Goss and Priest take a backseat to Klein, situated behind him on stage, seemingly satisfied with allowing the frontman to solely interact with the crowd.
As anticipated and experienced throughout the tour, red roses are thrown on stage during "Flowers on the Floor," an appropriate nod from a few florally inclined fans.
Klein sits at the piano for "youarefire" and declares, "This is about you, New York." The audience reacts with adoration and sings along to every word.
Astounded by their three-night city run, Klein muses, "This is going to be one to remember – I swear to God," before the three-piece play "Good Girls."
Collectively adopting a black and white motif, the band look fashionably suave, with Klein's Michael Jackson-esque white t-shirt under an open button down and black slacks. Goss, showing the most skin, keeps the beat in a white tank top as Priest, completely in black, intermittently dances along.
Klein jovially taunts the crowd, jumping down from the stage, his shoulder-length hair almost being caressed by overjoyed loyals at the barricade.
"Made in Hollywood" starts to give us city goers left coast envy. Klein stands on the piano revealing more MJ style – white socks and shiny black shoes. All he needs is a breeze through his flowing locks to complete the King of Pop look.
"It Was Love," reminiscing on sneaking around at night with a teenage crush, solidifies the notion that nostalgia sells. Klein cocks his head back while playing keyboard as if bathing in the notes.
During "Hurts," he grooves along with the beat, pelvic thrusting much to the delight of the ladies and presumably a few gents in the crowd.
Screens behind the band project a neon broken heart for "Purple Teeth." Klein lays downs on the stage and kicks up his feet, maintaining flawless vocals throughout the entire performance.
He pulls his hair back, straps on a guitar, and starts to play "13" asking, "New York, you ok?" as if there was any question. LANY's subtly powerful stage presence and Klein's irresistible charisma would turn any on-the-fence attendee into a full-blown fan. All three musicians rotate to face stage right, their smokey silhouettes carved out by blue light.
"Tampa" turns the stage green and projects a 5:00am clock that advances throughout the song. Klein croons from the piano, "I can do better than this" while I respectfully disagree; I can't imagine the show being any more spot on. Klein somberly lowers his head to the keys when the song ends, an effectively theatrical move.
The energy in the room shifts instantly with "Where The Hell Are My Friends," and babyfaced Klein laughs as everyone echoes his lyrics.
Before playing "The Breakup," Klein addresses the crowd. "I like when you sing with me," he says through a genuine smile, gesturing for even more participation.
He then breaks into a soulful piano interlude, killing time due to an unexpected broken kick drum. No one complains as he plays "Pancakes" sans accompaniment. If the moment was improvised, it didn't seem like it – Klein seamlessly and naturally assumes the solo role.
The vibe picks up again with "Pink Skies," after which Klein expresses, "Thank you so much. You've been so beautiful to us," shaking his head as if LANY doesn't deserve the wildly enthusiastic applause when everyone in the room knows darn well they do.
During "Hericane," he leans forward toward the audience then pensively crosses his arms. Klein truly characterizes the emotion behind each song. Goss and Priest disappear as he finishes the song once again solo on piano.
Chants of "LANY!" begin mere seconds after the stage goes dark. It doesn't take long for the band to re-emerge, and a fan behind me screams "I love this song!" at the opening notes to "Super Far."
Klein playfully sticks out his tongue as he dances along, and even the industry execs and VIPs in the balcony who were previously frozen begin to sing and jump with him.
As the audience may have guessed, LANY's encore concludes with "ILYSB," and the sea of cell phones rolls back in. As the song ends, Klein blows kisses to the crowd. The trio take a bow and wave their goodbyes.
"Thank you, New York City. We love you so, so, so much. We'll see you tomorrow night, the next night, and the rest of our lives. And that's the truth."
As Klein and his bandmates exit the stage, not a single person doubts his words. Until next time, LANY – thanks for all the feels.