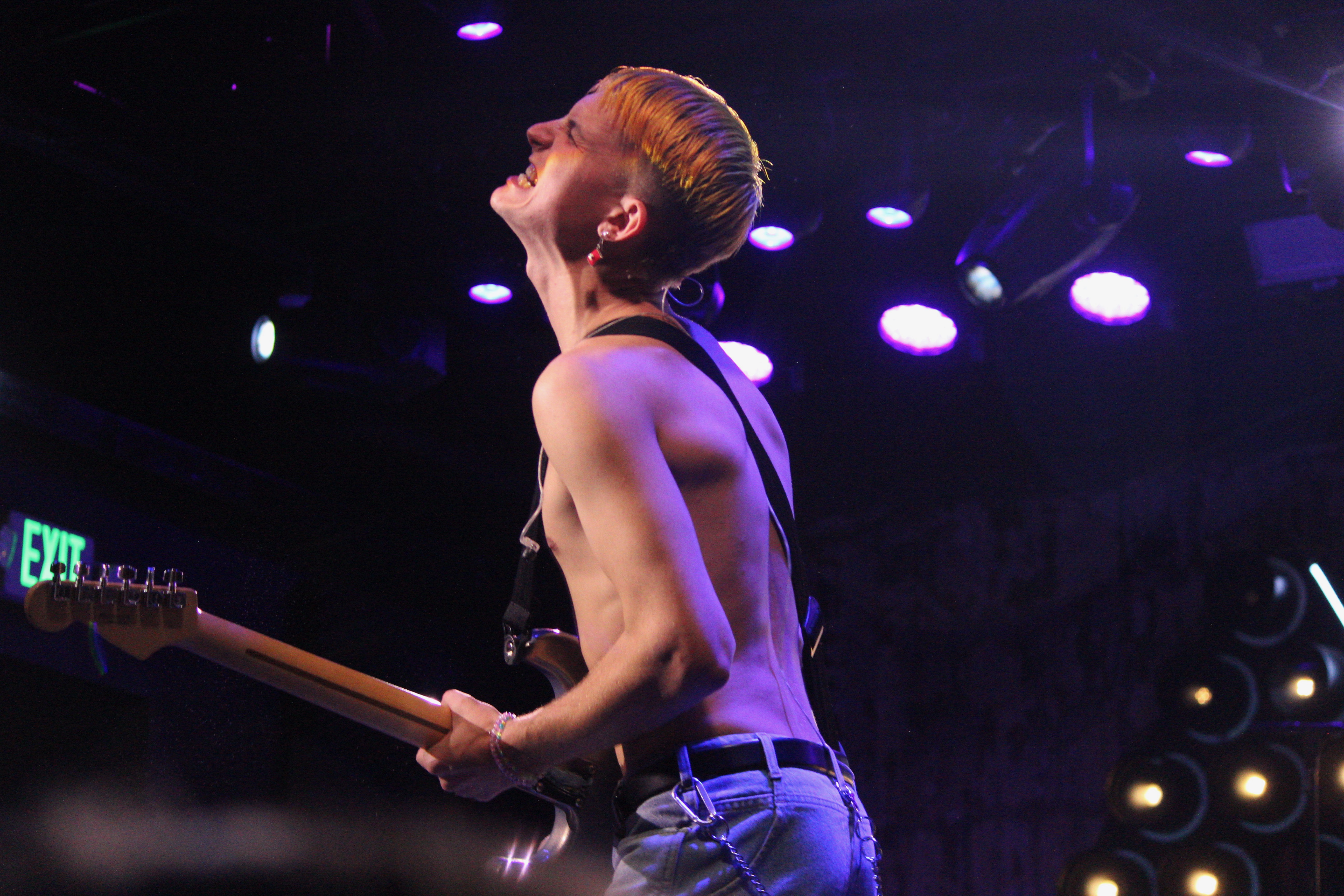 Gus Dapperton
November 16, 2019
Asbury Lanes
Asbury Park, NJ
Review and photos by Kenny Bieber
When it comes to young and rising talent, there are usually two types of cases. There's the instant break-out success, and there's the second and arguably more fascinating artist that slowly yet steadily builds and maintains a passionate, cult-like following. Up and coming indie-pop artist Gus Dapperton currently belongs to the latter category, but after his exhilarating and deeply passionate performance at Asbury Lanes this past weekend, he may very well be headed for the former sooner than we think.
Coming off the recent release of his full-length debut Where Polly People Go To Read, Dapperton's live set showcased his most recent body of work along with some established fan favorites, all delivered with gusto, go-broke intensity, and a pure exuberance that was truly magnetic to watch on stage. The overall result was a euphoric and tremendously high-energy evening with a breathtaking sense of momentum and joy that was seamlessly maintained.
In terms of genre and style, Dapperton's music contains influences such as 80's new wave, synth-pop, indie rock, and dream-pop – and each of these diverse styles come to life in dynamic and thrilling fashion. What truly distinguished Dapperton as a performer was the intimate and organic connection he established with his audience. His charisma, humor, and enthusiasm shined through on plenty of occasions. Dapperton's chemistry with his backing band was fluid and natural; each member was able to instill their own sense of energy and flair into the set. In terms of the setlist, Dapperton represented his new material effectively while also incorporating some songs from previous EPS which added a sense of balance and variety. The audience response to each number was rapturous and at multiple points in the evening, transformed the proceedings into a full-on dance party.
While Dapperton's set contained more than its fair share of excitement, what truly gave this performance such resonance was the uncompromising sense of soul and commitment he poured into every aspect of his material. Whether it was the infectious funk of standout "World Class Cinema" or the searing heartbreak of "Fill Me Up Anthem," the emotional and dramatic weight of each song was brought to life in a manner that was raw, commanding, and authentic. In between songs, Dapperton was personable and exhibited a genuine sense of gratitude for his fans, which was more than welcome and refreshing to see. As the evening drew to a close, Dapperton tore into a jubilant and rousing cover of "Twist and Shout" that was surprising, endearing, and an absolute blast to watch.
Overall, when it comes to being a rising talent, it's safe to say there are many challenges. One of them is to create a live experience that's dynamic, engaging, and fully captures an audience. In the case of Gus Dapperton, the challenge was more than accepted, and his Asbury Lanes performance was a testament to his immense potential and his joy, vitality, and passion were richly showcased. With such an influx of emerging talent these days, it can take some time for certain acts to fully breakthrough and cross into the public eye. Based off his performance, it's only a matter of time for Dapperton. I can't wait for everyone to join the party.