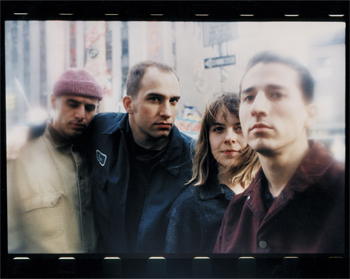 Jawbox
1995
Indiana University of Pennsylvania
Indiana, PA
I feel like the first show that actually "counts" was seeing Jawbox in the Union Building of Indiana University of Pennsylvania my freshman year of college. I had no idea it was happening until earlier in the day, when my roommate and I happened to walk by the Ballroom and heard INCREDIBLE drumming bellowing out of the doors. We peeked in, and I saw my first sound check. It was kind of surreal for me at the time. I was only a couple of weeks into my first semester, far-ish away from home, and realizing that I was somewhere completely new.
I was sheltered growing up in Erie, PA, so seeing the concert that evening floored me. The music was unlike anything I had heard before. Extremely loud and intensely dissonant – but with very sweet vocal melodies floating above all that chaos. The whole thing was sort of a blur.
Afterward, I walked up with my torn ticket stub and awkwardly asked the bass player for an autograph (a WOMAN bass player! Saints, be praised! It WAS a new world).
In the weeks following, I found two of Jawbox's albums and got deeply immersed in trying to understand what they were doing.  I was a budding guitar player and getting ready to take my first Music Theory classes. Music still felt mysterious and open. I was raised on a pretty steady diet of heavy metal, 80's pop hits, and classic rock radio, so something like Jawbox resembled a Rubik's Cube being tossed in my lap.
After Jawbox broke up, I kept up with their lead singer/guitarist/songwriter, J. Robbins, as he moved from project to project. I started playing in bands, and my topic of any conversation at a gig invariably became Jawbox. I made so many mixtapes, and my guitar-playing owed a lot to J. at that time. I was a true apologist.
At the same time, seeing that concert spurred my interest in joining the Campus Activities Board (called T.E.N.). It started the first half of my career, booking concerts in a college setting. It was a super-fertile time for music (and I was given way too much leeway in my job), so I ended up booking everything from They Might Be Giants, to Biohazard, Run DMC, Gilbert Gottfried, Reel Big Fish, Sevendust, Vanilla Ice, Busta Rhymes, Bloodhound Gang – about 40 shows by the time I graduated. I had found like-minded friends and a sense of purpose.
Fast-forward to 16 years later, and I found myself in the lunch tent at one of my band's Vans Warped Tour gigs. I was eating with the band Lionize and found myself STILL bringing up Jawbox. The bassist said that they had recorded an album with J. Robbins. It blew my mind! I pummeled him with questions; I wanted to hear everything.
That lead me to actually finding myself in a studio with J. a couple of years later and eventually being able to call him a genuine friend. My first show manifested a crazy thread that has woven itself through my life up to this point – and, in its own way, ties everything I've done creatively and professionally together.
The moral of the story: if you hear something that turns your head, stop what you're doing and investigate.