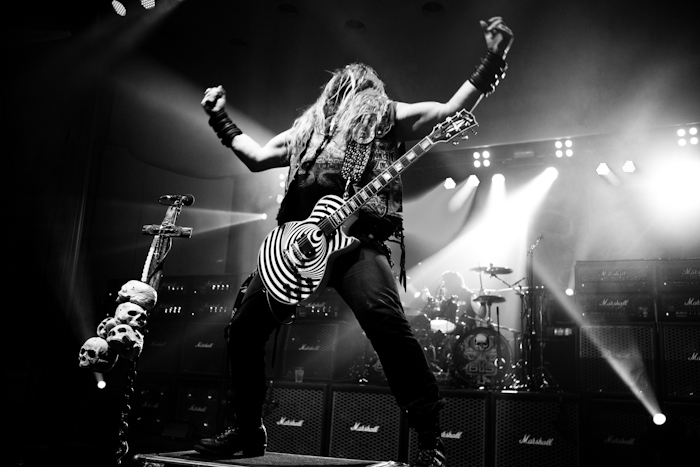 Black Label Society
American Head Charge
April 2, 2005
Starland Ballroom
Sayreville, NJ
"Hold My Beer for Me"
I was one of three 15-year-old girls standing in the middle of a crowded floor, unsure of what was happening yet excited for whatever it would be. Tall men with big beards surrounded us. Every person was toting leather, tattoos, and some sort of anger issue. That was my first introduction to the metal music scene. Scared and unsure, I had friends next to me experiencing the same kind of "weird" that I was.
Playing was American Head Charge, a local metal band I don't remember the name of, and Black Label Society. The venue was Starland Ballroom in Sayerville, New Jersey. This was "back in the day" when fans could smoke inside and take their beers from the bar to the floor if it was an all-ages show. We really lived our lives on the edge back then.
My friend's parents dropped us off. Sporting our TRIPP N.Y.C. pants and fishnet shirts, we walked into the venue feeling like the coolest kids there. I remember parting my hair down the middle, long and dark brown, and the oversized sweatshirt I was wearing (belonged to my boyfriend at the time) had a big red star on the front. My thumbs slipped into the chewed-through cotton of the DIY thumbholes. My friends also sported a similar look, black eyeliner for days and fishnet whenever acceptable. We were the poster children for the early 2000s grunge goth look.
We huddled together and found our spot in the center of the floor, never leaving one another's side, even to go to the bathroom. American Head Charge went on, and I took out my digital camera and snapped away. I loved every moment I captured, and every note resonated into my soul. How could the music I hear on my iPod be the same in real life? The talent those musicians had blew me away. With all the motion of the crowd, we still never lost each other. I felt sucked into the trance that is live music. And the performance they gave was not like anything you can feel from a computer screen. I felt like I was home. We were surrounded by like-minded individuals who didn't laugh or judge us for what we were wearing or the music we were there to see. Everyone just moved and blended together, and even being so small, we weren't walked over. There was a level of respect for us and for everyone.
During the break, I remember one of us commenting to the others how we were probably the "youngest and only girls there." I remember looking beyond my friends and gazing at the rest of the crowd. The men had longer hair and better black eyeliner than I could have even figured out. Their clothes were similar though – black pants, black band tees and black sweatshirts. The few women had leather pants on or the same oversized TRIPP pants we were wearing, and denim vests with patches and combat boots that looked as if they have actually seen a real battle. The haze of cigarette and weed smoke filled the air around us. It was as if the venue had a fog machine going non-stop. That's when it happened.
"Can you hold my beer for me?" a man said, bending down towards me. He told me that we looked like honest young ladies, and if we could hold his beer while he "took a leak," he would make sure we were safe the rest of the show. Not compelled to say anything else, I simply said yes. So, there I was with my girlfriends, feeling like the coolest little shit on the planet, holding this stranger's beer. This man towered over us, had a long grayed beard and a blue denim vest covered with patches, from what I could only assume were bands and biker gangs. I do remember him coming back and lighting up a cigarette, probably asking what we were doing there, being so young. He thanked my friends and I for not drinking all his beer (which if memory serves, we actually didn't because we knew about "roofies") and said that if anyone was to try and "fuck with us he would fuck them up."
Young or not, we screamed louder than any of the people in the crowd when Black Label Society came on. I remember Zakk Wylde's hypnotizing black and white spiral guitar. As he played, I was stuck on it. The band's stage presence was immense as my vocal chords shook from screaming every word alongside my friends. We were right alongside the master pit in the middle of the floor. And this man, the stranger, kept to his word. He pushed anyone and everyone out of our way or that may have actually been in our way of enjoying the show. And enjoy we did.
Afterwards, as all the sweaty people poured out of the venue, I remember my ears ringing and heart racing. What had I just experienced? Was this everything I wanted in a scene? Did I finally belong? We piled back into my friend's mom's mini van (or SUV, I can't quite remember), listening to more of the music we had just seen. Telling her mom about all the fun we just had felt as if we were coming back off a cloud. I stayed at my friend's house that night and fell asleep to the memory that will forever last in my mind.