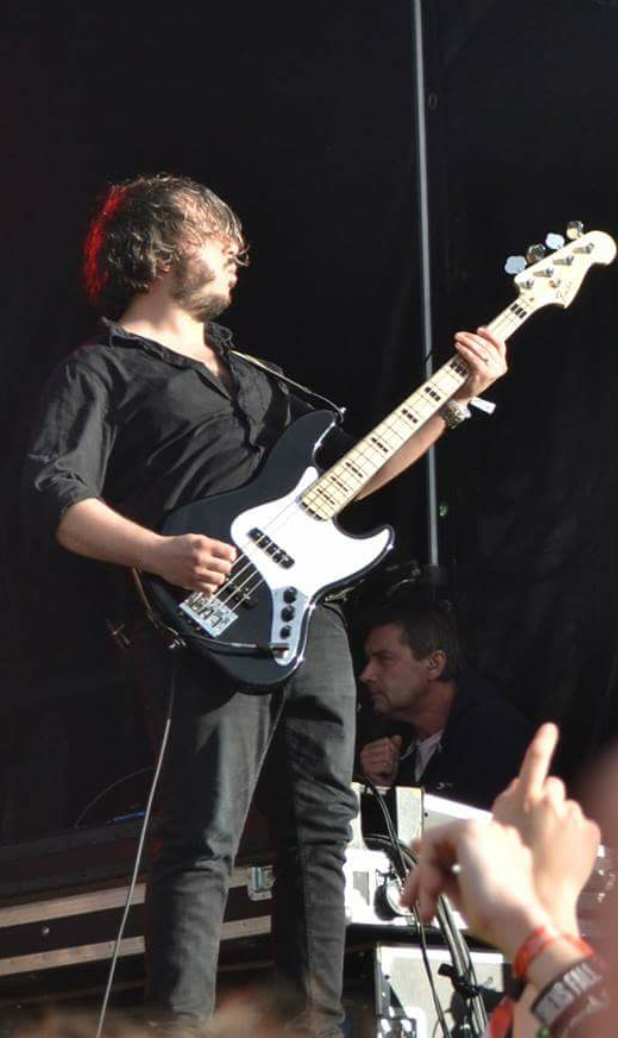 Alex rocking out with Frank Iero and the Patience at Slam Dunk Festival earlier this year. Photo: Anna Tveit.
Sick and Twisted Tour
April 1, 2000
Meadowlands Arena
East Rutherford, NJ
In between his busy schedule opening for Thrice, Rise Against and Deftones in one of this year's most legendary line ups, Alex Grippo, bass player with Frank Iero and the Patience, found time to squeeze in a quick chat with us about his first ever concert experience. Here's what he said…
S&S: What was the first gig/concert you ever went to, and how old were you?
Alex: When I was 13, I saw Staind and Korn at the Meadowlands Arena during the Sick and Twisted Tour.
S&S: That's a pretty sick first concert, not just one great band but two. Did you go with your parents or friends? And were they into the music too?
Alex: I went with my good friend Tom and his stepdad. His stepdad is from Poland, and while he was a good sport about taking us, I don't think he was digging it as much as we were.
S&S: Did the two of you wander off into the mosh pit and get involved or were you standing at the sides/back?
Alex: Nah, we were kids, so we had some seats in the way back…which is probably for the better 'cause we wouldn't have been able to see shit on the floor. Plus, I wasn't a tough kid; I was as rugged as a sack of mashed potatoes, so it's for the better. I still stay away from the pits.
S&S: Haha fair enough. How long had you been waiting to have that first concert experience? Had there been other ones you'd wanted to go to in the past but you'd been too young and your parents had said no?
Alex: Yeah, I wanted to go to Woodstock 95 with my dad, but I was seven, so that would have been rough. Being a parent now, I dunno if I'd bring my kid to a festival like that at seven years old, but I at least got to watch a handful of it on TV.
S&S: How was the actual gig itself? Did you guys have fun?
Alex: I remember having fun, but I have no concept of whether it was a good show or not. It was before I had ever picked up a guitar, and I feel like I was listening with my eyes more than with my ears. But the whole atmosphere was pretty intimidating. Lots of kids 5-10 years older than me, everyone smoking pot in the arena – it was intense.
S&S: Yeah of course, that'd be well before the days when smoking was banned inside most places. Did having that kind of experience inspire you to want to start playing? To be the one up on stage instead of in the crowd?
Alex: Not at that show particularly. It was a little above and beyond to even think I could do that. That realization came a few years later at a much smaller show.
S&S: Which show was that if you don't mind me asking?
Alex: Haha oh man alright…It was a Bigwig show, and My Chemical Romance opened for them…I think at the Wayne Fire House or a VFW Hall. I remember Frank coming up to Evan (Nestor) and I in the parking lot, cause Evan's dad had dropped us off. He was wearing a Nosferatu shirt, had fang caps on his teeth, and blood dripping from the sides of his mouth. And we saw them absolutely kill…and I remember thinking, "This is a place where I can be who I wanna be. This is a place I wanna make a name for myself." And from that night forward, I started playing guitar more seriously and writing lyrics and showing them to my friends. It was a pivotal moment in my childhood where I said, "When I grow up to be a man, I wanna do this."
S&S: Oh man, that's f*cking wild, haha. I was actually gonna ask you if you'd ever seen any of Frank's bands, but you've just answered that. It's like things have come full circle with you now playing in Frank's new outfit.
Alex: Nah, I don't believe in full circles. I think everything is a straight line from when you're born to when you die. But it's definitely been a universal gift that our lines have crossed several times.
S&S: I suppose living in a fairly small insular state like New Jersey possibly helps with that, a lot of people brushing shoulders in the local music scene, etc.
Alex: It didn't hurt that so many bands revolved around New York City and the suburbs.
S&S: So, we've talked about the first show you ever attended…What was the first show you ever played?
Alex: I'd done some talent shows at school and a few covers with my friends, but my first official show was with my first band Matt Rabbit on Black Friday of 2004. We played in my friend's living room during a high school party the weekend of Thanksgiving. At the time, I had written maybe three songs and our bass player had another three. We did some Weezer covers, and also covered Moon Dance by Van Morrison which has always been a favorite of mine (Little guy with a big voice, always could relate to that). From there, we were kind of the town favorite for anyone who didn't relate to the thriving hardcore and post-hardcore scene in northern Jersey. Which subsequently was not many people! And looking back on it, I'm always happy I was doing my thing instead of what people wanted.
S&S: Yeah totally. I think sometimes the best bands are ones where you can't pigeonhole their sound and influences.
Alex: I just always tried to do what I thought sounded best. Why be an artist and express yourself if you're not being you?
S&S: Words to live by. I think that's everything covered. Thanks so much for taking part, man!
Alex: No worries glad to be a part of it.
You can catch Alex wielding his bass with Frank Iero & the Patience across the States until the end of July. Watch out for them in a city near you! (Dates up on frank-iero.com)