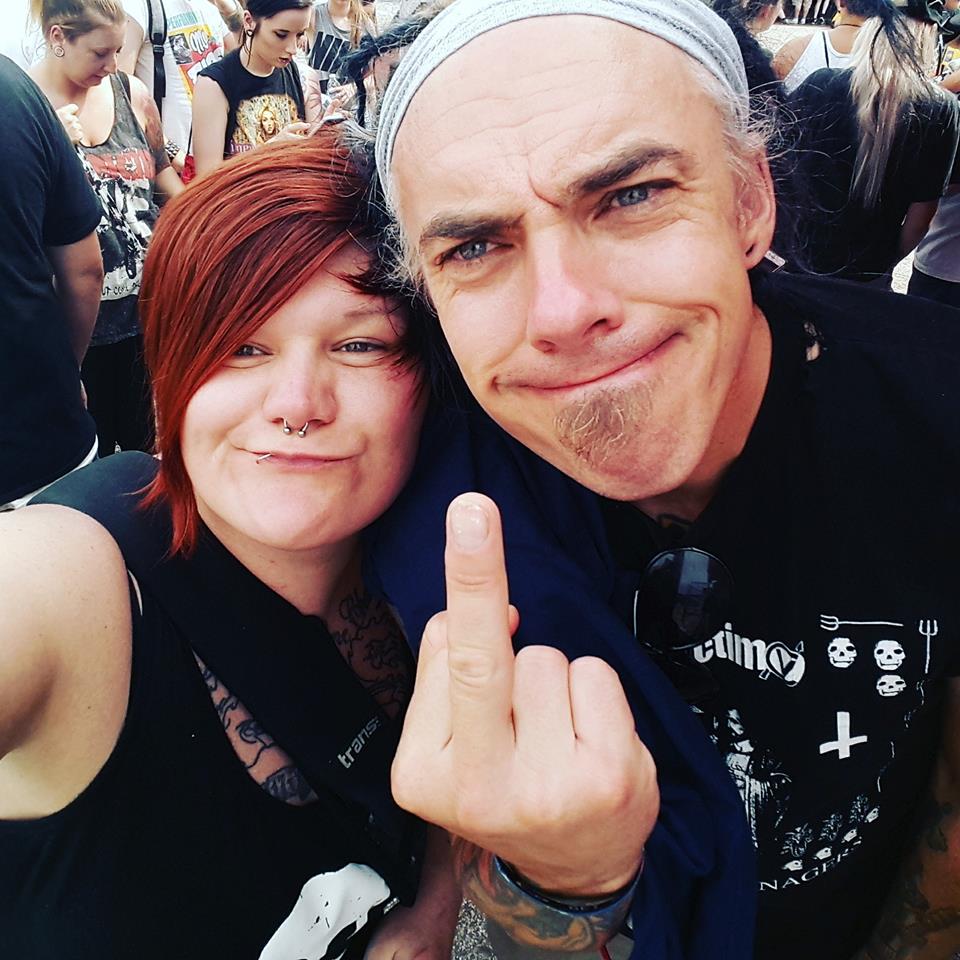 I usually prefer my place behind the camera and writing fiction, but I finally have a chance to talk about my Life-Changing Band – more like Life SAVING Band. I've rewritten the beginning of this about 20 times already, not sure how to really approach it. So, I'm just going to tell my story raw, however it goes.
Growing up a socially awkward country girl struggling with severe anxiety and depression right outside Detroit, I was bullied relentlessly. One night, at the age of 13, I thought I had hit my breaking point. In the midst of my self destruction, a new song came on the radio. The music was happy with its quick beats and horns. It was everything I didn't want to listen to at that moment, but then the vocals came in thrashy and raw, and the lyrics were so real. I had never heard a song speak so much honesty – not about love, sex, or any other superficial nonsense.
"Can't think suicide. Is there anybody out there? Does anybody know?"
I dropped everything, and my body collapsed into nothingness.
"Every time I hear that another kid died through a senseless act of violence, it makes me wanna cry."
I submitted, and The Suicide Machines pulled me back to reality with the song "No Face."
Detroit is a kind of mecca for music of all types. It has spawned some more well-known artists like Iggy and the Stooges, The MC5, Madonna, and Eminem. However, the Detroit area has also been home to some lesser known bands that have made quite the impact. You may have heard of We Came As Romans and I Prevail, but the band that has saved my life on many occasions has been the ska, punk, and sometimes hardcore, politically charged Detroit natives The Suicide Machines.
Originally known as Jack Kevorkian and The Suicide Machines back in 1991, they dropped the Jack Kevorkian and released their debut album, Destruction by Definition, in 1996, which ultimately changed my life forever. The album is easily listened to start to finish with songs like "No Face," "Van's Song," and "New Girl" that would later appear in Tony Hawk's Pro Skater.
Suicide Machines played on the edge of a beach in Brighton, Michigan during a wake boarding competition in 1999. That show with Orange 9MM, Speedball, and Kottonmouth Kings would serve as my first punk show complete with mosh pits and passing out from heat exhaustion. After a total of six full lengths, including the super intense War Profiteering is Killing Us All, The suicide Machines officially called it quits in 2006.
As some of the most down to earth and kind hearted people you'll ever meet, The Suicide Machines are always doing benefit shows to help out friends in need and support causes they believe in like Planned Parenthood. Singer Jason Navarro even helped me out when I was in a rough spot years ago. More often than not, you will see them amongst the crowd watching all the other bands or showing their support from side stage. They always make everyone feel included. They will be the first to have your back and the first to give you the shirt off theirs. Over 20 years later, I'm honored to be able to call them friends.
It's been over a decade since the break up, and loyal Detroit fans haven't really noticed because, even without new music, they still keep a presence playing random shows whenever the current members aren't busy with their other bands. The Suicide Machines have been a staple, closing out Detroit's annual Black Christmas event every year since 2012. They even just finished a short round on Warped Tour last summer. I continue to follow them in whatever they do, whether it be Jay in Break Anchor or J. Navarro and The Traitors, Jay and Justin in Hellmouth, Rich in Bastardous, or Ryan V in Rebel Spies. The Suicide Machines saved my life, and these guys may never know how much that truly means to me.
———————–
You're not alone. Confidential help is available for free.
National Suicide Prevention Lifeline
Call: 1-800-273-8255
Available 24 hours everyday