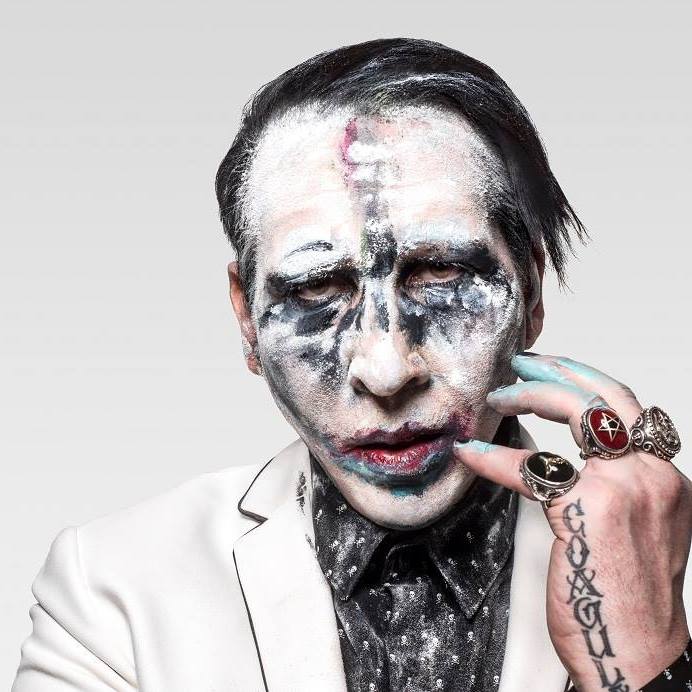 Growing up, you're figuring out what you like and dislike. Other people's preferences can influence whether you gravitate towards a certain type of music or not, just because you want to fit in. I grew up in the 90s when music was incredible. Well, it always has been, but for some reason, the 90s was where it's at. It's common to hear people saying, "I wish we could go back to the 90s." The fashion, the music, and just the overall lifestyle was a big highlight for many.
High school was when I started to explore my musical tastes a bit more. Sometimes, high school isn't most pleasant of places. You might feel alone or like you don't fit in, and if you dare come in with a band t-shirt, a studded belt or crazy makeup, you're considered a 'freak.' It can feel like you – or your musical taste – isn't welcome, which is a sad reality.
In high school, I started listening to rock music and exploring bands like Nirvana, My Chemical Romance, Asking Alexandria, Slipknot, etc. I had a passion for expressing myself and the music I liked through the way I dressed. As I grew up, my hair began to change colors. I started wearing the darkest shades of makeup and buying every band t-shirt I could. Do I regret that? Hell no.
It was around year eight that I decided to explore a little more. I had always heard people talk about 'a guy' name Brian Warner, better known as Marilyn Manson. Whether loved or hated, most people had strong opinions about him. He was at his height of fame in the 90s, when he was often mocked and blamed for the world's evils. But for those who ignored the headlines and listened to his albums and what he had to say, they understood his perspective, which is what I did.
I decided to look at Marilyn Manson and explore what this rock god had to offer. The first song I heard was his cover of "Sweet Dreams (Are Made of This)." It's an amazing cover with a completely bonkers music video, and honestly, I loved it. This is when it all changed for me. He was who I would listen to constantly – and I mean constantly. His music gave me a sense of hope, like when you hear and song and get goosebumps and butterflies in your stomach. When you feel like it's just you with that one song and nothing else matters – that's how his music made me feel.
Something about Manson always intrigued me to keep watching and listening to his music. He had this intriguing dark side, an inspirational voice, and music that spoke so many words to those who felt like they needed it. Even if he was seen as a bad person in the media, for many, he taught us it's ok to be yourself. It's safe to say he had a unique look, with his jet-black slicked hair and his overlined dark red lipstick along with his dark smokey eye, pale skin, and of course his quirky style; he was the epidemy of goth. I bought his book Long Hard Road Out of Hell not long after becoming a crazed fan. The book was explicit, disturbing, and a little crazy, but that's Marilyn Manson for you. But if you read past that, it just spoke about a young boy who was always trying to reach out and scared of being different – until he decided to become a rock legend and live the way he wanted.
A few Manson quotes that have always inspired me and ones that I'll take with me through my life are:
"It's always about being yourself and not being ashamed of being different or thinking different."
"The imagination is precious. Don't lose it. Don't lose the child in you."
"I never said to be like me. I say to be like you and make a difference."
These quotes are ones that you write down and remember, ones that inspire you. Many times growing up, I felt like I could never be myself. I couldn't be that shy kid who loves Marilyn Manson, because that's how society made me feel. But as I grew up, I realised that it's ok to like whatever I want.
Manson means a lot to me. Not only because of the things he says, but also the passion he has for the work he does and the way he cares for his family and his fans. He is an absolute legend in my eyes and someone that deserves so much more praise than he gets. Besides his amazing motivational words, his music is something that really did help me. I was always shy growing up. I didn't really have any motivation. I was scared to be who I was.
If there is a Marilyn Manson album that I especially adore, it would have to be his latest, Heaven Upside Down, released in 2017. That same year, I was blessed by my dad with concert tickets to see Manson in London in December. From what I've told you so far, I'm pretty sure you could imagine how I felt at that moment in time. I was speechless for a few minutes while I realiased that it was happening and I was going to see him. I was 18 at the time, and after six whole years of listening to him, my dream came true.
That year felt like it flew by from when I got the tickets. When the day came, it was just so overwhelming; and I was emotional and ecstatic. A tragic incident happened not long before I got to see him, where a prop fell onto him and damaged his leg, I was so scared that the concert would be cancelled and concerned for him and his wellbeing, but it wasn't cancelled in the end.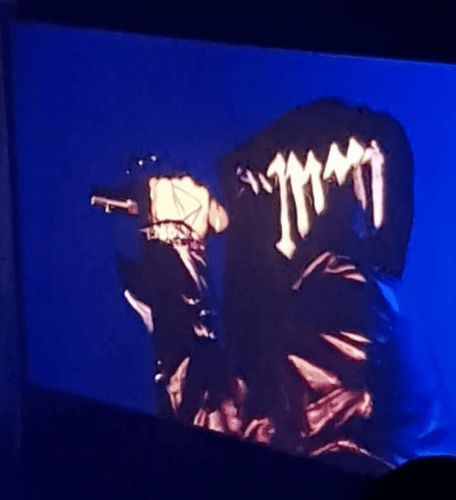 When the concert started, he came on stage, and I immediately burst into tears. He did the whole concert with his leg boot on and used crutches for a lot of it. He had his own gothic wheelchair made which was insane. He played his whole show for a good few hours and put his absolute heart and soul into it, even though you could tell he was in pain, and that was so inspiring.
A musician who moved me with his lyrics, made me feel inspired by every single word he said, and someone who taught me that being different is the best way was on a stage in front of me, and that, my friends, was the best feeling. The concert went on and with every song, I was absolutely obliterating the lyrics to the point I sounded like I was being strangled. But every second I was there I felt amazing. I felt so happy and like nothing else mattered. It was just unreal and something that I will never ever forget. No matter how old I get, my love for him will never die, and the memory of seeing him that year will be with me forever.
As the concert ended, I was very emotional, but I just felt lucky to even witness such an amazing musician. He went off the stage and everybody began to walk out, but I just had this inclination that it wasn't over. After about a minute, he came back on and sang ''The Nobodies.'' It was just him in this beaming light coming down from the ceiling with his black Marilyn Manson jacket on, and he sang so smoothly as fake snow began to fall on him. When the chorus came, he got the crowd to sing, "We're the nobodies, wanting to be somebodies." That song to this day moves me, not only because of the concert but just that specific lyric and how it was the final song to that whole evening. I still am waiting for him to release more tour dates, and I will be going every single time he does.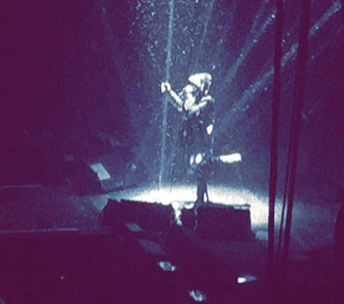 A few other songs that have been on repeat for me throughout growing up are "Disposable Teens," "Long Hard Road Out Of Hell," "You're So Vain," "mOBSCENE," "(s)AINT," and so many more. But these are songs that stand out to me the most because they all have so much variety of different styles of music, and they all have their own meanings – like every one of his songs, they all have hidden meanings that mean a lot to Marilyn Manson.
I just want to thank Manson for inspiring me to get up and do what I want. From his lyrics that felt like they understood me, to making me smile and cry (in a good way) and most importantly, making me feel like I can achieve anything and not care about what anyone thinks. Music can have such an impact on an individual, and it can make you feel so many kinds of emotions. That's exactly what he does. He will always mean everything to me, and that night I saw him was one of the best nights of my life. I continue to be thankful for Marilyn Manson every single day.