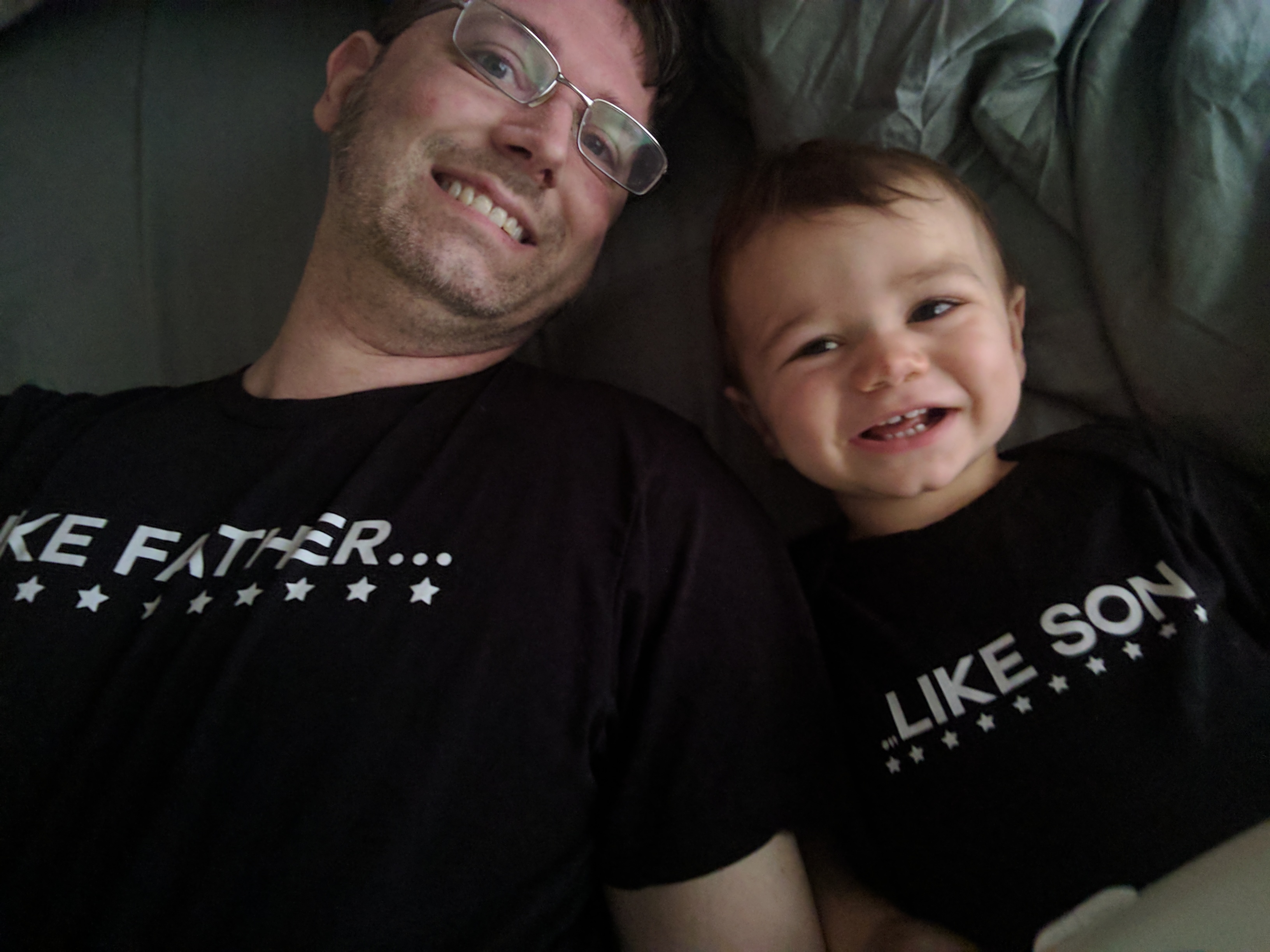 Parents are in a unique role of being able to pass along preferences to their offspring. It's an opportunity to educate and enlighten the next youth movement from where the previous left off. While many parents simply attempt to relive the glory days of their own youth, desperately trying to hold onto a bygone era pre-parenthood, my journey with my own Padawan is much different – at least when it comes to music. That's because there are no glory days to my music consumption, and the genres and eras that influence me are as diverse as my everyday experiences with my little learner.
To capture those moments of shared musical enlightenment, I began documenting early on our joint listening habits. This column is my attempt at trying to take those first playlists and singular memories and craft them into something more meaningful than poorly scrawled notes on baby wipes, smears of spit-up on my hoodie, and other less glorified ways of keeping track of scraps of paper (I hope that was paper anyhow) in the nursery.
Fatherhood has forced me to take new, deeper, and more profound looks at the world around me. This is as much a musical journey of a dad rediscovering some of the lost memories of "growing up" as it is a father passing along their own music to the next generation.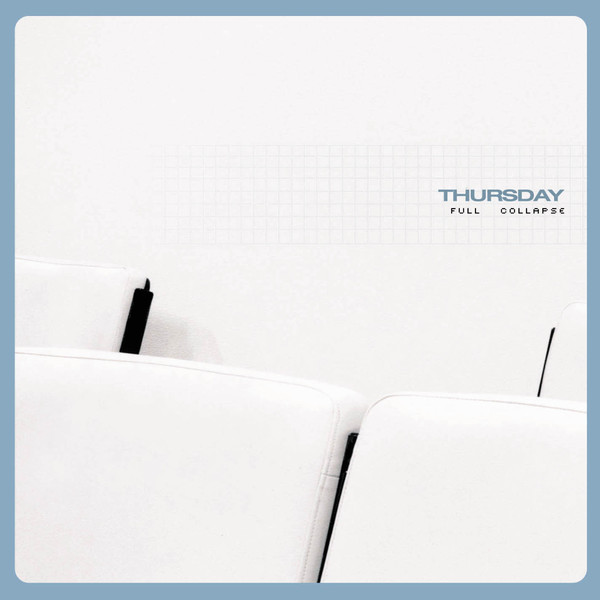 The Great Jersey Controversy: Thursday – Full Collapse
Every proud Jersey kid knows the undeniable, debate-ending power of pulling out the genius of Frank Sinatra, Bruce Springsteen, Jon Bon Jovi, the Fugees, and so on. While the sales numbers and cultural iconography are arguably the reason conversations occur, the deeper lyrical atonement they provide to listeners is why they continue to withstand the test of time.
While not achieving the same level of pop familiarity, New Brunswick's Thursday represent the same kind of lyrical respite as their homeland's predecessors. And none more so than on their emotionally charged sophomore full-length Full Collapse. A great many arguments begin and end on this record alone.
To paraphrase Tim Gilles of Big Blue Meenie Studios, an early supporter of the band, Thursday are hardcore at their core. While for many, particularly in the NYHC and Jersey Strong Core of the scene at the time, that would mean overdriven distortion and the wall of guttural vocals, for Thursday, it was the rawness of their approach overall. They were as unrefined as anything born out of the metropolis, but they brought something else out of their Central Jersey basement and attic scene, melding the elements of Jersey's vast musical landscape plus aspects of post-hardcore, indie, singer-songwriter and the fledging emocore idea.
Throughout Full Collapse, it's readily apparent that Thursday were crafting songs from a different plane than many of their contemporaries. Despite themselves even admitting they still felt quite immature, the reception celebrated them as crafty songwriters whose dynamic approach transcended their relative youth and inexperience. So much so, that early in the album's cycle with Chicago thugcore giant Victory Records, they were already being courted by major labels to make the leap to international exposure.
Opening the album with "Understanding in a Car Crash" was not only daring due to it's unconventional approach, but it also exceptionally sets the tone for the undulating sonic and lyrical journey the listener is about to be taken on. The song quickly became a staple of the band's live set, and for good reason. It's memorable in a way that most songs which are essentially devoid of a traditional chorus can never be. Listeners are immediately drawn into its building guitar lines and the tension of the lyrical story, but it's really the just-off-key emotion of Geoff Rickly's vocals that carry the song as if it's literally teetering on the edge of crashing itself.
This unsettling dynamic carries throughout Full Collapse as it courses with a ritualistic sense of desperation, ebbing from heartbreaking melody and exploding into pain-inducing wails. The lyrics drive at introspection that challenges with a visual tapestry drawing on phrasing like, "We don't stand a chance in this threadbare time, Staring at the setting sun, No reason to come back again, The twilight world in blue and white, The needle and the damage done."
Each song is crafted around the story it is telling, rather than the expectation of a verse-to-chorus pattern and in-as-such, it frees Thursday to completely explore the vast reality they are trying to convey about life. If that sounds familiar, one only needs to be reminded again of their Springsteen-Jersey lineage to understand why it works so well as the albums winds through "Autobiography of a Nation."
By the time crowd-favorite "Cross Out the Eyes" comes up, Thurdsay are just beginning to show the true depth of the hand they are holding. It's a brutal sonic journey of bristling screams delving into introverted passages of reflection – the perfect climax for an album built on just this such kind of dichotomy. And yet, it's hardly the perfect Thursday song in-and-of itself because of it's predictability and cliches – it encompasses so much of what Thursday fans draw from the band's energy.
This is not an album for simpletons or the weak of heart or mind, and that challenge continues on to "Paris in Flames" – another live staple because of its emotional outbursts. It's really the lyrics that stand the test of time as one explores the exponential meaning of, "Still you won't let go of old ideals, There is no headline to read at night, When the record slips and you're not holding the needle." If that doesn't send shivers down your spine, than nothing likely will.
The band's success was not achieved without controversy. There were tri-state supporters who felt the band's move to Victory was selling out. There were fans of the band who felt their videos, larger tours, and courting by major labels was selling out. There were even those who just felt the band being labeled emo(core) in-and-of itself was a form of selling out. Yet, the band never sold-out anything more than a few hundred thousand copies and some mid-level clubs at that point in their career. Sadly, the scene did as much to hold them back as it was doing to prop them up.
Eventually, "Standing on the Edge of Summer" appeared in the Wes Craven film, "They," while some of the other singles appeared on different comps including several for Warped Tour as well as eventual exposure on Guitar Hero.
While looking back, the criticism of the album is short-sighted at best and asinine at worst. What Thursday achieved for themselves (and more importantly, for Jersey and whatever genre you peg them as) is notably important. Few bands rose to the occasion at defining moments, toting the genre flags they were forced to carry, the way that Thursday did with Full Collapse. Everything after it in NJ, in the emo(core) scene and for bands of their era jumping indie-to-major, this record set a benchmark for.