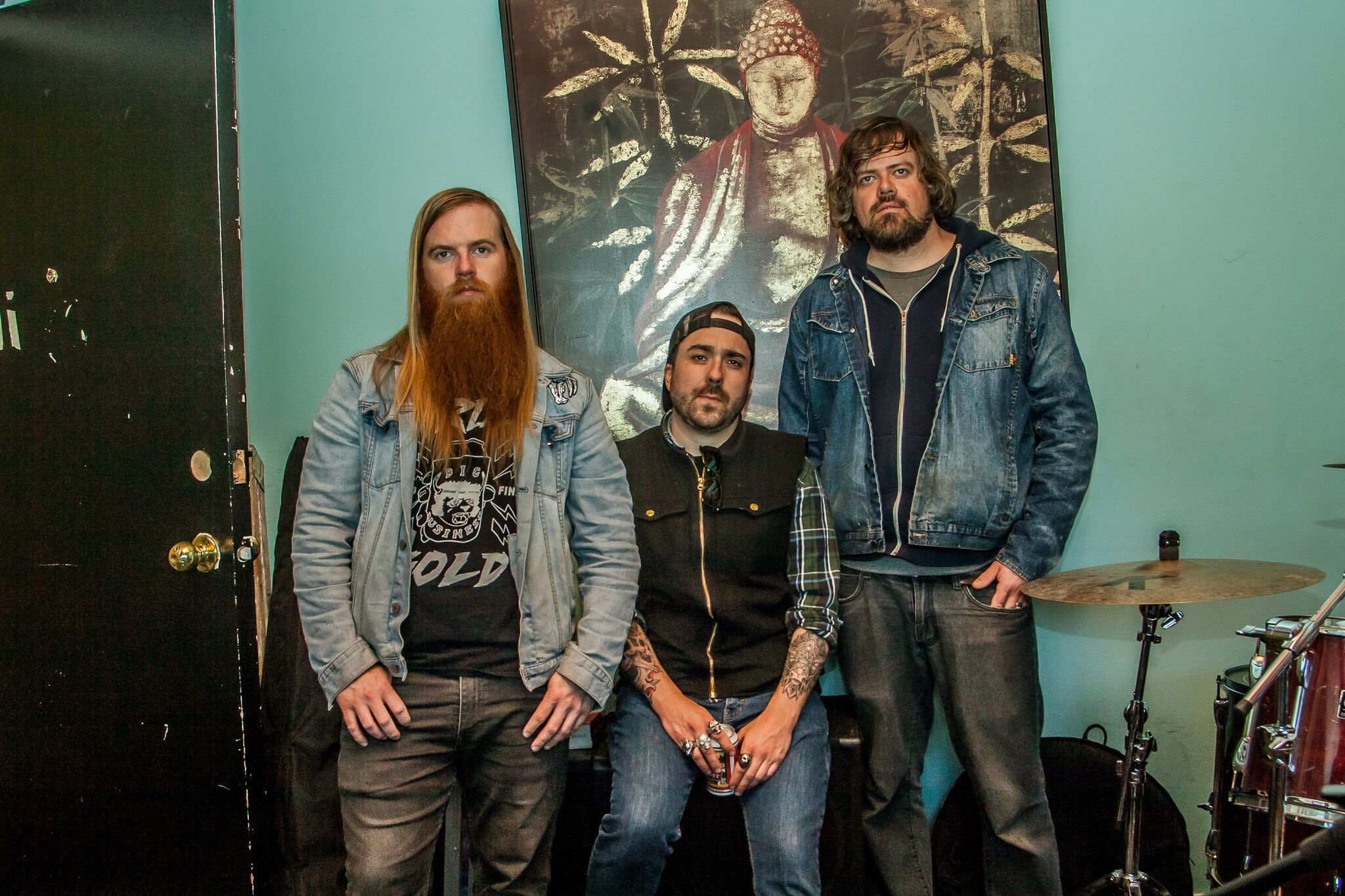 "Fuzzy apocalypse" might seem like a contradiction in terms, but for the members of We Hunt Buffalo, it's just the world as they know it. The Vancouver-based fuzz-rock trio has always mixed sludgy and psychedelic sounds, and for their fourth album Head Smashed In, they're taking a head-banging journey into a land of monsters and myths. The album drops on October 26, and the band's got exciting plans for the album cycle ahead, so we spoke to singer-guitarist Ryan Forsythe to get some behind-the-scenes insight as things kick into gear.
S&S: Hi Ryan! Let's jump right in— your fourth album comes out later this week, and it's been described as your heaviest album yet. Could you tell us a bit more about the sound?
Ryan: We titled it Head Smashed In because it's our heaviest work to date. All the songs just seemed to take a heavier vibe, and we were experimenting with things like drop tones. We also have a new member for this album, and he brought with him a heavier vibe because he's played in punk rock bands all his life. We've also been listening to a lot of heavier music these days.
S&S: Have you been listening to any groups in particular?
Ryan: High on Fire— we've all been on a High On Fire kick.
S&S: This album has also been described as having "apocalyptic" themes. Did you have a particular mood or narrative in mind?
Ryan: Our last record, Living Ghost, was more of a concept record, and those themes kind of carried forward. [Head Smashed In]'s not necessarily a concept album, but we drew inspiration from what's going on around us. Whether environmentally or politically, Earth isn't in the greatest state.
S&S: Are there any songs on the album that you're most excited about?
Ryan: I don't necessarily have a favorite track. Lyrically, maybe "The Giant's Causeway," which talks about a mythical tale from Northern Ireland. My family history is from Northern Ireland, so that was really nice.
S&S: The lyric video you released definitely ties into that myth! I thought it was a really cool video.
Ryan: Thank you! William Phillips did the artwork — he's a local guy from Vancouver. He really hit that one out of the park.
S&S: As you mentioned, your band's recently gotten a new member. How has it been working together?
Ryan: [Our bassist] Cliff Thiessen came on board about two years ago. He's filled a big void — when our last bassist left us there were some big shoes to fill. He's been super easy to work with. He does bass and vocals, and he also plays the moog [a kind of synthesizer] with pedals. As a three-piece, it's definitely nice having that fourth instrument. So far, so good.
S&S: This is the first time you've incorporated screaming into your vocals. How was that experience?
Ryan: [Former bassist] Brandon took the lead on that on the last record, so I had to step up. You have to learn to do it properly or you risk vocal damage. I watched YouTube videos [about] progressive technique. [There's] a series by Melissa Cross called "The Zen of Screaming" — it's really good, any hardcore vocalist should check it out. I also practiced on the rehearsal floor and live — it's definitely easier to scream when you've got that live band behind you.
S&S: You released a stop-motion video for your single "Angler Must Die," and I've read that you animated it yourselves. How did that come about?
Ryan: We had spent a quite a bit on a video for "Heavy Low," which isn't out yet. We wanted to do another video, but when it came down to it, we had run out of money. Our vision was to have someone do that sort of stop-motion, so we decided to do it ourselves. We had some friends help us with the paper cut-out style. I think people appreciate the DIY.
S&S: What was the story behind the fisherman and monster?
Ryan: My drummer had been on tour and started drawing this picture — the theme was about "angler must destroy." I looked at it and I misinterpreted it. [I saw it as] the human race at the top of the food chain — why are we at the top of the food chain when there's nothing that special about us? I looked at it as "our time is up," and that led to the monster. You can take lyrical inspiration from everywhere.
S&S: You're doing an album release party on November 6 in your hometown, Vancouver. Are you excited to be doing a hometown show?
Ryan: It's always nice to get everyone together. We've been doing this for a while in Vancouver, and the scene's been really supportive.
S&S: Finally, do you have any plans to tour the new album?
Ryan: We'll have a tour in Western Canada this fall, in November though December. Then in the spring, we'll go overseas — we're playing at Desertfest in London, which is a big deal in our genre. The dates are just coming together now.