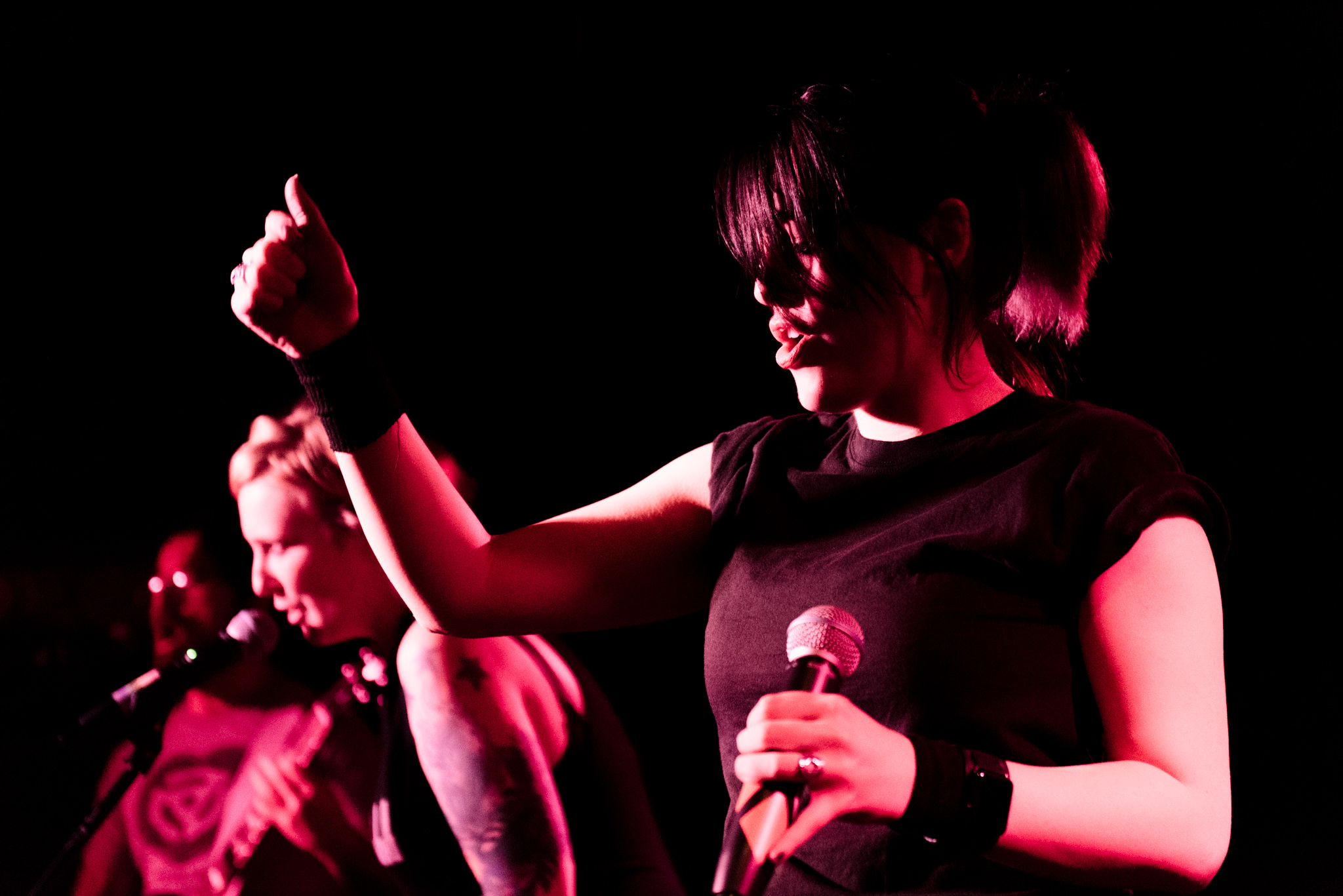 July 14, 2017
The Brighton Bar
Long Branch, NJ
Prefer to watch instead of read? Check out this interview on Facebook live!
Also, check out photos from Tsunami Bomb's show at The Brighton Bar here.
S&S: What transpired in the 10 years Tsunami Bomb went away?
Dominic: We were all in different projects. I was in a couple of different bands. Oobliette traveled to different parts of the country…It was a really scattered process. The whole thing that brought it back together was Kung Fu Records hit us up and said, "Hey, your stuff is still selling. Why aren't you releasing all the out of print EPs and 7-inches and your early stuff?" So, we all started talking and we all agreed; yeah, this music should be out there. That's how Trust No One came about. But that conversation turned into, "Do we want that album to just appear on a shelf and nobody knows about it? Or do we want to do more?" That led to this.
S&S: How's the fan response been since the return?
Oobliette: Crazy…Didn't miss a beat. We still have a lot of the same fans that are just really passionate.
Dominic: With a lot of new ones.
Kate: When this all started up again, the idea was let's do one show, kinda warm up, then we played The Vandals Christmas show. That was supposed to be the end of the line, just to get the record promoted and get it out there. But it was the fan response that was so amazing and so overwhelming. We figured, "I guess we do keep going."
S&S: Are you seeing a mix of old and new fans?
Kate: I think of a particular person we met in Vegas and his whole thing was, "My older sister I introduced me to Tsunami Bomb years ago, but they'd broke up and I've never been able to see Tsunami Bomb live." So, we're getting these old school fans that never had the chance to experience the band because of family or friends.
Dominic: I was really astonished at Warped Tour because that was a place that we played, and a lot of young 15, 14, 16, 17-year-olds were like, "I don't know who you are.. I just discovered this right now." They were having a similar reaction like we had way back when, and it was just really touching and humbling. We do this because it's our band and we love it, but we don't know how anyone is going to react to us coming back the way we came back. We're just trying to do it steadily and do it right.
Andy: Last night was the first time in Philadelphia since '04-'05, and it was huge crowd, super animated super awesome, lovely, lovely showing. We had someone from Puerto Rico come up to see us, and that is a testament to how awesome these fans are.
S&S: When you're on tour, what makes a tour fun for you?
Gabe: It's obviously about the shows because that's why we're out there, to meet new people and play every night. I also think it's the camaraderie comes before that; we're like a family. Getting to hang out with your best friends and your family every day and drive around and listen music.
Oobliette: Awww.
Gabe: Shhh! I love playing these small venues with really good sound and everyone is packed in…It's just fun.
Kate: We don't get to go out very often. We all have full lives and things we need to do to coordinate, so we really try to make the most of the time when we're all together and part of that is we're going to go on adventures. In the year and a half we've been doing, this we went Disneyland twice, we went to Santa Monica Pier, we went to Eastern State Penitentiary last night. So, we try to make sure it's just as much about all of us and being happy together and wanting to be together. I think that's what translates into our shows – we just are having fun.
S&S: Gabe, what is your most memorable on tour antic?
Gabe: We're not always the most responsible people and sometimes find ourselves in bad situations. For example, we were playing two nights in Tokyo. The tour manager and I went to this after hours club with SUM41, and everyone is hanging out having a good time. We started to look around and realized our handlers are gone. We're in Tokyo, we can't read the signs, and we don't know where we live. So, we started walking around trying to find our way back and the subway shuts down between 3am-6am, so we're just walking aimlessly. We waited until 6am to take the subway back to the venue because we know that bands are gonna show up for load-in, and we slept on the steps. The next morning, our handlers who had been out all night looking for us found us on the steps. And that was one of those moments where we were like "Wow, we're really not very responsible."
S&S: Do you ever rock out to your own music?
Gabe: Only out of necessity. We're all spread out, and we practice by sending each other recordings back and forth a lot.
Oobliette: I'm in New York, and they're all in California, so I'm constantly listening to them practice.
Andy: Dom and I live together, so we do a lot of writing together. Also, I'm the new kid, so I listen to the songs quite a bit, and I thoroughly enjoy listening to them for pleasure.
Kate: I'm right there with Andy. You know, joining this band in 2015 when this organization happened…I was a fan first. I'll still throw it on just for fun. It's great music, and I think every era of the albums are so different, and there's something great for every time of day. You got the fast paced punk, and you got the really creepy stuff. Mayhem on the High Seas is perfect for Halloween parties and pumpkin carving in case anyone is ever wondering.
Dominic: When we got back together, I was going over the bass lines thinking, "Damn you, 18-year-old Dominick! What were you thinking!? Trying to be all clever, changing the bass line every time!" You get to love your songs right away. When you first write them and when you first record them and you hear them, you're so excited. After that, you try not to listen to it. Besides, looking dorky it's just weird.
S&S: What are your feelings on streaming music?
Oobliette: I love streaming music, but it is a whole new world from when we were doing this before, just because a lot of people buy CDs anymore. I also feel because of streaming, it broadens the amount of people that might know about you because you have a station on Pandora – just because people hit like for similar music, they can find your band. I know several people that have found us through Pandora and Spotify. As far as money…It's hard to make money in a band.
Andy: I think it forces the bands and musicians to really up their game live and the quality of the production for the albums they're putting out. When you're listening for free, how else do you make money? That's why [it's important] getting people out paying for tickets and hopefully they'll buy merch. There are so many bands, and there's only so much capacity for any given person to have bandwith to know so many bands, so you have to set yourself aside. You have to bring it and leave that impression and keep that impression going
Kate: In the past, you could look at your record sales and get an idea of your fan base. Now, it's a very different way of reaching our audience. That's why social media is so important to us. Anytime you go on any of our pages it is one of us communicating. Staying connected to the fans, and how do they really feel? And what do you think? It's not just a first time sale – it's how do you keep it fresh and different and new?
Oobliette: With album sales at least with this level band, it's not gonna pay your bills anyway. It's your merch and your shows. So, the streaming doesn't bother me. It just broadens the audience if you utilize it in the correct way.
Andy: It's a tool.
Dominic: At least streaming pays. It may not pay what it used to, but it is a very different game. The last time we put out albums, our sound scans and the amount of albums we sold determined what tours we got, and what size shows determined what kind of money promoters would put up to bring us out. That's not nearly as clear anymore because you don't always have those solid sale numbers like you used to. They still exist; there are still collectors and people that care about having something they can hold on to. But by far, the majority of our Spotify numbers are ridiculous. Our numbers have jumped tremendously just by being active again, and they're still growing. It's a very different landscape, so I gotta back that up. It's about being over and above and being a band that really caters to the people that follow you – builds a loyal fan base that is interested in you and what you put out and really feels like they can connect with you and the music. We put a lot of work in rebuilding our street team "The Bomb Squad." You sign up for the mailing list, you're gonna talk to one of us, and we're gonna hook you up. If you have a Tsunami Bomb tattoo, that's free shows for life. We tried to make a band that would matter to us and hopefully it matters to somebody else.
S&S: Tell us about the new album.
All: We have two new songs we're playing tonight.
Dominic: King Fu has been incredibly supportive, but there have been some other labels that hit us up, and we're trying to decide where the best place to land now.
Kate: It's so important for us right now to get the songs right. We have material to record two albums. It's finding the right songs and the right songs together. We really wanna take our time in doing that so we can find the right "home," and this can be the voice of Tsunami Bomb now. This will the first album since 2005. Yes, it's coming. Yes, it's happening. When? I don't know.
Andy: It's gonna be soon. We're not just gonna rest on it. We're working very, very hard on it.
Dominic: We gotta lock down where it's coming out and how it's coming out. The writing is happening. We're playing new songs tonight, and people are going to start hearing what these songs sound like. So far, we've been really lucky. The response to the songs has been overwhelming. People are surprised but shouldn't be.
S&S: What is the new sound?
Oobliette: A little of Mayhem and Ultimate Escape.
Dominic: Some people have described it to us as taking where we left with Mayhem and Ultimate Escape, the darker sounds of our early years mixed with the more aggressive punk. We're going to incorporate The Definitive Act properly and move it forward. I don't want, none of us want, to sound like 2005 or 2004. We want to sound like now or better yet, timeless. We want, "This song could be at anytime…It's just a good song!"
Oobliette: I feel like if we played for someone who didn't necessarily know that we had gotten a new singer or were playing again and played them songs and asked, "Who is this?" Either they would guess it's Tsunami Bomb or be like, "These guys really, really liked Tsunami Bomb."