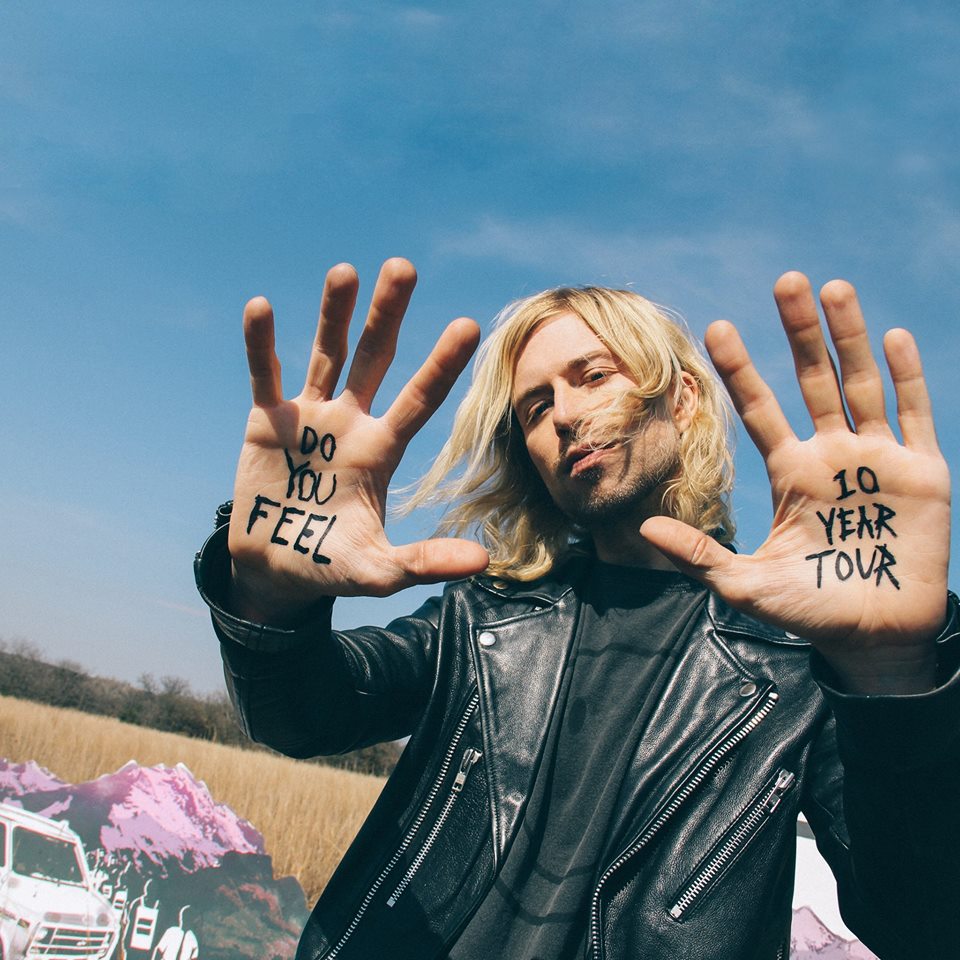 As he prepares for The Rocket Summer's highly-anticipated Do You Feel 10 Year Tour, multi-instrumentalist/singer-songwriter/producer Bryce Avary graciously took time out of his Walden-like adventures (if not for the taco availability) to catch up with us. TRS has been a Stars and Scars favorite since the start of Bryce's career (a "can do no wrong" musician, in our opinion), spanning six studio albums and several EPs, and including recognition on the Billboard and iTunes charts. Bryce is the kindest, most humble artist we've had the pleasure of interviewing, and we can't wait to see TRS perform at The Masquerade in Atlanta on July 28 – and eagerly await their next album!
S&S: As we celebrate the 10th Anniversary of Do You Feel, I'm celebrating the 10th Anniversary of our first interview! It was at Warped Tour 2007 in New Jersey, and we bonded over a mutual love for Jets to Brazil. One of the questions I asked was, "What is your favorite song on Do You Feel?" You answered, "So, In This Hour…" Is that still one of your favorite songs to play live? As a fan/audience member, it's incredibly cathartic to hear and participate in.
Bryce: That's so awesome! Thanks for wanting to chat again. Yeah, Blake Schwarzenbach is just gold as a songwriter, isn't he? I'm excited to see these reunion shows of Jawbreaker popping up; hopefully, I'll be able to catch one. I'd love to see a JTB reunion as well.
"So, In This Hour…" has remained a staple in the set since the original album release. It's definitely one of my favorites to play. The emotion and chaos of that song in a live setting will never get old to me. It just feels like it will always resonate in my spirit. It will be fun to also play songs that we've actually never played before on this tour, such as "Waiting." To me, that song always stood out as one of my favorites, but for some reason, we just never got around to learning it as a band.
S&S: How does it feel to revisit old material on stage? Does it bring back memories from when the songs were written? Or does it manifest as a somewhat new experience because of how you've grown personally and professionally in the past decade?
Bryce: Since I'm constantly in a perpetual state of moving forward and creating new music, this has been an interesting experience. Looking back can be good and at points equally weird. Opening up the master sessions to relearn parts to teach the band has kinda sucked my soul out on occasion – remembering exactly how I felt when I was tracking that record, and you get these little memories that make you realize that 10 years ago is indeed a significant chunk of time. I can't even imagine what it's like for bands doing 20-year reflections and celebrations of certain albums. I feel in a way like the same person I was, and in a way like a totally different person. I mean, I'm sure you have moments where a certain smell or song will bring you back in time and you kinda realize how much you've grown…largely for the better, but there's also a sweet nostalgia of the simpler times. I'm grateful for this album, and I'm pumped to celebrate the fan community it helped create. But it also makes me realize how grateful I am that I have since been putting out music and truly believe in the big picture – I'm still at the start of it all.
S&S: TRS fans have been an awesome, tight-knit community since the beginning. What's it's like to see some of the same fans again and again over the years? We have grown up with you (and through your music) – I'd imagine that feels pretty darn special.
Bryce: Our fans are family. And when you see people over and over through the years you don't necessarily see a difference until someone posts a hilarious tbt and you realize just how long we've been a crew. It's cool to see how we've all moved together over the years. It's almost hard to remember there being a time where the whole crowd were teenagers bouncing off the walls. Now it's a room full of folks in their 20s, 30s, and 40s basically doing the same thing, and that is just telling of how much the music and community mean to all of us.
S&S: Do You Feel is now available on vinyl for the first time. Do you remember the first vinyl record you ever listened to? (Mine was definitely Andy Williams' Christmas album! Thanks, Gma.)
Bryce: Nice! Having the album finally come out on vinyl was a dream. It was the only TRS album not out on vinyl, and fans had been asking about it since its original release. It took a lot of effort to make a deal with Island to have it come out, and then once that finally happened, we wanted to make sure the packaging was excellent – two white discs with gatefold design. It came out wonderfully; it was surreal to finally see them and hold them in person. We found out today it debuted in the top 20 vinyl charts on Billboard. An album that came out 10 years ago. So, it's really exciting.
As far as my first vinyl record, my friend Tommy Quinn bought me Sunny Day Real Estate's Diary on green vinyl for my 15th or 16th birthday. We would hang around jamming that album, so it meant a lot to me to have it on vinyl. What a good guy. Ever since then, for some reason, getting any vinyl record that someone picked out is generally very, very meaningful to me.
S&S: Several bands have been on album anniversary tours recently, and we love it! What older album would you like to see celebrated?
Bryce: OK Computer.
S&S: I've always been astounded by your ability to play multiple instruments. What instrument would you love to learn that you don't currently play?
Bryce: Thank you. I'm intoxicated by lower stringed instruments like the cello. I would love to pick that up one day. Or just get exceptionally good at one instrument. I'm in love with it all too much, which is the problem. And I like to write songs and entire pieces of music rather than focus on just one thing. That whole jack of all, or some I should say, master of none thing. I recently went and watched the annual Van Cliburn competition in Fort Worth. It's a competition where the greatest pianists come from around the world to play, and it will crush your soul to watch these people play. The beauty, emotion, and undeniable countless hours of practicing that come out in their playing is just heartbreaking in the best way. They've dedicated their lives to one instrument…very admirable and astonishing. I've had a harder time with commitment and like to play the field a little more haha. Because of that, I think it's helped me quite a bit in a producer's seat, but I will forever have the most respect for people who are just exceptional at one thing.
S&S: You've shared some Instagram posts about writing this year. What can we expect to hear on the next TRS album?
Bryce: I'm in a bit of an exploratory scene in my head. I'm not terribly sure how to answer that yet…
S&S: A question inspired by a lovely sunset photo you posted – How does the beauty of nature impact your songwriting?
Bryce: I made my last album in Los Angeles and largely drew inspiration from the hiking views and the life-giving moments the ocean gives. I love Los Angeles, and it became almost like home on accident. But for this process, I decided to take more of a Kerouac approach, so I'm currently in a cabin on a ranch in Texas. I don't really know where I actually even live to be honest. Trying to remove mental noise and tune in musically and spiritually a bit more to be able to hear what the songs are wanting me to say is why I'm here. There's nothing to really do but work and go listen to birds and see deer trot by. I haven't had Taco Bell in probably 10 years, but there's one about 25 minutes away, and it feels like a delicacy to me now. I am so amazed by the Fiery Doritos Locos tacos…They are quite euphoric.
S&S: I can't imagine you ever not writing music, but when you started out as a teenager, did you know in your heart/gut that you would be working on your 7th studio album now? The blessings and trajectories of musical careers kinda blow my mind.
Bryce: I always knew. I just feel like I haven't gotten there yet. I'm not fully sure yet what the next release will look like entirely, but I'm feeling really excited about what fresh ideas are happening out here in the woods.