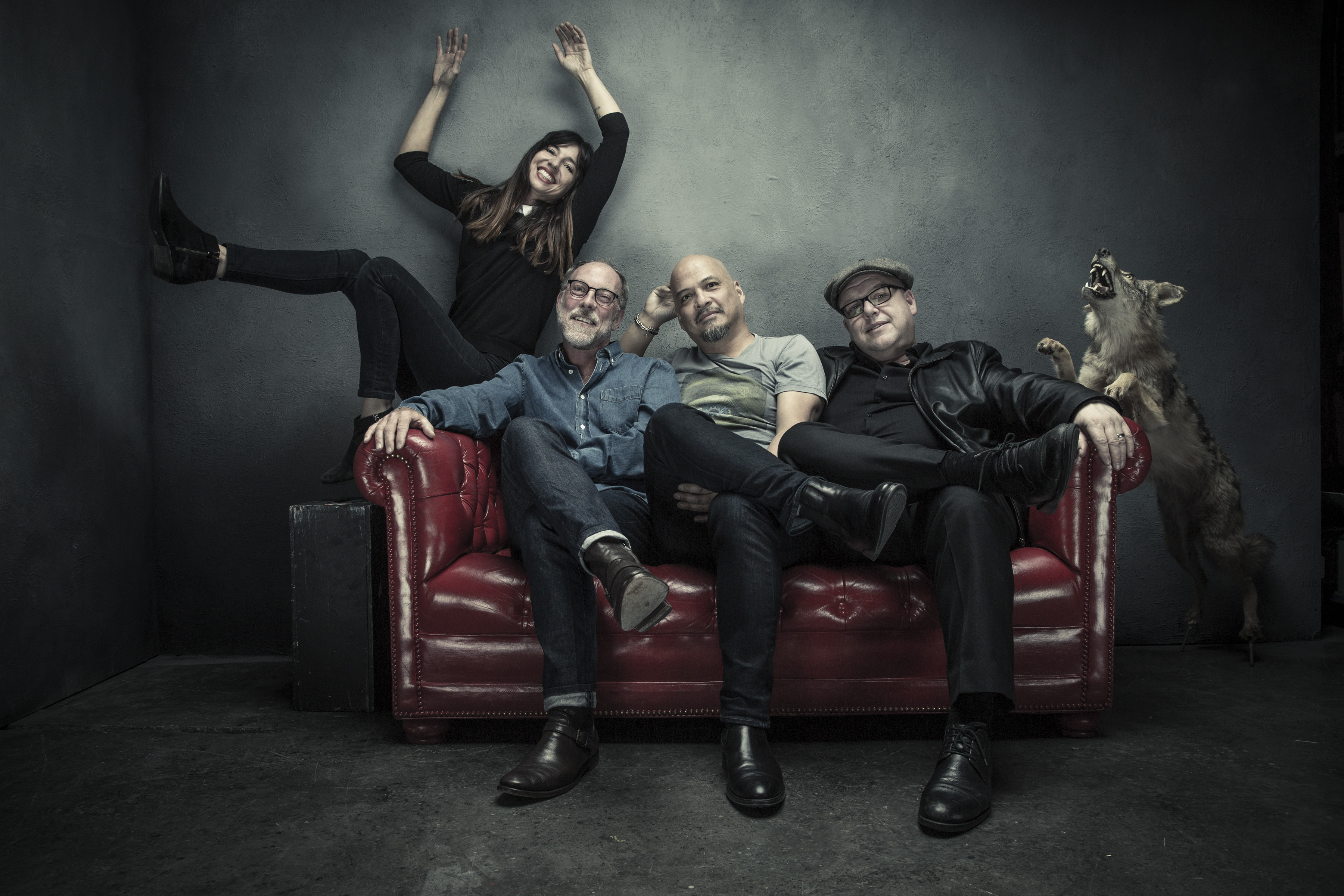 Photo by Travis Shinn
Imagine receiving a phone call from an iconic alternative rock band asking you to join them on tour. Are you already packing your bags just thinking about it? Paz Lenchantin, an accomplished bassist, vocalist, and violinist, is celebrating her first year as an official member of the Pixies, having toured with the band since 2014. From learning an extensive back catalog to joining the writing and recording process of the band's latest album, Head Carrier, Paz has solidified herself as a dynamic force in the Pixies legacy. We caught up with this talented songstress as she continues a national touring cycle with her bandmates, waxing on about time travel, heavy expectations, and life on the road. Oh, and Paul McCartney.
S&S: How did you get connected with the Pixies in the first place?
Paz: It's cool with music because even though it's a pretty large world, we're all very connected. In a weird way, I feel like what we do is almost like being time travelers. So, when we tour, we leave and we come back, and it's a different time. When you do this so often, you almost lose track of time.
In 1997, I got a phone call from Joey Santiago, the guitar player of the Pixies. This was before A Perfect Circle, before anything I had done. I was only a local LA musician. Joey's side project, The Martinis, was looking for a female bass player to sing backup and play bass, and someone gave him my number. And I was like, "Wow, this is my first call." He sent me a tape, and I listened to it and learned all the songs. We rehearsed, and then we did my first little tour with The Martinis outside of LA. I had never left LA on a music venture, and here I was going up the coast all the way to Portland.
We came back, and I didn't hear from him again until 17 years later. Because we are like time travelers, even though it was 17 years later, it was also like the next day. It's all relative with the time. He called me again looking for a girl bass player who could sing and play bass just like before, but this time for the Pixies.
A lot had happened from my first call with Joey to my second call. I had a 20-year career. When he called me about the Pixies, I knew it was the right thing for me. I'm pretty particular about who I play with. I think really important parts of touring and working with musicians are love and music, but if you hate each other as people, it's misery. Not only is everyone in the Pixies incredible people, but we're also all like a family.
S&S: Did you personally face any challenges during the writing and recording of Head Carrier. If so, how did you overcome them, or was the process smooth sailing?
Paz: Everything felt natural. It's really hard when you're a time traveler to see things linearly. Like, "Oh, you're a newcomer." Yeah, I'm a newcomer if time was going linearly. Really, it just feels so natural. It's like when things are meant to be, like when you meet somebody, and it feels like you've known them forever.
I love challenges. I look for challenges in what I do. In this case, the challenge was when Black Francis asked me to sing lead vocals on a song that I wrote – he wrote the lyrics, I wrote the music – and he wanted me to sing lead on it. I felt the challenge. Of course, I said yes right away, but I was challenged by the task. I've done lead in things, but singing lead on a Pixies record is different. It was a good challenge, and I think that it worked out.
S&S: To that point, you showed great respect for former Pixies bassist Kim Deal by being instrumental in the conception of and singing the track "All I Think About Now" on Head Carrier. Were you nervous to contribute vocals to the album on especially such on a poignant song?
Paz: I think the spirit of Pixies is really important. When I first joined the band, one of the main challenges that I felt was the expectation of people wanting to hear something and me being a different person than who they are expecting. One of the things that we all can agree on is that Kim Deal was not a copycat. She wasn't pretending to be somebody. She was her own person, and that is a spirit. That spirit is part of what we hear. So, of course, me coming in, [I'm thinking] I know you want to hear this a certain way, but this is who I am. The spirit of who I am is much more important to me than comparison because, at the end of the day, I'm just myself. And if myself doesn't work, then I shouldn't continue. But if being myself works, then we keep going. I think that's an important spirit of the Pixies – it's just to be yourself.
S&S: Congratulations on leg two of your North American tour just kicking off, with leg three to follow and wrap up the year. You guys have been on the road internationally and stateside with only a few short breaks since last fall. What special memories have you gained over the past year?
Paz: One of the nights that stood out to me was when we played a show in Europe with PJ Harvey. I hadn't seen her perform in some time. Most of my time is spent on the road, and I don't get to go to a lot of shows. Some shows I don't get to see and then other shows I see a lot of during festival season. Her set was so amazing, and she's so incredible. Seeing another artist perform gives me a bolt of energy. You see their life's work in front of you on stage, and it's inspiring. With PJ Harvey, she just embodies so much talent and expression and theater and art. It was a really cool show to watch right before we played.
S&S: I'm astounded by the fact that you have some 90 songs prepared for this tour and don't play the same set twice. How has that experience been?
Paz: I remember early on I was asked, "Is this okay? Are you okay with just throwing songs, or do you prefer a set list?" I'm more of an auditory person. I prefer to know what song we're playing because I hear it versus reading it off a list. Reading a set list to me is a little more challenging to make sure I got the right song. All of us are in agreement that we don't want to be playing the exact set list every single night like Groundhog Day. What makes this day different than yesterday? The songs are part of me. I did the work early on, and now I get to have fun. I am in agreement with the approach of that.
S&S: How do you like to spend downtime on tour? Do you hang out with the guys or strike out on your own?
Paz: Sometimes, Black Francis and I will go see a movie. Going to museums is one of our favorite things to do; we like to stare at art together. Joey's really keen on finding the perfect restaurant. We'll have a family dinner with the whole crew. Especially at this point, I've been traveling nonstop with the band for four years. We've become quite close like a family. I've seen crew members get married and have babies, and I've watched their children grow. It's a family affair. It goes beyond, "Oh, you made a mistake today." There are no real mistakes. Music is part of it, but the delightful part is that we're all together as a family watching each other grow.
The crew is part of the band. I like to look at it as an old-fashioned clock where you see a big hand and a small hand. Maybe as a kid, if you're asked, "What is the most important part of this clock?" you answer the big hand, and someone else says the little hand. Really, if you open it up, there's no way that the clock will tick or work or do anything without every little reel and spool that is inside. Maybe we can't see it from the outside, but without everything functioning perfectly, this clock is not gonna tick. With a crew, maybe the audience can't see all the people who are working behind the scenes, but it's everybody that's making the clock tick. Everyone's just as important.
S&S: I actually saw Paul McCartney play last night and thought it was incredible that he gave a nod to his crew.
Paz: I've seen Paul McCartney play, too! He's pretty great. He's high on my list of respect beyond belief. I'm hoping to meet him someday. That would be on my bucket list. He's changed my life tremendously just from music, and he's grown with me. He's aged well in my heart. I can always lean back and go, "Thank you, Paul McCartney."
The crew is up earlier than all of us, and they stay later than all of us. We've got the best team by far. No disrespect to Paul McCartney's team, but I think we've got the best team out there.
S&S: What dreams and goals do you have for yourself as a musician and for the Pixies in the future?
Paz: One of my current goals right now is building a home studio. We are going to be in a new writing phase soon, and one of my favorite places to be is recording in the studio. I'm hoping to have my little setup here up and running soon. Then, we can start working on some demos for the next record. That seems so exciting to me beyond belief, especially now that we've seen how well we work together. We are just all really excited to get back into the studio and make the next record.