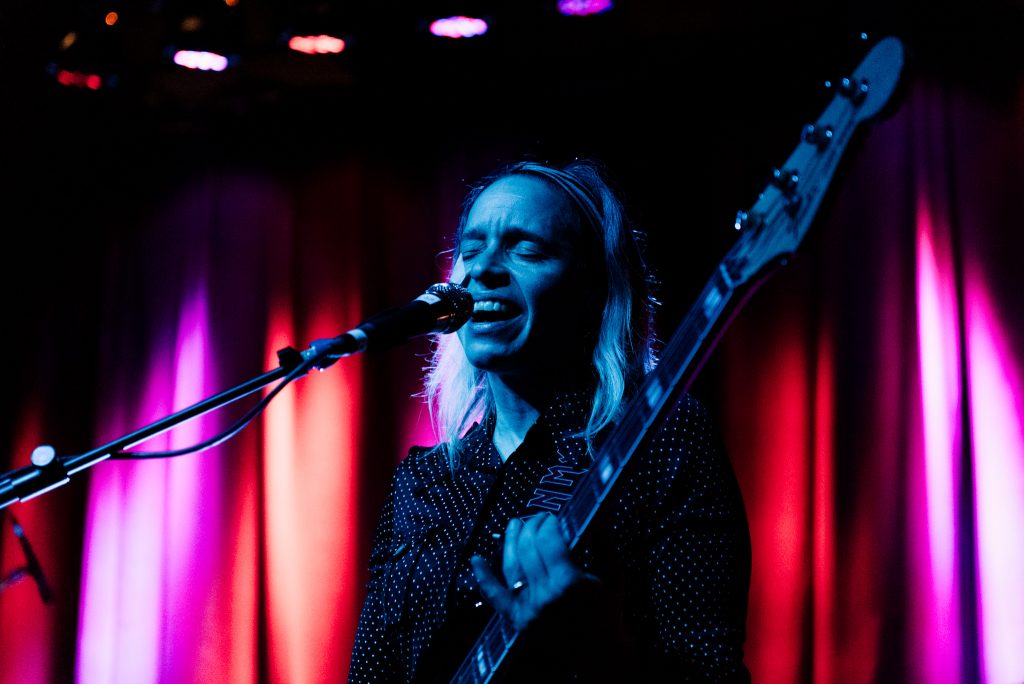 Interview with The Besnard Lakes bassist/vocalist Olga Goreas
May 2017
Click here to see our photos of The Besnard Lakes at The Masquerade
S&S: Your new EP, The Besnard Lakes Are The Divine Wind, includes songs penned during the writing of your 2016 LP, A Coliseum Complex Museum. Did you rework "Laura Lee" and the "The Divine Wind" for the EP or keep them how they were originally created?
Olga: They were kept the way they originally were. "Laura Lee" came together near the end of the session, while "The Divine Wind" was mostly done at the beginning of the session. Jace plays most everything on "The Divine Wind," and the only thing I played was the vibraslap (percussion instrument) at the end. I wanted to be credited as "couch vibes" for it though haha.
S&S: You self-produced the trippy, mesmerizing video for "The Divine Wind." Tell us about that process. Did you have a clear vision from the start, or did the visuals evolve as you went along?
Olga: We've always wanted to do a video ourselves, and we wanted it to have a grainy, lo-fi psychedelic feel to it. We'd amassed a bunch of video we'd shot from our travels and from when we go to Besnard Lake, and we put it through a video synthesizer that screws the images all up. Jace, in particular, has always had a special affinity for having a grand vision for all things visual in addition to aural. He went to art school for photography, so it's pretty important that there's a lot of thought put into our album designs, photos, and videos.
S&S: You're currently in the midst of "The Besnard Lakes Are The Touring Band." What bands are you listening to while you're out on the road?
Olga: We usually listen to whatever we can find that's halfway decent on the radio, but for the most part, we listen to podcasts far more. I find that I want to give my ears a break while on the road as much as possible. There's always enough music we're being subjected to haha!
S&S: What's your favorite city to play in and why?
Olga: Chicago has always been kind to us, so that's probably the US city that resonates the most with us. The UK in general is fun to play as well. Manchester, Leeds, and London are all really great. It's just rewarding to play in places that inspired and birthed bands that were important to us.
S&S: What are the best and hardest aspects of touring?
Olga: The best part is playing. That's really all it's about. Everything else is peripheral to that. The hardest part is your body slowly breaking down – back problems, joint problems. I suppose that's not unique to touring. That's just the wear and tear of life.
S&S: What are some of your favorite albums that have come out of Breakglass Studios? Does the recording process of other bands influence you creatively?
Olga: Jace is the one who records other bands, but I suppose I've learned a few things just by being a fly-on-the-wall. I really love Suuns and Spencer Krug's solo stuff in Moonface. The thing is that we've really evolved as a studio band, and as cliché as it sounds, we do use the studio as another instrument. I think I really appreciate and respect when bands do what works for them. Most bands don't have the benefit of having a recording studio at their disposal, so I have respect for artists who know they have x amount of time to get it done. Besnard has been very fortunate in that time isn't really as much of a concern with regards to the studio.
S&S: Where else do you draw inspiration from for your music – besides, of course, Besnard Lake itself?
Olga: Most of my inspiration just comes from being in nature. A walk in the woods energizes me in ways that can keep me grounded and lucid in day to day things. I guess that's why Besnard Lake is so important to us, too.
S&S: What plans do you have after this tour wraps up?
Olga: Jace and I are going to hang around in Greece for a few days. My parents came from Greece, so we're going to visit some relatives and have some vacay at the same time.
S&S: You guys formed around the same time Stars and Scars did. What life lessons have you learned over the past 14 years as a band? What are some of your favorite memories?
Olga: Enjoy yourself and relax. My favourite memories are when we've met and played with bands that we idolized when I was younger, such as Dinosaur Jr and Adam Franklin from Swervedriver. I wouldn't be doing what I'm doing if it weren't for these bands.
S&S: What advice do you have for bands who hope to create music for over a decade as well?
Olga: I guess I already said it in the last question! Maybe I'll say it in reverse: Relax and enjoy yourself.