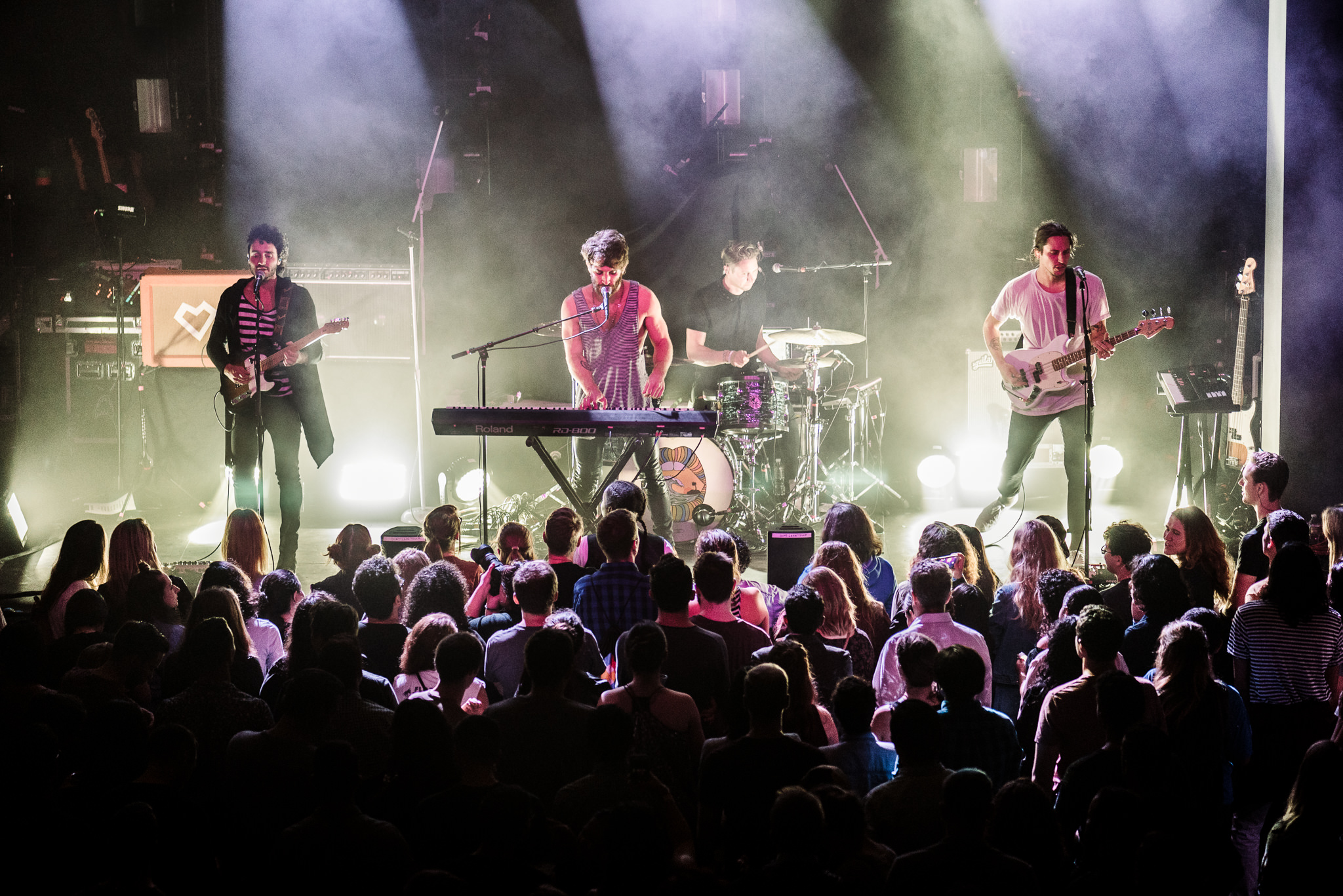 October 24, 2017
White Eagle Hall
Jersey City, NJ
I caught up with the awesomely kind dudes in Smallpools to chat about their latest EP, recent tour, and plans for the future. We shared a few laughs, and they even gave me some legit career advice! Keep your eyes on these guys in the coming months – exciting stuff is on the way!
Check out our photos of Smallpools here!
S&S: Your latest EP was released in August – congrats! Can you tell us a bit about the writing and recording process for The Science of Letting Go? The sound is a bit different from your older material, and the words are both playful and beautifully expressive to me. Musically and lyrically, where did you pull inspiration from?
Sean: I think the lyrics came a little differently this time than when we were first recording our original EP and album. We would all jam in a room, and I would throw a lot of random melodies around. A lot of key words would come as I was jamming. I was trying to build a cryptic story around those words because the syllables sounded good and went well with the song. I like that process a lot. This one had more of a theme and a sentence. So, I would build a melody and story around that. It's a little more straightforward, so you get what's being said more. But we've got to keep the quirky vibes in there a little bit, too – can't be too serious.
Mike: We took almost two years off. We moved to the valley in LA with a totally different suburban lifestyle. We removed ourselves from what was going on. We didn't play many shows, and we weren't touring at all. So, it seemed like there was less pressure and less urgency. We were just figuring out where we wanted to take the sound and what we wanted to do – act on our inspirations and really not feel much pressure from the outside world. The EP is a little more calm.
Beau: We had a bunch of songs that were ready to go from all different avenues of music – different worlds they lived in. It was just picking five that we felt the best about and we wanted to show to the world. There's some stuff that was more one direction or another direction.
Sean: Boy band stuff (laughs).
Mike: We had a lot of music, and we felt like these five were the most cohesive conceptually and played well off each other.
S&S: Were the other songs scrapped then?
All: No.
Sean: It lingers.
Beau: There are many things still floating out there in the ether.
Sean: The process was very haphazard and kind of all over the place. We have a collection of music that's all over the spectrum but still us. But there were just a lot of twists and turns and mood swings on what we wanted the next piece to be like. We used a lot of our friends that we met in LA to produce the stuff. It was cool. We would just go to a friend's house and get one done and then we show up at another friend's house and do another one. Five different songs with five different producers.
Beau: For the music that we didn't finish, we've opened up conversations now that the tour is coming to a close. We are wondering what songs we want to pursue next and which fit together. We're trying to figure out which batch of music might be the next batch of music, I guess.
S&S: You've been on the Connect The Dots Tour with Misterwives and Vinyl Theatre for about a month now. How's the camaraderie between bands on the road? Do you ever play pranks on each other?
Sean: We met Misterwives three and a half years ago and did a couple random college shows with them. We talked about how rad it would be to tour together someday. So, it's funny that this came about many years later. They wanted to take us out, and it worked out perfect.
Mike: Prank playing usually happens around the end of tour. Hopefully, no major pranks! It's definitely been a very family oriented vibe since day one. There weren't really any introductions because we all know each other. With Vinyl Theater, it was the same thing because we've toured with them before, and we're sharing a bus with them on this tour. We're also carrying some of Misterwives' gear, and they're carrying some of our gear, so we all depend on each other to show up. Jesse from Misterwives plays trumpet in our set for "Million Bucks." It's been really fun; everyone gets along really well. There's been no drama at all, not like there usually is on any other tour. But it's just been very carefree and fun. The shows have been great, and it's been a good time.
Sean: Sharing a bus with Vinyl Theater has been cool because we had gone on tour with them in the past but we didn't get to know each other as well. That tour was pretty busy. But now we're getting to know each other's humor more and have a little more fun with our dialogue.
Mike: We have a group text for everyone on the bus, so you get to know a lot about people based on the way they respond or the GIFs they respond with. It's gonna be weird in a few days when this is over, that group text will probably go away. It's gonna be sad.
S&S: What makes a show one for the books? Is it how well you play, the energy of the crowd?
Sean: It's definitely a mix.
Mike: We definitely need both of those things.
Sean: I think for me personally, I just want my own flow to go as I intended it. There's any number of random little blunders that can throw you off for a minute. Sometimes, my keyboard has a mind of its own. In the circuit board, it will just switch octaves or sounds or be out of tune. Maybe you lose your monitors for 10 seconds. If I've done a whole set and I feel like it was smooth, that's good for me. Even if the crowd isn't what would seem like a good crowd, I don't mind that as much. As long as I did what I wanted to do, I think they'll get it. We did a lot of support tours with no production as a brand new band, and I didn't really know how people were reacting at the time. But a lot of them came out to see us on a headlining show and told us about the tours they came to see us on. So, I think they're taking it in, even if they're not going crazy.
Mike: I think as long as there's not any noticeable mistake happening frequently, then it's good. Sometimes, it happens that if you make a mistake, you get in your own head and keep making mistakes. I think every show has been good. There might have been one or two [shows where you mess up], but then you go on Twitter and read the comments and no one notices.
Beau: There was a show a few weeks back. I never break drumsticks, and I broke three within a span of five minutes. That brought me out of the game for a minute, but then I snapped right back into it. Try to not let it phase you that much.
S&S: I was actually introduced to you guys through "Million Bucks" playing on Spotify. What bands have you discovered and fallen in love with recently?
Mike: I was just saying that on this tour, I haven't listened to any music at all. I have new Beats headphones that haven't been pulled out of their casing on this tour. I don't know. Sometimes, when we're on the road, I don't listen to any new music. If I do listen to music, I'll listen to the '50s on 5 on Sirius, mood music.
Beau: There's a band called Flor. The bass player of that band produced "Million Bucks." I actually really love that album. It's been a go-to of mine for the last six months.
Mike: There's a band called Violet Days. They're a Swedish duo of sorts. They only have a few songs out, really cool stuff. We collaborated with them a bit recently. I think they're really good and worth a listen.
Sean: As far as Spotify discoveries, I heard of Arizona recently. They have pretty cool stuff. Probably the song I've played the most over the past year and a half is a Porter Robinson song called "Shelter." That's one of my favs.
S&S: You've experienced the wild ride of major label status and are now rolling independently. What advice would you give to young bands starting out?
Sean: The culture changes so frequently. I still think it always comes down to the song itself and you being patient and finding someone to discover what you're doing. I really have no clue how to break a band or some musical project right now. There's so much stuff everywhere.
Mike: I think the glimmer of hope statement here is persistence – staying on the path and not giving up, pursuing music and persistence in terms of getting better at your instrument or your craft. Not many people have succeeded by giving up, so keep your hat in the ring. Keep going, and keep challenging yourself. Try to stay true to your vision or figure out your vision. Don't let yourself be influenced by too many people. There's only one you. Do your thing.
Beau: If you really want it that bad, you have to put the effort in. And it takes a lot of effort to make it all work.
Mike: Yes, you have to be willing to put in the work and effort and be willing to get beat down metaphorically.
S&S: What's next for the band after this tour?
Sean: After the tour, we'll take a week to unwind, and then…
Beau: Back to work. Try to get new stuff out, whether it's a collection of new music or an EP. But we'll definitely have some new stuff out by the new year.
Sean: We have some sessions scheduled in the very near future to finish two or three of our favorite ideas. Then, we'll just keep cruising with the new stuff.