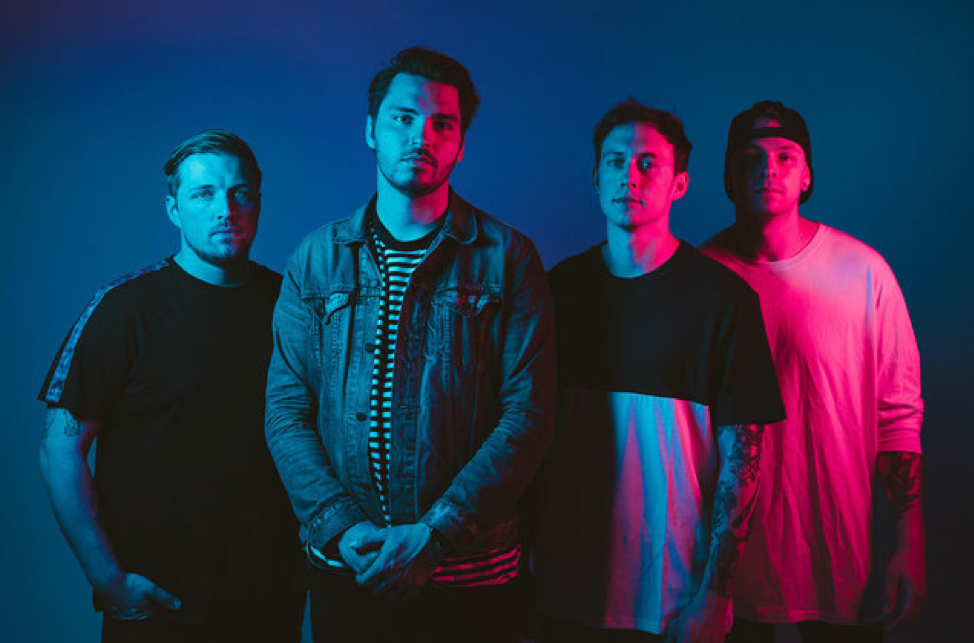 Photo: Alex Bemis – Sleep On It
Sleep On It is the hottest new pop-punk band on the scene, and if their latest album Pride & Disaster is any indication, the band's lyrical talent and contagious, sonic energy are the new wave of pop-punk everyone has been waiting for. "Harnessing the strength and vulnerability of the human spirit," Zech Pluister, Teddy Horansky, Jake Marqui, and Luka Fischman showcase the power in celebrating darkness, joy, and above all, unity in letting go through their music.
Lead guitarist and songwriter Teddy Horansky recently shared with Stars and Scars the stories and ideas that inspired the creation of Pride & Disaster and what fuels Sleep On It as a band.
S&S: Congratulations on the release of Pride & Disaster! If you could narrow it down to just one idea, what's the one thing you hope fans and listeners of your new album might take away from it?
Teddy: It's incredibly difficult to narrow an album down to one idea, but I would say that it's important to learn from your mistakes and grow from them. There can be a lot of negativity in your life, but don't let it hold you down.
S&S: Where does the band name "Sleep On It" come from?
Teddy: From the song "Paradise by the Dashboard Light" by Meat Loaf.
S&S: Sleep On It has a super dedicated and loyal pop-punk fan base! Is pop-punk the genre you as a band gravitate towards? Is it a source of musical inspiration for you?
Teddy: There are definitely pop-punk bands that inspire us, but we draw inspiration from a lot of different genres.
S&S: Can you talk about some of the inspirations behind the sound on Pride & Disaster? Are there certain bands or artists that influenced you in the making of this record?
Teddy: The record was written over the span of at least a year and a half, so the inspirations were definitely varied. We listen to a lot of pop-rock, but also straight-up pop music. We ultimately wanted to create a succinct, high-energy album that was engaging from start to finish.
S&S: What's a song you wish you had written?
Teddy: "I 2 I" from A Goofy Movie soundtrack.
S&S: Can you describe what it was like to shoot the "After Tonight" music video? And how do you relate what's happening visually in the video to the lyrical story that's being told in the song?
Teddy: That video was a lot of fun to film. The idea came from our director, Miguel Barbosa. The video doesn't really correlate to the lyrics, but we wanted to capture the youthful light-heartedness of the music itself.
S&S: What's one thing you miss from your hometown of Chicago while you're away on tour?
Teddy: We obviously miss our friends and significant others while on tour. Chicago is also a great food city; you can find any type of cuisine here, and it's usually really delicious. I miss being able to get amazing food all the time.
S&S: What's your favorite thing about performing live?
Teddy: The energy of a great show is often what recharges my batteries while on tour. When we're supporting, even just a few kids singing the words can turn my night around. A great show with lots of energy is really worth all the other difficulties on tour.
S&S: Pride & Disaster is full of such heartfelt, truthful, and powerful songs. From "Racing Towards a Red Light" to "Lost & Found," you take your listeners on a lyrical journey. What is the songwriting process like for your band?
Teddy: For this album, I wrote most of these songs on my own or while on tour. I would send demos to the guys and get their opinions on parts. Zech would then write melodies and lyrics over it. While in the studio, we would dissect the arrangements with everyone in the room. Our producer and I would discuss drum sequencing with Luka last. There's no exact formula; every song varies slightly within the process.
S&S: For fans who come to see you at the shows, what's one thing you hope they take away with them after the night is over?
Teddy: I hope fans can find some reprieve from the overwhelming complexities of the life that exists before and after the show. We love playing shows, and I hope that joy is contagious, but I also hope they can also take away their own meaning from the songs and lyrics.
S&S: Do you have any advice for young artists trying to make music as a career?
Teddy: Stick with it, and work at it every single day. Promote online and in-person after shows. First and foremost, take time and focus on writing good songs. There's a lot of distractions that come with being a band in 2019, but there is no substitute for good songs that resonate with people.