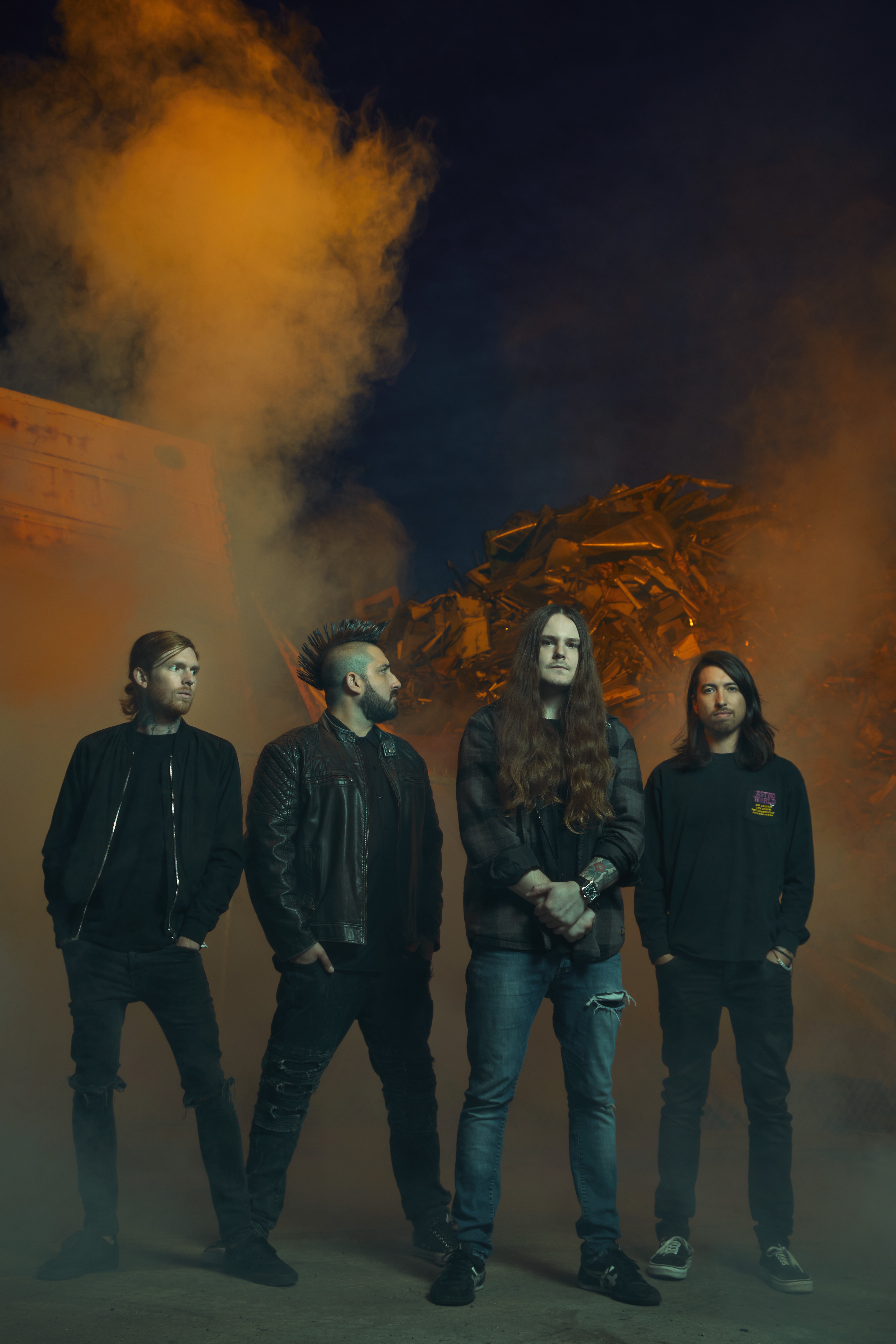 They say there's no rest for the wicked, and for California metalcore band Of Mice & Men that might be true. Just last month, the four-piece finished a tour supporting Nothing More, and less than three weeks later, they're about to hit the road again. The band is well-known for their powerhouse live shows, and with their 10 year anniversary on the horizon, they're keeping their momentum strong. We caught up with drummer Tino Arteaga to talk tour life, new music, and how it feels to be one of the biggest acts in metalcore.
S&S: So you guys have been super busy! You just finished your tour with Nothing More, and you have two more tours coming up between now and summer, [a North American tour with Beartooth and Hands Like Houses, and a European headliner in August]. How's the experience been so far?
Tino: Awesome, we're stoked! We just put out some new music, and we're excited to be on the road. The bills have been great. We've been trying to tour with Nothing More for three years now, and the stars finally aligned on that one. [And] we're excited to be like a double-headed dragon coming through. We're fans of Beartooth and Hands Like Houses too — we're doing five weeks on tour with them, and we're stoked.
S&S: Any favorite tour moments so far this year?
Tino: The end of tour prank Nothing More did on us — you can find the video on Instagram. They came out in tyrannosaurus rex costumes and then they nerf gunned us — they "killed the dinosaurs" onstage. We love those dudes. We also toured with Bullet For My Valentine and Nothing More at the end of last year, so we've done two tours back to back with them, and we've gotten to be pretty close friends.
S&S: Do you guys prank each other a lot?
Tino: Not really. It shows how hard we all worked. [On a large tour], when there's that many tickets involved, and we all have smoke and mirrors and all that stuff, it tends to stay very business-oriented.  It was cool to cut loose on the last night.
S&S: Your album Defy came out last year, and it got great reviews. How's the response to it been at your live shows?
Tino: It's been great! We got a little antsy — we worked on Defy a while ago, [but] the new songs have been going over great! We're pumped — we wanted to make the rowdiest Of Mice & Men record of all time.
S&S: Are there any songs you've enjoyed playing the most, or that have gotten the best reaction?
Tino: [It's] our newest song, "How To Survive." It took me by surprise that it's already a bonafide mosh song. People don't even know it yet!  It made us realize, "Wow, this is about wanting to get down to a vibe." We're an award winning live band, [and at our shows] you're gonna have a different experience. Our fans live and breathe this music, just like we do. We become a living, breathing organism.
S&S: On the subject of "How To Survive," can you tell me a bit more about the song?
Tino: Most of our songs are very reflective of ourselves. We know what it's like to feel marginalized and have someone talk down to you — everybody goes through that, whether it's a boss or a teacher or a boyfriend or girlfriend.  It's a human emotion to feel that.
We can be these seemingly unattainable characters on the internet and at shows, but we are the same as the audience — because we are all people. We all go through the same emotions. [We wrote this song] as a battle cry — [because] we're not the only ones who go through this.
We create energy in the form of music and share that with the audience when we play live. When people are screaming it back at us, they mean it. [It's about being] the strong person that you have to be, because no one else is going to do that for you. A lot of our music is really based around that — because we as the musicians need to hear that and be reminded of that just as much as everyone else.
It's reassuring and exciting for us that we're continuing to resonate with our audience. They know that they can expect that.
S&S: And can you tell me about the song's video?
Tino: We worked with director Zev Deans. We love his work — he's a crazy dark animator. He's done some awesome videos for Behemoth and Lamb of God. We sent him the song and were like, "We want your dark crazy story." [It's a] dystopian fiction — it has some darkness to it.
When we create our music, it needs to be followed by a visual. We love working with artists because it gives us new insight. We see a different side of the music. It's really cool.
The ability to create art — we have an extraordinary job [where] we get to make people think. We want to evoke an emotion. If we can do that by working with an artist who can take our song and give it a new aesthetic — that's super cool, for us and our fans.
Having a collaborative process as a creative person is super super important. We take it very seriously and we love what we do. Definitely check out the music video!
S&S: You guys are coming up on your 10 year anniversary, which is a huge accomplishment. How are you feeling about it?
Tino: It's awesome! It's been a crazy 10 years for us for sure — we didn't know at the beginning what we had in store. The name of our band comes from [the Robert Burns quotation] "The best laid plans of mice and men often go awry." You can plan until the cows come home, but at the end of the day, life is gonna happen. If you get knocked down, you get back up again. Being persistent and having the drive and the will to create — this is our whole life.
I was tripping out the other day [when I realized] we have 60 original songs — I could not play all of those in a row if you asked me to! We have so much material, and we're still creating new music, and it's still resonating with our fans. There's more where it's coming from. For us, 10 years old? It's 10 years young.