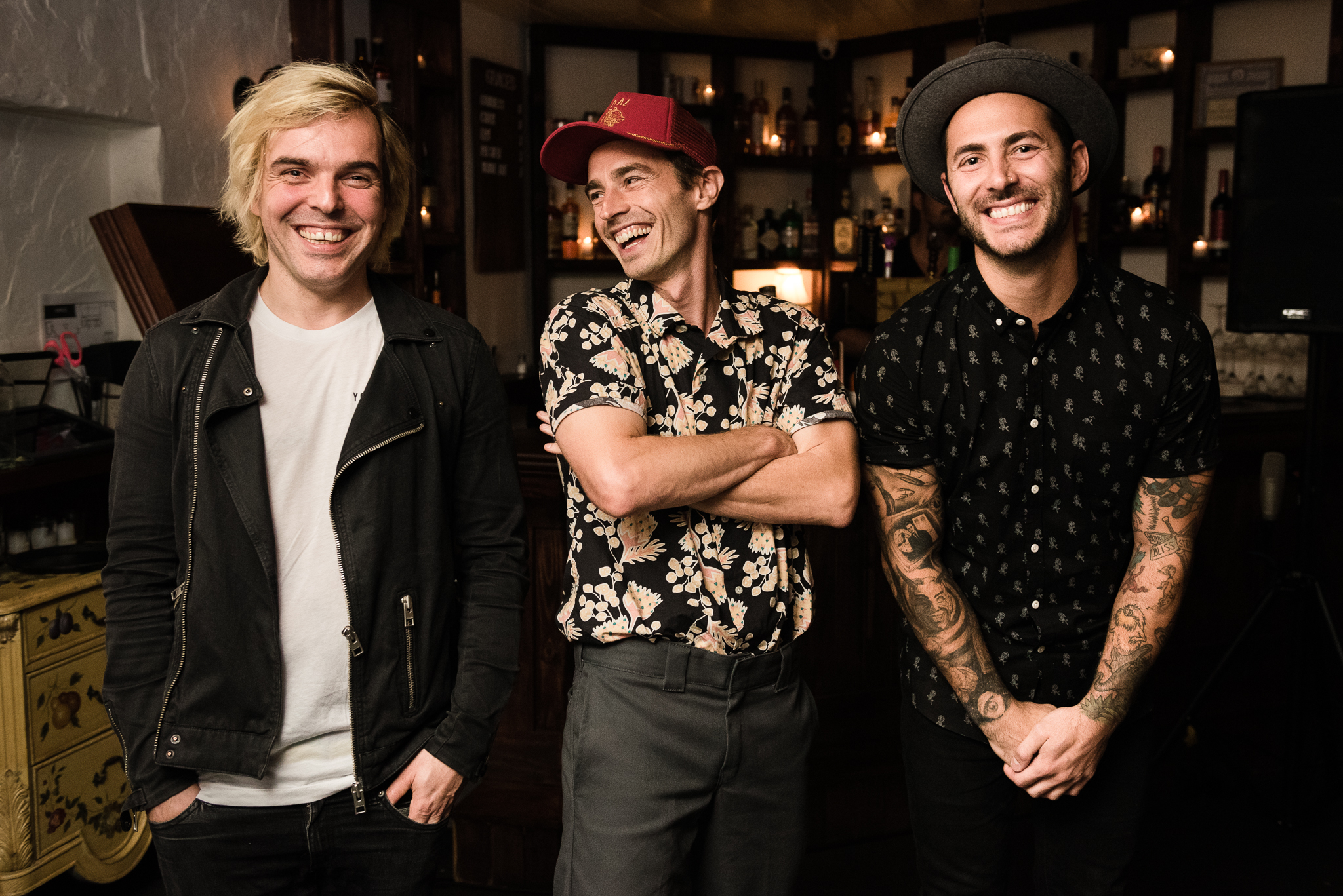 "We drove here from Virginia. Left the kids at home and hit the road!"
New Politics are playing a secret show in NYC tonight, and the buzz has reached far beyond city limits. I meet a husband and wife NP-fan duo who weren't about to miss this intimate acoustic celebration. We chat in the corner of Grace's, a hip bar in the West Village with a hidden gem back room where only a select few will get up close and personal with the guys of New Politics.
I enter said lounge and sit at a table with guitarist Søren Hansen, vocalist David Boyd, and drummer Louis Vecchio. Before our interview begins, I can sense their excitement. The guys are genuine, full of laughter and gratitude for their career, fans, and families. We joke about Louis' affinity for daytime television (Steve Wilkos, specifically), David's disinterest in the like, and Søren's love of video games (he's been playing Red Dead Redemption lately).
I ask how this special night came about, an idea that had been in the works for a while but finally came to fruition thanks to a personal connection.
"A friend of mine works here, and we were toying with the idea of doing an acoustic show. First, we just wanted to film it to get content and do something special. Then, our management said, 'Why don't you invite fans and have a contest?' So, we went with it," says Louis.
As the guys light up and share their joy, it seems this special fan-centered night may be duplicated in the future.
"We're just experimenting at the moment and trying to see if we can do this again when we go on tour to change things up and give fans a new angle on us," David explains. "We wanted to see if we could bring our live energy into an acoustic [setting] and try to push boundaries in that area."
Søren chimes in, "We decided to film it with a bunch of cameras. It's fun for the fans and also fun for us."
With two former New Yorkers and one native, I'm curious to hear what New Politics love about the Big Apple. For Søren and David, does it still offer the same magic they experienced when moving here from Denmark years ago?
"Even though we don't live here anymore, it's still home," shares Søren. "When you think of New York, it's chaotic and crazy. I think it's intimidating in a way because you never really get to relax, and if you do, you feel guilty. Besides that, it's amazing. It was just time for us to get out and spread out."
"I don't know if I could ever live here again unless I was that lucky a-hole that won the Powerball. Then, we'd all get little studio apartments, I'm sure," David jokes before getting serious. "I walked down Park and Lexington this morning, and I was like, 'Damn, this is definitely one of the greatest cities in the world.' But I think you need it in doses. I don't know how Louis does it. It's a heavy city. But that being said, it's like a home away from home."
"Being from Long Island, coming to the city is just what we did," says Louis. "When you partied, you came to the city. It was always a dream to live here. For me, it sucks. I hate the noise, I hate the people, I hate the honking. But I can't live without it. I feel weird when it's too quiet. I love to hate it is what it really comes down to."
With their latest release Lost in Translation nearly a year out in the world, I ask about New Politics' writing process. As fans anticipate new tunes, how do they get created, especially with the band members living in different cities?
"You're constantly changing and things are constantly changing," David begins. "With me now having my first baby and us living in different areas, I don't know when I'm going to be in the studio, but it's the one thing that keeps me balanced in a way. Whenever I have a chance, I try to jump on it and get something done. It's an outlet, and at the same time, I'm contributing to something. You're creative as a person, and you create with the hands that are dealt to you."
Søren dives into the process itself. "Sometimes, you write the chorus of an idea that ends up becoming the verse. You don't think about that. It just happens," he says. "We're definitely working on a record now. We have 50, 60, 70 ideas. So, we're going to pick the best three or four of them, then write the rest."
David speaks of the advantages of freedom and experimentation. "The good thing is we don't have a label or publishing; we're starting fresh," he explains. "So, it's giving us a lot of opportunities to look into ideas like EPs or a show like this. We're free to experiment and try other creative outlets that I think are going to lead to some really good things. Eventually, of course, a record will come. We're already in the motion of putting something together. How it goes exactly is always a surprise for us, but that's part of the fun."
The guys will soon be gearing up for a fall tour with The Score and Bikini Trill, and fans have been giving their input on setlist selections. I ask how the final decision is made.
"We'd like to play some songs that we haven't played in a long time or never played before," says Søren. "When you write a setlist, it's a lot harder than you think, especially with four albums out. But we definitely want to play some songs that the fans really want to hear. There are some songs that I forgot about, like 'Loyalty' that they're requesting. We're going to try and play some songs that fans really want to hear because that's why we're really here."
We wrap up our time with some quick portraits in the space before the guys prepare to "take the stage" as it were – except there isn't one. Fans meet Søren, David, and Louis face-to-face on the same level, singing to each other as friends without separation. It feels as if we're all in a living room together with Søren and Louis sporting permanent smiles and David cutting a mean rug (literally), breakdancing across the floor. It's a special night, indeed. Worth driving over 300 miles for? Absolutely.
View part of the secret show on New Politics' Facebook page now, and be sure to catch them on tour this fall.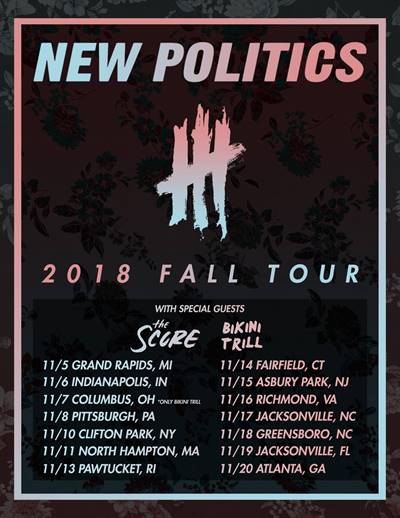 NOV 5 Grand Rapids, MI- The Stache At The Intersection Tickets
NOV 6 Indianapolis, IN- Deluxe At Old National Center Tickets
NOV 7 Columbus, OH- Skully's Tickets
NOV 8 Pittsburgh, PA- Foxtail Tickets
NOV 10 Clifton Park, NY- Upstate Concert Hall Tickets
NOV 11 North Hampton, MA- Pearl Street Tickets
NOV 13 Pawtucket, RI- The Met Tickets
NOV 14 Fairfield, CT- The Warehouse Tickets
NOV 15 Asbury Park, NJ- House Of Independents Tickets
NOV 16 Richmond, VA- The National Tickets
NOV 17 Jacksonville, NC- The Tarheel Tickets
NOV 18 Greensboro, NC- Blind Tiger Tickets
NOV 19 Jacksonville, FL- Jack Rabbits Tickets
NOV 20 Atlanta, GA- Terminal West Tickets