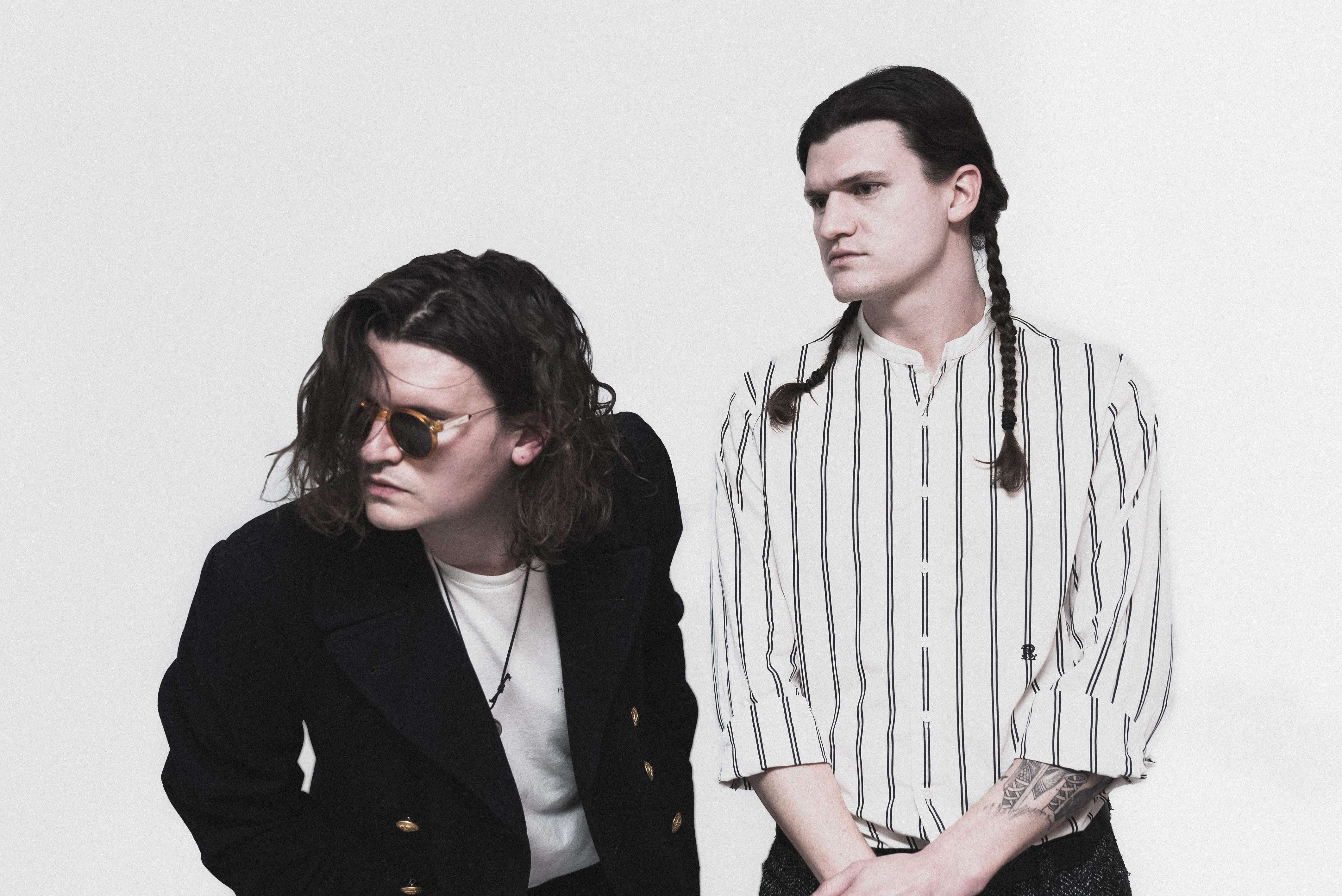 LA-based indie pop duo Mating Ritual (brothers Ryan and Taylor Lawhon, formerly of Pacific Air) are currently traversing the country, bringing their mix of 80's synth pop and post-punk to the opposite coast. Their sophomore album, Light Myself On Fire, will soon be released on May 4 via the band's own label, Smooth Jaws. Offering a cohesive vision and darker, gritter sounds than Mating Ritual's previous work, Light Myself On Fire features nine nocturnal tracks exploring maturation and commitment.
Anticipating the birth of his and Taylor's latest collab, Ryan graciously chatted with us during Mating Ritual's tour with Penguin Prison.
S&S: Light Myself on Fire is almost here! How does this sophomore album compare to your previous, How You Gonna Stop It? The addition of Taylor brings new energy, I'd imagine?
Ryan: Light Myself On Fire feels much more like a uniformed artistic statement to me. HYGSI was recorded over several years and I pulled from over 100 songs, but this time around we did everything in about a 2-month timeframe, all at night, so we could keep the vibe and songwriting cohesive.
S&S: What song on the new album is closest to your heart and why?
Ryan: I'm probably most connected to "Low Light" and "Splitting In Two," the first two songs written that really set the vibe for the rest of the album. I was going through a breakup at the time, which I'd never done while in the studio, so I got to explore that highly personal experience on record for the first time, which has proven to be very cathartic.
S&S: "U + Me Will Never Die" gives me some Ghostland Observatory vibes, and I'm all about it. What artists influence you? What are some tunes you've been listening to lately?
Ryan: We listened to a lot of Wire, OMD and Ryan Paris when we were writing Light Myself On Fire, though some of our strongest influences still tend to be music we listened to a lot as kids, Enya, Moby, etc.
Recently, I've been really into Alex Cameron and William Onyeabor.
S&S: I read that you tend to be inspired while walking home after a night at the bar. What else inspires you to write?
Ryan: I can usually find inspiration after a night out, good or bad it's an experience that I enjoy exploring further in my mind and in the music. And I don't mean like, writing about doing drugs and partying, more along the lines of watching the social peculiarities that are rampant.
S&S: What are the blessings and challenges of creating music as brothers?
Ryan: We've created music together as long as we've been making music, so for us, the blessings far outweigh any challenges. We rarely have to talk about what we want to do with a song, we are in tune enough with each other that it's all instinctual at this point.
But sometimes that familiarity can breed complacency, something we really tried to avoid this time around and push ourselves to go beyond what we've previously made.
S&S: Can you share some special memories you've made on tour, either previously or currently?
Ryan: This past weekend in Chicago was actually quite exciting. Since Mating Ritual is still relatively new and we've never toured outside of the west coast, we weren't expecting anyone there to really know our music, but we were floored by the response and amount of people who knew even our current releases. It's easy to live in a bubble, and it's fun to see that people care about what you're creating outside of that bubble.
S&S: We're excited for you to roll through NYC this week! What do you love about New York?
Ryan: I haven't been to New York in over four years, so I'm very excited to be back and play one of my favorite venues (Bowery) and eat all the delicious food the city has to offer. Los Angeles's food scene has come quite a long way, but there's so much we just can't get out there that I've been missing dearly.
S&S: What are your plans for the summer once this spring tour wraps up?
Ryan: Summer we'll hit the studio again and work on music for other projects (TV, film, friends music etc) but then Mating Ritual will be hitting the road again in the fall, hopefully hitting a lot more cities and meeting a lot of new people!